The New Group Announces Two New Appointments
These newly created roles will join Founding Artistic Director Scott Elliott and Executive Director Adam Bernstein in developing a long term vision for The New Group.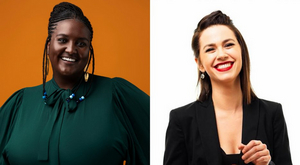 The New Group has announced two new appointments to its staff. Emily Bookwalter has been named as its Director of External Affairs starting October 25, 2021. Shariffa Ali has also been named as its Director of Artistic Projects starting November 2, 2021. These newly created roles will join Founding Artistic Director Scott Elliott and Executive Director Adam Bernstein in developing a vision for The New Group to thrive for the long term.
The role of Director of External Affairs unifies Development and Marketing for The New Group with the goal of increasing its profile, brand awareness, and philanthropic support within the New York and national theater communities. Bookwalter will be a critical member of the Executive Team working alongside Founding Artistic Director Scott Elliott and Executive Director Adam Bernstein, with a central role in charting the company's future with audiences at the center. This appointment marks the culmination of an extensive national search conducted by Tom O'Connor Consulting Group.
"I am so thrilled to welcome Emily Bookwalter to The New Group as its Director of External Affairs. She is a proven fundraising professional and brings an inspiring energy and fresh perspective to the organization as we develop the strategic vision for our future," said Adam Bernstein, Executive Director.
The role of Director of Artistic Projects will work alongside Elliott and Associate Artistic Director Ian Morgan to shape The New Group's artistic goals and planning, and to expand its artistic network and literary development activities. She will be responsible for creating and launching projects that offer new opportunities for artists, for both the company's on stage and Off Stage productions.
"Shariffa has long been an invaluable colleague of ours, bringing her great artistic insight to some of our most important projects. I couldn't be happier that she's decided to join us for this next exciting phase of The New Group's growth," said Scott Elliott, Founding Artistic Director.
Emily Bookwalter is a non-profit leader, advocate, and fundraiser who celebrates that art deeply impacts the well-being of a thriving culture and society. Emily comes to The New Group from Roulette Intermedium as the former Director of Development, where she raised millions of dollars to foster adventurous and experimental artistic work across music, dance, and intermedia, and where she also helped found the organization's first reserve fund. She is the former Executive Director of New Amsterdam Presents and Records, is a founding board member and former Director of External Affairs for the String Orchestra of Brooklyn, and spent five years working as Grantmaking and Community Manager at New Music USA, a non-profit advocacy organization committed to supporting the music of our time. She consults for arts nonprofits on a regular basis. In her free time, Emily is a violist praised for her "elegantly rendered" (The New York Times) playing and "masterful interpretation" (I Care if You Listen) of contemporary repertoire, and her own artistic prowess empathetically informs her work both on and offstage.
"I'm thrilled to be joining the ranks of The New Group, whose fearlessness and commitment to groundbreaking work aligns so strongly with everything I have come to know and love in my career thus far. It is a rare privilege to join an organization with such unparalleled artistic vision, and one that so powerfully harnesses the strength of its impressive legacy while laying the groundwork for current and future generations of artists and audiences. Together with my colleagues, I look forward to building authentic new opportunities for this joyous work, and for the people who celebrate it, "said Emily Bookwalter.
Shariffa Chelimo Ali is an international creative leader committed to working with an open heart at the intersection of the performing arts and humanitarianism. Originally from Kenya and raised in South Africa, Shariffa has been a New York resident since 2013, working primarily as a director, community organizer and administrator at The Public Theater and The New Group, among others. She's lectured and directed at NYU, Brooklyn College, Yale University and Princeton University, where her productions include Eclipsed, Detroit '67, Intimate Apparel, We Are Proud to Present and an original new musical We Were Everywhere. Shariffa served as assistant director to her mentor Cynthia Nixon for Rasheeda Speaking, Steve (The New Group) and Motherstruck! (Culture Project). Her debut virtual reality short ATOMU was part of the official selection at the Sundance Festival 2020. Off-Broadway: Mies Julie (Classic Stage Company). Regional: School Girls; Or, The African Mean Girls Play (Pittsburgh Public Theatre), The Copper Children, (Oregon Shakespeare Festival) Mlima's Tale (St Louis Rep). Film/VR: Ash Land, Atomu, Sink Sank Sunk, You Go Girl, O-Dogg (upcoming) You Go Girl! (Upcoming). Honors: New Frontier Fellow, Sundance Institute Lab and the Royal National Theater (UK); POV/PBS Spark Grant. Education: BA with honors, Theatre and Performance, University of Cape Town, South Africa. www.shariffa.com
"I am absolutely delighted to make my return to The New Group as the Director of Artistic Projects. Since my start in directing, this artist-driven community has always been a haven for both my professional creativity and personal energy. The opportunity to support an institution that has already invested so much in me is exhilarating. I look forward to working with a team of like-minded, visionary creatives to chart The New Group's bold new future," said Shariffa Ali.
These two appointments add to the most recent hires and promotions at The New Group over the past six months which include Chris Kam as Director of Marketing, Rachel Spitz-Lieberman promoted to Manager of Institutional Giving, Nick Bosanko as Manager of Ticketing and Audience Services, and Ruth Hollander as Business Manager.
The New Group (Scott Elliott, Founding Artistic Director; Adam Bernstein, Executive Director) is an award-winning, artist-driven company with a commitment to developing and producing powerful, contemporary theatre. In Fall 2021, the company was represented by Wallace Shawn's The Fever, starring Lili Taylor. In January 2022, The New Group will present the world premiere of the musical Black No More by John Ridley and Tariq "Black Thought" Trotter, directed by Scott Elliott, and the newest project from The New Group Off Stage, the digital series I Need Space, written, directed, and created by Donja R. Love, premiering in Winter 2022. thenewgroup.org