Tale of Vietnam Vet LONE STAR Extends Run at The Triad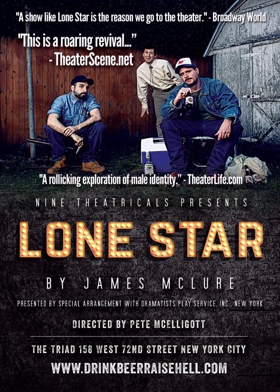 In April of 2017 at Wild Project in the East Village, a revival of James McLure's Lone Star, by NINE Theatricals, took the stage in New York City for only the second time since it's Broadway debut in 1979. The production was met with tremendous feedback and glowing reviews from New York City critics and audiences who had not before seen this lesser known work. With a demand for more shows, producers moved Lone Star, in May, to The Triad Theatre for a limited Off Broadway contract run.
As Lone Star takes place in the backyard of Angel's Bar in Maynard, Texas 1972, producers introduced a new element to the Triad shows in the form of live music prior to the production itself. This was an attraction not featured at Wild Project shows and the idea was to convert The Triad into the inside of Angel's bar. Live musical guests played a 30-minute set of popular music from the late 60's and early 70's as sold out audiences drank and enjoyed this immersive experience.
The Triad Theatre (Peter Martin and Rick Newman/Owners; Michael Doane/Managing Director) has announced that after a highly successful initial run they will be hosting NINE Theatricals' Off Broadway revival of LONE STAR, in residency, on various dates, throughout the remainder of 2017. Directed by Pete McElligott, LONE STAR begins its return to The Triad stage later this summer. The next three performances will be held on Tuesday nights August 15th, 22nd and 29th at 9pm. Performances are at The Triad Theatre:
(158 West 72nd Street, between Amsterdam and Columbus Avenues, New York, New York, 10023).
Tickets are $25. To purchase, please visit the shows website at www.DRINKBEERRAISEHELL.com or visit
The Triad's website at www.TRIADNYC.com.
The story takes place in the cluttered backyard of a small-town Texas bar in 1972. Roy, a brawny, macho type who had once been a local high-school hero, is back in town after a hitch in Vietnam and realizes that about all he has left are memories of his glory days, his adoring younger brother Ray, his wife Elizabeth, and his now crumbling 1959 pink Thunderbird. Joined by Ray, Roy sets about consuming a case of Lone Star beer while regaling his brother with tales of his military and amorous exploits. But with the arrival of Cletis, the fatuous, newlywed son of the local hardware store owner, the underpinnings of Roy's world gradually begin to collapse.
During the time in which Lone Star takes place, the early 1970's, many returning Vietnam Vets were struggling with integrating themselves back into society after witnessing the horrors of war. Although there wasn't a name for it at the time, these soldiers were suffering from the effects of Post Traumatic Stress Disorder or PTSD. Lone Star is a poignant look at a man's struggles with this disorder and it raises many questions about masculinity and pride. Every bit as relevant today, if not more, than it was when it was written in 1979, James McLure's best known work is one of the earliest plays about PTSD.
Matt de Rogatis who was recently called "one of the most exciting and original actors I have seen in a long while" by legendary theatre journeyman Austin Pendleton, plays the role of "Roy." de Rogatis was most recently seen as "Frederick Clegg," Off Broadway, in the United States premiere of The Collector at 59E59 Theatres and before that as "Hamlet" in Hamlet at the 13th Street Repertory Theatre. Both performances were met with sweeping praise.
Chris Loupos, an independent filmmaker and celebrated celebrity photographer, plays the role of "Ray" while Greg Pragel ("Horatio" in Hamlet at the 13th Street Repertory, "Dante Rossetti" in The Muse at Theater for the New City) is "Cletis."
As before, musicians Joe Battista and Jack O'Hara, from the London rock band, Eggs Over Easy, will warm up the crowd with live music -Texas Style - prior to the production of Lone Star.
Pete McElligott (director) is a director, writer and teacher. A Chicago native, he graduated from NYU's Tisch School of the Arts with a BFA in Drama. He is a founding member of The NOLA Project in New Orleans and the Ten Bones Theatre Company in New York. The work of both companies has been featured in American Theater, The New Yorker, TimeOut, and The New York Times. He has worked with The Pearl Theater, ReGroup Theatre, The Negro Ensemble, Radical Evolution, Smith Street Stage and The Hangar, among many others. His writings have been the recipient of a NEA grant, been a featured selection of the NNPN, and been performed in Chicago, Atlanta, Indiana, Maryland, New York, and New Orleans. As a teacher, he has worked with the Actionplay Workshop at the Rebecca School, a program that used theater games to encourage and communicate with autistic children. In addition to that, Pete has taught and directed at the Stella Adler Studio of Acting for the past ten years.
James McLure (playwright) was born in Alexandria, Louisiana on August 5, 1951 and grew up in Shreveport where he was educated by the Jesuits. He became interested in acting in high school, performing in Shakespearean plays. He obtained a BFA degree from Southern Methodist University in Dallas, Texas, and subsequently studied at the Pacific Conservatory of the Performing Arts in Santa Maria, California.
He moved to New York City in 1975 and was a member of the Lion Theatre Company. His plays Lone Star and Pvt. Wars were presented on Broadway in 1979 after having been presented at the Humana Festival at The Actors Theatre of Louisville. In 1980, Lone Star and Laundry and Bourbon were shown together as 1959 Pink Thunderbird at the McCarter Theatre. His subsequent plays include: Thanksgiving, The Day They Shot John Lennon, The River Cane, and an adaptation of John O'Keeffe's 18th-century comedy Wild Oats (moving it to the Old West), which was produced as an official entry for the 1984 Olympics Arts Festival. He was also a part of the Biennial Festival of New American Plays at Stephen F. Austin State University. The latest play he presented there was Seduction, a play about the inner workings of a stage production. "Pvt. Wars" made its London premier at the Greenwich Studio Theatre on September 1, 1991 with Billy Lomas (Natwick), Dorian Lough (Silvio), and Pancho Russell (Gately).
For many years McLure was a participant playwright in The Missoula Colony, a writers workshop of the Montana Repertory Theatre and the only playwright to contribute to the Colony in every year of its existence.
In 1992, his play Max and Maxie was presented at the Denver Center Theatre, followed by Fran and Brian (1993), Ghost World (1993), The Agent (1993), and Southern Christmas (1995). His play The Day They Shot John Lennon was presented in 2011 at the Carolina Actors Studio Theatre in Charlotte. His last play, Iago, was developed at the Playwright's Project in Healing Springs, North Carolina and premiered at the Alabama Shakespeare Festival.
In addition to his work in the theatre, McLure wrote for the screen and television including Sangre starring Holly Hunter, KingFish starring John Goodman and Reckless starring Aidan Quinn.
He died at home in Marina del Rey, California, February 17, 2011, of cancer. He was survived by his sister, Jenny McLure Schroeder.