Review Roundup: Roundabout Underground's BOBBIE CLEARLY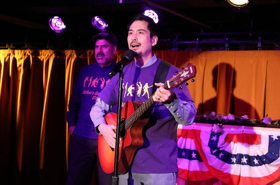 The New York premiere of Bobbie Clearly by Alex Lubischer, directed by Will Davis opened just last night in Roundabout Underground's expanded two-play season. The cast includes Gabriel Brown (Pete Pfeifer), Sasha Diamond (Meghan Gotschell), Ethan Dubin(Bobbie Clearly), Crystal Finn (Jane Welch),Marcus Ho (Russ Scott), Christopher Innvar(Stanley Welch), Tyler Lea (Eddie Welch), Talene Monahon (Megan Currie), Brian Quijada(Mitch Backes), Constance Shulman (Darla London) and JD Taylor (Derek Nelson).
Something unspeakable happened in the middle of a cornfield two years ago. Now, at last, the upstanding residents of Milton, Nebraska-from the cop and the nurse to the co-captains of the dance team, and even Bobbie himself-are ready to tell you their sides of the story. Nebraskan Alex Lubischer, a second-year candidate in the Playwriting Program at Yale School of Drama and the newest voice discovered by Roundabout Underground, pushes the boundaries of our Black Box Theatre with a sprawling cast of eccentric characters and an ambitious narrative that pulls back the husk of rural life.
Let's see what the critics had to say...
Jesse Green, New York Times: Actually, "Bobbie Clearly" takes on many difficult subjects, in several styles. The playwright, Alex Lubischer, a student at the Yale School of Drama, seems to have packed his first professional New York production with a sampler of his skills, as if it were a résumé. "Bobbie Clearly" is thus not only a "problem" play about the possibility of rehabilitation but also a family drama about grief and its aftermath and a social satire about a farming community called Milton, not unlike the real one Mr. Lubischer grew up in. In format, though, "Bobbie Clearly" is a mockumentary in which the locals spend a lot of time answering questions about Casey and Bobbie from an unseen, unheard PBS reporter. Among those interviewed are Casey's earnest mother, taciturn father and gay brother, Eddie; two of Eddie's doofus classmates; Casey's friends Megan and Meghan, who think they are just alike but aren't; and Derek, an enthusiastic glad hand who was, at the time of the murder, Bobbie's Big Brother.
Helen Shaw, TimeOut NY: ... as much as I admired Bobbie Clearly, the play's bold combination of violence and jokiness-the horrifying content told with such gentle mockery-left me confused and sometimes even angry. Bobbie's vulnerability is waved like a flag; the play implies that some compassion from his classmates beforehand might have stopped the boy with a gun. Based on what we've learned from recent school shootings, that's not necessarily true. And there's an absence in the middle of the story. Lubischer is very interested in Bobbie and has written him a complicated and intriguing play. He's scarcely imagined Casey, though. She's just the girl in the ground.
Photo Credit: Joan Marcus
Related Articles