REVELATION: THE MUSICAL Begins Limited Off-Broadway Run This May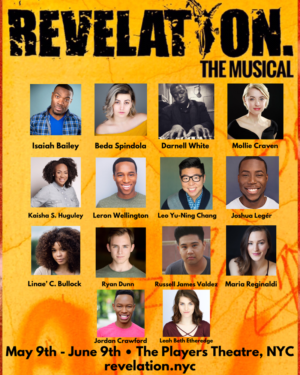 The Producers and Creative Team of the upcoming Revelation: The Musical announced the Off Broadway cast and revealed their plans to also include over 20 different guest artists over the course of the run.
Director Dustin Ceithamer said, "We had an overwhelming response to our casting calls. Our show drew an incredibly diverse group of artists and we are elated to be showcasing a wide spectrum of talent and culture within the production.
We are also thrilled to announce that we have created several "Guest Artist" roles in the show. This allows us to rotate talent in from all over the country - folks who've been on American Idol, regional theatre stars, and even some viral video sensations. No two weekends will be the same; we can't wait for the audiences to hear these voices!!
It will keep the show exhilarating and fresh for our incredible core cast as they weekly welcome these new Guest Artists into the company!"
Revelation: The Musical's Off Broadway Cast: Isaiah Bailey, Linae' C. Bullock, Leo Yu-Ning Chang, Mollie Craven, Jordan Crawford, Ryan Dunn, Leah Beth Etheredge, Kaisha S. Huguley, Joshua Legér, Maria Reginaldi, Beda Spindola, Russell James Valdez, Leron Wellington, Darnell White
REVELATION: THE MUSICAL debuts May 9 Off Broadway at The Players Theatre (115 MacDougal St.).
The musical follows a group of rebel artists during the apocalypse as they breathe life into John the Apostle's cryptic and mysterious text punctuated by a pulsating original score. Ceithamer has crafted REVELATION into a fast-paced, visually-driven musical experience that will leave audiences of all ages entertained, inspired and ready for stimulating conversation. Tickets and Info: www.revelation.nyc
Produced by Melissa Mollner, Level Ground Productions, LLC
TRAILER: BEHIND THE SCENES: