Playwrights Horizons Announces Extension For MILES FOR MARY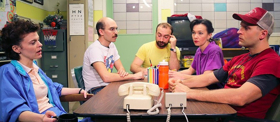 Due to critical acclaim and popular demand, Playwrights Horizons (Tim Sanford, Artistic Director; Leslie Marcus, Managing Director) has announced a two-week extension of their presentation of the New York stage return of MILES FOR MARY, a new play created by The Mad Ones. The play is written by Marc Bovino, Joe Curnutte, Michael Dalto, Lila Neugebauer and Stephanie Wright Thompson; in collaboration with Sarah Lunnie and the creative ensemble of Amy Staats and Stacey Yen. Directed by Lila Neugebauer, this new limited engagement at Playwrights Horizons marks the production's Off-Broadway debut.
Originally announced to play a limited engagement through Sunday, February 4, the production will now play a two-week extension through Sunday, February 18 at Playwrights Horizons' Peter Jay Sharp Theater (416 West 42nd Street). The production began previews January 11 and had its official opening on January 22.
Ben Brantley of The New York Times has twice named MILES FOR MARY a CRITIC'S PICK, first in 2016 and now again in 2018. He's praised it as, "A master class in passive aggression, and a priceless portrait of accumulating anger in the workplace with a first-rate cast. So funny and unexpectedly touching!" Sara Holdren in New York Magazine proclaimed it, "A stunning feat, both of ensemble writing and acting. MILES FOR MARY is a smart, barbed, helplessly funny observation of human idiocy. Director Lila Neugebauer excels at drawing nuanced, sensitive work out of her ensembles, and under her guidance all six actors turn in performances as meticulous as the set on which they move." Helen Shaw of Time Out New York also named it a CRITIC'S PICK and gave it FIVE STARS, calling it, "Pure delight and radiating pleasure! Your troubles lift from your shoulders while you're watching MILES FOR MARY. Go now, go now. Don't dare dream it's over." And The New Yorker hailed, "MILES FOR MARY impresses in many ways, including an exceptionally balanced and cohesive ensemble. The play goes deep, tilting almost imperceptibly from spoof to heartbreak."
The entire "superb ensemble" (Bob Hofler, The Wrap) returns, featuring The Mad Ones company members Marc Bovino, Joe Curnutte, Michael Dalto, and Stephanie Wright Thompson, as well as Amy Staats (The Sluts of Sutton Drive at Ensemble Studio Theatre) and Stacey Yen (John at ACT).
MILES FOR MARY is a part of Playwrights Horizons' new Redux Series, which joins forces with kindred theater companies to remount their productions at Playwrights for a wider audience. The production first received critical acclaim during its smash run at The Bushwick Starr in Brooklyn during the fall of 2016.
It's 1988 and the planning committee for Garrison High School's ninth annual Miles For Mary Telethon is fired up and ready to go. Across subcommittee sessions in the Phys Ed teachers' lounge, The Mad Ones assemble an analog elegy to the camcorder 1980s, Girls Track and Field, and the consecrated American High School.
The production features scenic design by Amy Rubin, costume design by Ásta Bennie Hostetter, lighting design by Mike Inwood and sound design by Stowe Nelson. Production Stage Manager is John C. Moore.
MILES FOR MARY was developed with support from The Bushwick Starr and world premiered during their 2016-2017 season.
The performance schedule for MILES FOR MARY will be Tuesdays through Fridays at 7:30 PM, Saturdays at 2 & 7:30 PM and Sundays at 7PM. Single tickets, $45-75, may be purchased online via www.phnyc.org, by phone at (212) 279-4200 (Noon-8pm daily) and in person at the Ticket Central Box Office, 416 West 42nd Street (between Ninth & Tenth Avenues).
Currently playing on the Playwrights Horizons Mainstage Theater is MANKIND, the world premiere of a Playwrights Horizons commissioned new play written and directed by two-time Obie Award winner Robert O'Hara, featuring Tony Award nominee, Emmy and Obie winner André De Shields, Bobby Moreno, Anson Mount, Stephen Schnetzer, Ariel Shafir and David Ryan Smith (now through January 28). Following MANKIND, the Playwrights Horizons 2017/2018 Season will continue with THIS FLAT EARTH, the world premiere of a new play by Lindsey Ferrentino, directed by Tony Award winner Rebecca Taichman (March 2018); DANCE NATION, the world premiere of a new Susan Smith Blackburn Prize-winning play by Obie Award winner Clare Barron, directed by Obie Award winner Lee Sunday Evans (April 2018); and conclude with LOG CABIN, the world premiere of a new play by Pulitzer Prize finalist Jordan Harrison, directed by Tony Award and Obie Award winner Pam MacKinnon, featuring Jesse Tyler Ferguson (June 2018).
Patron Program Memberships begin at $1,500 (all but $550 is tax-deductible) and include two reserved house seats and personalized concierge service to all six Playwrights Horizons productions, as well as a variety of exclusive benefits including invitations to attend special events with artists, staff and board members. Complete benefits list at www.phnyc.org.
Playwrights Horizons' season productions are generously supported in part by The Harold and Mimi Steinberg Charitable Trust and the New York City Department of Cultural Affairs.
Playwrights Horizons is supported in part by public funds from the National Endowment for the Arts, the New York State Council on the Arts with the support of Governor Andrew Cuomo and the New York State Legislature and the New York City Department of Cultural Affairs. In addition, Playwrights Horizons receives major support from The Andrew W. Mellon Foundation, The Shubert Foundation, the Peter Jay Sharp Foundation and the Time Warner Foundation.
Photo Credit: The Mad Ones