Photos: THE CHISELERS Starring Marie Wallace
Paul Adams, Artistic Director and Derek Jamison, Associate Artistic Director, present Emerging Artists Theatre's world premiere of THE CHISELERS by Mark Finley at TADA Theatre, beginning February 26, featuring Marie Wallace in the role of "Beverley." The production is directed by EAT member Melissa Attebery.
She's a famous ice sculptress and scion of the Sacramento Carstairs dynasty and everyone wants to know what really happened the night Margo Carstairs' husband was stabbed to death in a meat locker. Mark Finley's sequined, big-haired, padded shouldered comedy points fingers and names names!
Marie Wallace starred on the cult classic gothic soap opera "Dark Shadows" in not one but three roles: the outrageous Eve, affectionately known as "the most evil lady who ever lived," crazy red haired gypsy Jenny Collins (Marie's personal favorite character) and shopkeeper Megan Todd. Her stage credits include the original productions of GYPSY and SWEET CHARITY.
Says Attebery, "After speaking with Marie, I had a feeling that she was going to be a perfect fit for the role of Beverly, so I was anxious for her to meet Mark. When she left the room, Mark just smiled, wide-eyed. She was the one. Working with her so far has been a dream, and we haven't even had our first rehearsal! We feel so lucky that she decided to join us!" Finley adds, "I was so excited about Marie coming in to read for Beverly! It was so terrific to meet her and after her reading Melissa just looked at each other grinning and nodding as if to say 'Well, that was kinda perfect.'"
The cast of the THE CHISELERS also features Amy Bizjak, Nick Mathews, Thomas Poarch and Karen Stanion. The design team is Tim McMath (sets), Jenny Granrud (lighting), Meredith Neal (costumes) and Kristyn Smith (sound).
MARK FINLEY is the artistic director of TOSOS and has directed many of its acclaimed productions including Doric Wilson's A PERFECT RELATIONSHIP and STREET THEATER and most recently Chris Weikel's PIG TALE. As a member of Emerging Artists he has directed (most recently Kathleen Warnock's SOME ARE PEOPLE) and acted (Chris Weikel's LOST BOYS) but this is his first presentation by EAT as a playwright. His play THE MERMAID is published by United Stages.
MELISSA ATTEBERY began her career in Los Angeles in television development and production, holding positions at Paramount, Viacom and Granada Entertainment. Her New York stage credits include a number of original works by writers such as Leslie Bramm, Joe Godfrey, Vanda, Aurin Squire, Carla Ching, Matt Casarino, Phil Schmiedl and Susan Merson, playing at venues such as The Abingdon, HERE, The American Globe, Theatre on Five, The Kraine and Westbeth. She has also directed plays by Arthur Miller, Tennessee Williams, Nicky Silver, Sam Shepard and Eugene Ionesco. Her regional credits include works by A.R. Gurney, Lee Blessing, Ken Ludwig, Eric Bentley, Jane Chambers and Doug Wright. Melissa has assistant-directed for Tina Howe at the 24 HOUR PLAYS on Broadway, and she directed the award-winning comedy LARRY GETS THE CALL by Matt Casarino at the 15 Minute Play Festival. She is a resident director at Emerging Artists Theatre, where she also serves as the Assistant Company Manager for Directors. Please visit her new website at www.melissaattebery.com.
EMERGING ARTISTS THEATRE provides a dynamic home for playwrights and artists to develop their work from an idea to fully realized production. In the past 16 years, Emerging Artists has premiered over 275 new works and also: garnered a Drama desk nomination; received the American Theatre Wing award for Commitment to Excellence in Theatre; and named Best Off Off Broadway Theatre Company in NYC for Actors To Work With by Backstage Magazine. In the last 5 years alone, Emerging Artists has provided opportunities for over 1500 diverse artists (who did not have the resources themselves) to see their workdeveloped and premiered.
THE CHISELERS runs February 26, 2009-March 7, 2009, Thursday through Saturday at 9:30pm. TADA Theatre is located at 15 West 28th St, 2nd Floor, between Broadway and Fifth Avenue. Closest subway: N, R to 28th Street. Tickets are $18, available at 866-811-4111 or www.eatheatre.org.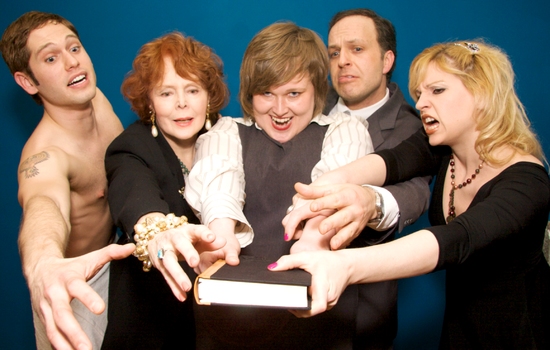 Photo: The cast of THE CHISELERS by Mark Finley