Photo Flash: Sarah Ruhl's PASSION PLAY
New York's OBIE Award-winning Epic Theatre Ensemble (Zak Berkman,Melissa Friedman, Ron Russell, Founding Executive Directors) presents the New York premiere ofSarah Ruhl's Passion Play (In The Next Room... or the vibrator play), directed by MarK Wing-Davey (The Singing Forest).
Performances began April 27 and continue through May 30, 2010.Opening night is set for May 12, 2010 at 6:45 p.m. The production is performed in the site-specificenvirons of the Irondale Center, a converted Sunday School inside the Lafayette Avenue PresbyterianChurch (85 South Oxford Street) in Fort Greene, Brooklyn. Inspired by the historic festivals where everyday citizens came together to elevate their communitiesby staging the death and resurrection of Christ, Sarah Ruhl's Passion Play transports audiencesfirst to 16 th century England, where Queen Elizabeth threatens to shut down a small town'sproduction; then to Nazi Germany, where Adolf Hitler's arrival at the famous OberammergauPassion Play influences the lives of its cast and finally to Spearfish, South Dakota in 1984, as a localproduction becomes a campaign stop for a famous actor-turned-President running for re-election. MarK Wing-Davey returns as director following his highly acclaimed productions of SarahRuhl's Passion Play at the Goodman Theatre and Yale Repertory Theatre, but is re-envisioningthe play for this site-specific New York premiere.
The full cast includes Hale Appleman, Brendan Averett, Dominic Fumusa, Polly Noonan,Daniel Pearce, Alex Podulke, Keith Reddin, Godfrey L. Simmons Jr., T. Ryder Smith,Kate Turnbull and Nicole Wiesner. Scenic Design is by Allen Moyer and Warren Karp, Costume Design is by Gabriel Berry andAntonia Ford-Roberts, Lighting Design is by David Weiner, Additional Music is by David VanTieghem, Movement Direction is by Jim Calder, Fight Direction is by David Anzuelo andDialect Coach is Deborah Hecht.Hailed by The New Yorker's John Lahr as "extraordinary" and full of "verve and daring", Ruhl'sthree-play cycle will be the centerpiece of an unforgettable Sarah Ruhl's Passion Play Festival, a series of performances, panel discussions, workshops, and education programs highlighting theintersection of art, politics, sexuality, and religion.
Performances are Wednesday - Friday at 7: 30 p.m., Saturday at 2:00 p.m. and 7:30 p.m. andSunday at 3:30 p.m. Tickets are available by visiting Epic's website at www.epictheatreensemble.org. Epic is thrilled to be partnering with a coalition of creative thinkers, art makers, academicinstitutions and Fort Greene community members to create the Passion Play Festival, which willsurround this production with fun and fascinating events and activities that range from danceparties, concerts and free food, to family workshops, new play readings and Epic's trademark Forum Series.
The Passion Play Festival is an ever expanding and organic communityendeavor, so please be sure to check www.epictheatreensemble.org often for up-to-the-minuteprogramming and scheduling information. Reservations for all Passion Play Festival eventsshould be made through emailing passionplaynyc@gmail.com. Epic Theatre Ensemble is an OBIE, Lucille Lortel, and OTTO Award-Winning artist-run company.
Founded in 2001 to create theatrical events Off-Broadway and in the New York City Public Schoolsthat inspire vital dialogue about social issues, Epic is best known for their premieres of No Child... by Nilaja Sun, Palace of the End by Judith Thompson, and Hannah and Martin by Kate Fodor, as wellas their groundbreaking Shakespeare Remix after-school program that received a 2009 Coming UpTaller Award from First Lady Michelle Obama at a White Ceremony this past November.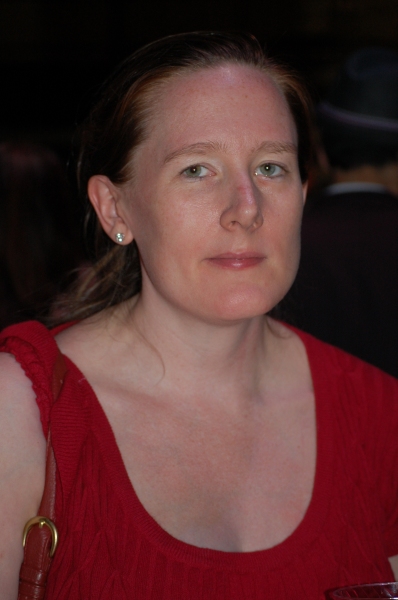 Sarah Ruhl

T. Ryder Smith, Hale Appleman and Kate Turnbull

Polly Noonan

Philip Seymour Hoffman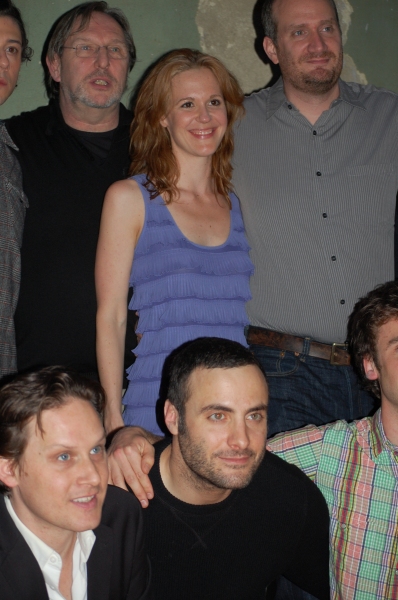 MarK Wing-Davey and cast members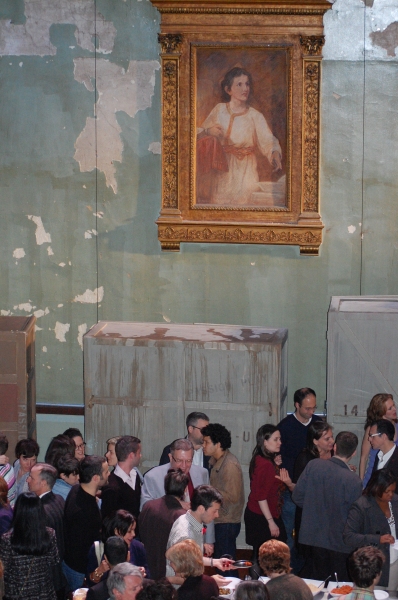 Irondale Center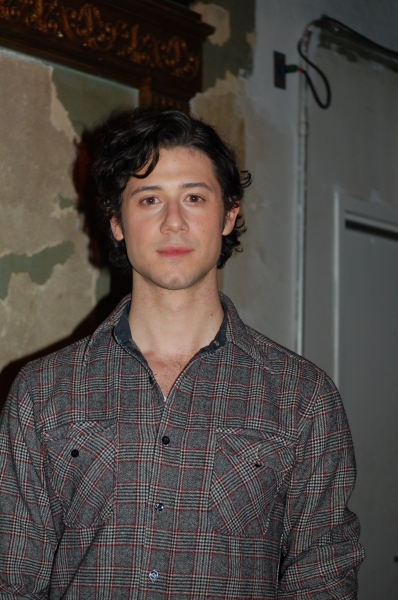 Hale Appleman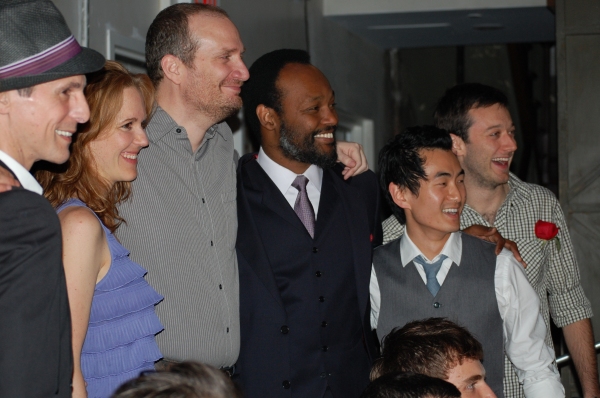 Cast Members of Sarah Ruhl's Passion Play

Zak Berkman, Melissa Friedman and Ron Russell

More Hot Stories For You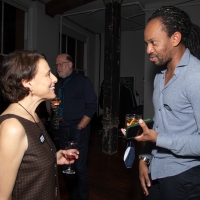 Photos: Go Inside Vineyard Theatre's Emerging Artists Celebration

November 30, 2022

See photos of Vineyard Theatre Artistic Directors Douglas Aibel and Sarah Stern presenting T. Adamson the 2022-23 Paula Vogel Playwriting Award. Adamson was presented with the award at The Vineyard's Emerging Artists Celebration on Tuesday, November 15. 
---
Alec The Third To Host PAAL Gala Honoring Shanta Thake Of Lincoln Center

November 30, 2022

Alec The Third (Bushwick Variety Show) will perform and host Parent Artist Advocacy League's first gala at A.R.T./New York's Mezzanine Theater. Shanta Thake, Ehrenkranz Chief Artistic Officer at Lincoln Center for the Performing Arts, will receive PAAL's first Leader in Care award.
---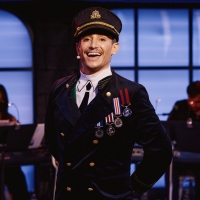 Frankie Grande to Depart TITANIQUE in December

November 30, 2022

Frankie Grande will play his final performance as Victor Garber in Titanique at the Daryl Roth Theatre on December 22. 
---
Video: Watch the Final Episode of HERE'S TO THE LADIES WHO - Full Series Now Available

November 30, 2022

Watch the final episode of the docuseries Here's To The Ladies Who, produced by The Broadway Women's Alliance and YesAnd Productions. This episode marks the finale of the six-episode series.
---
Photos: Go Inside the 2022 Fred Ebb Award Ceremony

November 30, 2022

See photos from the eighteenth annual Fred Ebb Award ceremony. Julia Riew was the recipient of the Fred Ebb Award. The award, named in honor of the late award-winning lyricist Fred Ebb, was presented by Beth Leavel on Monday November 28th from 6-8pm at a by-invitation-only ceremony in the Penthouse Lounge of The American Airlines Theater.
---