Photo Flash: Playwrights Horizons GO BACK TO WHERE YOU ARE
Playwrights Horizons (Tim Sanford, Artistic Director; Leslie Marcus, Managing Director) has announced complete casting for the World Premiere of GO BACK TO WHERE YOU ARE, a new play by five-time Obie Award winner David Greenspan (author/performer of She Stoops to Comedy, performer in The Wax and director of Kate's Diary, all at PH; Coraline; Some Men; The Argument; The Myopia; The Boys in the Band). Check out images from the production below!
Directed by Leigh Silverman (Blue Door and The Retributionists at PH, Well on Broadway, In the Wake at The Public, Coraline, Drama Desk nomination for From Up Here), the production will begin previews Thursday, March 24 at 7:30 PM. With an Opening Night set for Tuesday, April 12 at 7PM, the limited engagement will play through Sunday, May 1 at Playwrights Horizons' Peter Jay Sharp Theater (416 West 42nd Street). GO BACK TO WHERE YOU ARE will be the fifth production of the theater company's 2010/2011 40th Anniversary Season.
As previously announced, the cast will be headed David Greenspan. He'll be joined by Obie Award winner Lisa Banes (My Sister in This House, PH's Isn't It Romantic/Drama Desk nomination, Broadway's Present Laughter and Arcadia, Off-Broadway's Look Back in Anger/Theatre World Award), Tony Award nominee Stephen Bogardus (Love! Valour! Compassion!, PH's March of the Falsettos and Falsettoland, Broadway's James Joyce's The Dead, Irving Berlin's White Christmas and Falsettos), Obie Award winner Tim Hopper (More Stately Mansions, PH's Three Changes, Broadway's Present Laughter, Off-Broadway's Almost an Evening, The Dying Gaul and Picasso at the Lapin Agile), Brian Hutchison (PH's People Be Heard, Broadway's Exit the King, Proof and The Invention of Love), Michael Izquierdo (New Jerusalem at CSC, Mother Courage at The Public) and Obie Award winner Mary Shultz (Sustained Excellence, PH's Small Tragedy, The Wax and Little Egypt, Off-Broadway's Slavs! and Mad Forest).
A forgotten chorus boy (Mr. Greenspan) from the theater of Ancient Greece, stuck in a lonely purgatory these past 2000 years, is sent back to Earth on a mission from God. He now finds himself among a vacationing family in Montauk, caught off-guard by his re-discovered ability to feel love. GO BACK TO WHERE YOU ARE is a melancholy comic romance, told with Greenspan's unique brand of theatrical wit and exquisite lyricism.
The production will feature scenic design by Rachel Hauck, costume design by Theresa Squire and lighting design by Matt Frey. Production Stage Manager is Kyle Gates.
The performance schedule for GO BACK TO WHERE YOU ARE will be Tuesdays through Fridays at 7:30 PM, Saturdays at 2PM & 7:30 PM and Sundays at 2PM & 7PM. Single tickets, $55, may be purchased online via www.TicketCentral.com, by phone at (212) 279-4200 (Noon-8pm daily), or in person at the Ticket Central Box Office, 416 West 42nd Street (between Ninth & Tenth Avenues). There is a special added performance on Monday, April 11 at 7:30 PM.
Three special performances of GO BACK TO WHERE YOU ARE will offer PLAYTIME! at Playwrights Horizons, a brand new program offering affordable, professional childcare while patrons see a show. Playwrights Horizons has teamed up with Sitters Studio, a bonded and insured company made up of sitters who are working artists, which will provide and operate the program at Playwrights Horizons. PLAYTIME! is free to Playwrights Horizons subscribers and available to non-subscribers for a flat fee of $15 per child. PLAYTIME! care will be offered during the following three matinee performances: Saturday, April 2 at 2PM; Sunday, April 10 at 2PM; and Saturday, April 30 at 2PM.
For more information, visit the PLAYTIME! web page at www.playwrightshorizons.org/playtime.asp, or call Casey York at (212) 564-1235, ext. 3152. For additional information about Sitters Studio, please visit www.sittersstudio.com. To book tickets to GO BACK TO WHERE YOU ARE and reserve your child's spot in the PLAYTIME! program, visit www.ticketcentral.com, or call Ticket Central daily from Noon to 8 PM at (212) 279-4200. You must reserve childcare at the time you book your performance tickets, and no fewer than 10 days prior to your desired performance.
For subscription and ticket information to all Playwrights Horizons productions, call Ticket Central at (212) 279-4200, Noon to 8 pm daily, or purchase online at the Playwrights Horizons website at www.playwrightshorizons.org.
Photo Credit: Joan Marcus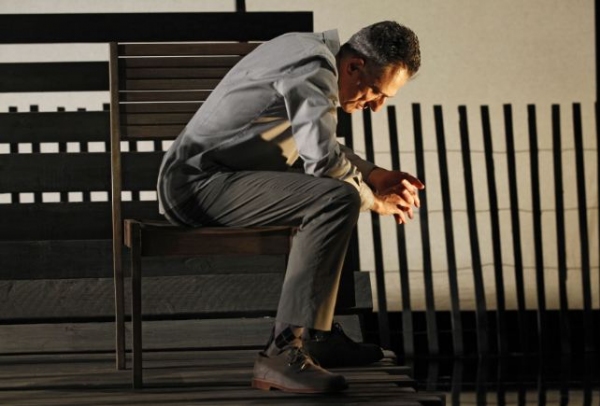 David Greenspan

David Greenspan, Brian Hutchison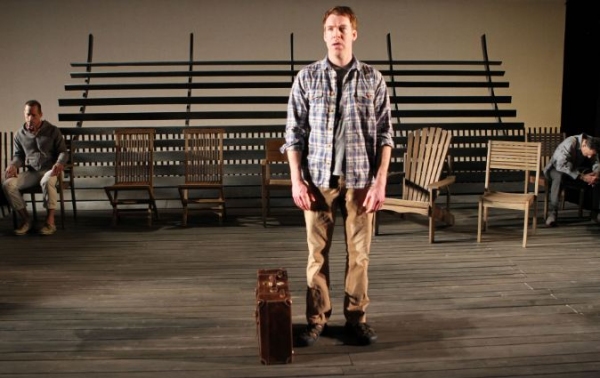 Brian Hutchison

Stephen Bogardus, Lisa Banes, Mary Shultz

David Greenspan

Brian Hutchison, David Greenspan

Lisa Banes, David Greenspan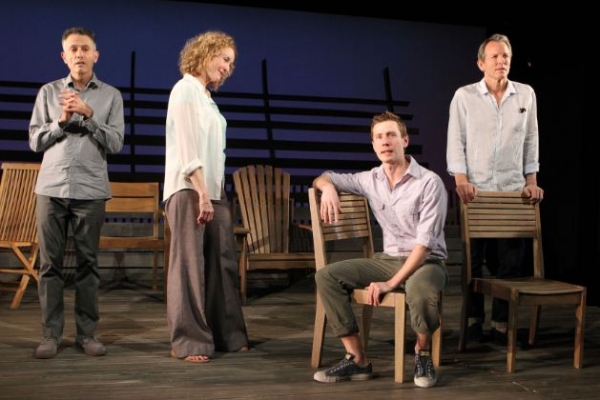 Cast of GO BACK TO WHERE YOU ARE

Cast of GO BACK TO WHERE YOU ARE