Photo Flash: New York Stage and Film's WE ARE HERE
New York Stage and Film's 2010 season kick-off with a meet and greet of the cast and creative team of We Are Here. The show premieres on June 29, 2010 at Vassar College's Powerhouse Theatre.
We Are Here, by actor and playwright Tracy Thorne and directed by Tonynominee Sheryl Kaller, offers a glimpse at three generations of a family possessing wit, endurance, and compassion in the face of unimaginableloss.
As the joyful past and devastated present are braided together with song, young parents Billie (de' Adre Aziza) and Hal (Adam Rothenberg), together with Billie's sister Shawn (Uzo Aduba) and their parents Everett (Larry Pine) and Vera (Adriane Lenox), search for the strength to live on. Founded in 1985 by Producing Directors Mark Linn-Baker, Max Mayer and Leslie Urdang, and now under the leadership of Artistic Director Johanna Pfaelzer and Managing Director Nicki Genovese, New York Stage and Film (SAF) is a not-for-profit company dedicated to the development and production of new works for theater and film.
SAF has developed and produced premiere works by such writers as John Patrick Shanley, Jon Robin Baitz, Steve Martin, Theresa Rebeck, and Eve Ensler (www.newyorkstageandfilm.org).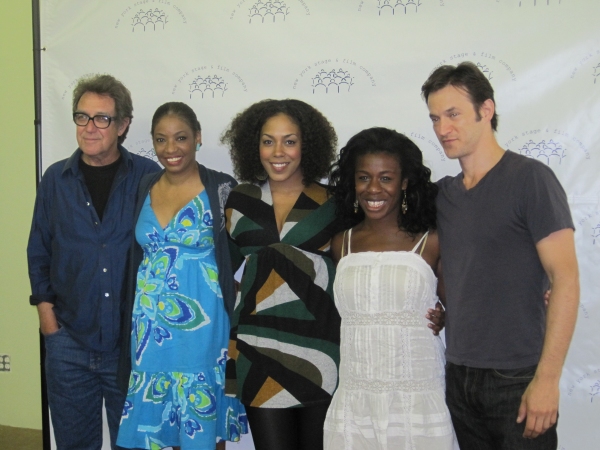 The cast of We Are Here including Larry Pine, Adriane Lenox, de'Adre Aziza, Uzo Aduba and Adam Rothenberg

Alex Timbers, Keith Bunin, Sheryl Kaller (Collaborators for the 2010 season), with founder Mark Linn-Baker and Artistic Director Johanna Pfaelzer

Mark Linn-Baker with Artistic Director Johanna Pfaelzer

Director of We Are Here with castmembers Larry Pine, Adriane Lenox, de'Adre Aziza, Uzo Aduba, Adam Rothenberg and playwright Tracy Thorne