Photo Flash: Meet the Cast of STILL AT RISK at Theater for the New City
Theater for the New City (Crystal Field, Executive Artistic Director), in association with MBL Productions (Mary J. Davis, Producer), presents the New York premiere of the new play, Still at Risk by Tim Pinckney (Message to Michael) at the Community Space Theater at Theater for the New City (155 First Avenue, between 9th & 10th Streets). Directed by Carl Andress (The Divine Sister; Die, Mommie, Die!), the five-member cast will feature Robert Gomes (Dada Woof Papa Hot, The Tempermentals) as Kevin, Christopher J. Hanke (How to Succeed in Business Without Really Trying, Buyer & Cellar) as Christopher, Amy Hohn (November, Cat on a Hot Tin Roof) as Susan, Ryan Spahn (Daniel's Husband, Summer and Smoke) as Byron, and Jonathan Walker (The Assembled Parties, The Divine Sister) as Marcus.
Kevin, a surviving activist from the front lines of the AIDS crisis, finds himself struggling to find his place and purpose in contemporary gay culture. When a gay fundraising event threatens to erase the history he was part of creating, Kevin's anger and passion are renewed and he is confronted with the challenge of how to motivate change in this new climate of visibility. Along the way, Kevin's raw and slightly unhinged methods provoke everyone who can help him, damage long friendships and eventually expose some dark secrets. Hilarious, sharp, and deeply moving, Still at Risk is a powerful look at the personal and political hazards of rewriting the past and one man's attempt to move forward.
The creative team will include Jason Lee Courson (Scenic Design), Gregory Gale (Costume Design), Steve O'Shea (Lighting Design), and Adrian Bridges (Sound Design). The Production Stage Manager is Giles T. Horne and Assistant Stage Manager is Jessica Fleischman. The General Manager is Tony Spinosa with Company Manager Greg Santos. Graphic Design is by Sr?a Vasiljevi?.
Performances begin Thursday, March 7, 2019 for a limited engagement through Sunday, March 31, 2019 at the Community Space Theater at Theater for the New City (155 First Avenue, between 9th & 10th Streets).
NOW ON SALE, tickets for Still at Risk are priced at $25 and may be purchased online at www.smarttix.com.
For additional information, please visit the Theater for the New City website at: www.theaterforthenewcity.net
Check out photos of the company below;
Photo Credit: Courtesy of "Still at Risk"

Tim Pinckney and Carl Andress.

Robert Gomes, Ryan Spahn, Amy Hohn, Christopher J. Hanke, Jonathan Walker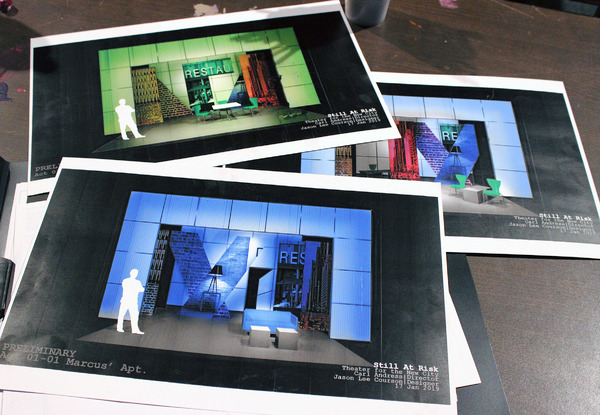 Set renderings by Jason Lee Courson

Set Designer Jason Lee Courson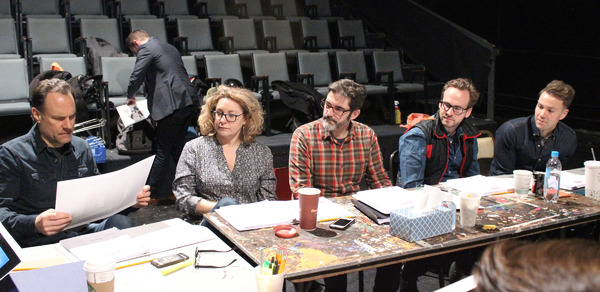 Jonathan Walker, Amy Hohn, Robert Gomes, Ryan Spahn, Christopher J. Hanke

Robert Gomes, Ryan Spahn, Amy Hohn, Jonathan Walker, Christopher J. Hanke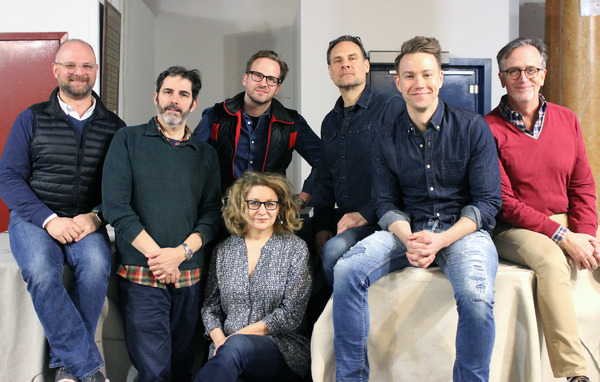 Carl Andress, Robert Gomes, Ryan Spahn, Amy Hohn, Jonathan Walker, Christopher J. Hanke, Tim Pinckney