Photo Flash: First Look at the New Immersive Production of TRAINSPOTTING LIVE
Below, get a first look at the no-holds-barred immersive production of Irvine Welsh's Trainspotting Live, now in preview performances Off-Broadway. Adapted by Harry Gibson and directed by King's Head Theatre Artistic Director Adam Spreadbury-Maher, in collaboration with Greg Esplin, Trainspotting Live is now in performances in a brand new immersive performance space at Roy Arias Stages (777 8th Avenue). Produced by Brass Jar Productions (Drunk Shakespeare) and Olivier Award-winning producer James Seabright, Trainspotting Live officially opens on Sunday, July 15, 2018. Tickets are now available at www.TrainspottingNYC.com.
Set against a dynamic soundscape of 80's dance music, Trainspotting Live takes an insightful and brutally honest look at friends, Mark Renton, Tommy, Sick Boy, Begbie and Allison as they live and struggle through the Edinburgh heroin epidemic. This raw and gritty 75-minute stage experience, offers a real-life look at the effects of addiction, and all its highs and lows, while bringing to life the classic novel and globally successful film with humor, poetry, and provocatively graphic staging. Drawing strong parallels to the opioid crisis ravaging small towns and cities across America, Welsh's enduring story and characters exposes the heart of the issue and demonstrates the nondiscriminatory nature of the disease. A beautifully disgusting production that holds nothing back, Trainspotting Live is a must see for avid fans of the film and, for Trainspotting virgins, it provides a powerfully entertaining experience you won't soon forget! The cast of Trainspotting Live includes
Tariq Malik
as "Sick Boy,"
Andrew Barrett
as "Renton,"
Tom Chandler
as "Begbie,"
Lauren Downie
as "June,"
Greg Esplin
as "Tommy,"
Pia Hagen
as "Allison" and
Oliver Sublet
as "Mother Superior." Trainspotting Live contains nudity, very strong language, violence, sexual material, and heavy drug / needle use. The production is only recommended for audience members age 16 and over. Performances of Trainspotting Live take place on Wednesdays, Fridays and Saturdays at 7:30 PM, and Thursdays and Sundays at 7 PM, with late shows on Saturdays at 9:30 PM.Tickets are $55 - $89 and can be purchased online at
www.TrainspottingNYC.com
. The 1996 British black comedy film, Trainspotting was directed by
Danny Boyle
, starred
Ewan McGregor
, and quickly achieved iconic status on both sides of the Atlantic. It was the highest-grossing British film of 1996 and, at the time, the fourth highest grossing film in British history. Trainspotting was nominated for the Academy Award for Best Adapted Screenplay and for two British Academy Film Awards, winning one for Best Adapted Screenplay. For his performance,
Ewan McGregor
was named Best Actor by the London Film Critics Circle, BAFTA Scotland Awards, and Empire Magazine. A sequel, Trainspotting T2 was released in the U.K. in January 2017 and worldwide in February 2017. The property again smashed box office records in the U.K., debuting at $6.3 million. For more information, please visit
www.TrainspottingNYC.com
.
Photo Credit: Travis Emery Hackett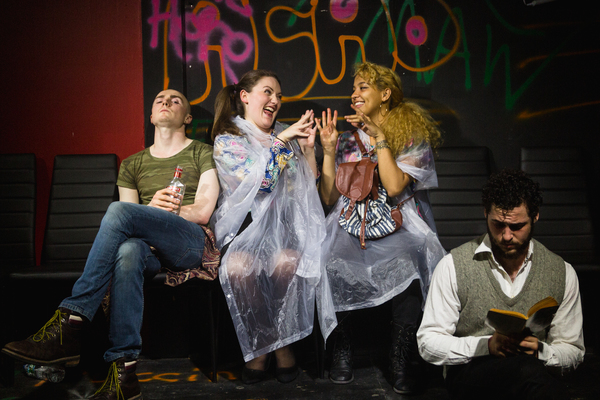 AnDrew Barrett, Lauren Downie, Pia Hagen and Oliver Sublet

Greg Esplin and AnDrew Barrett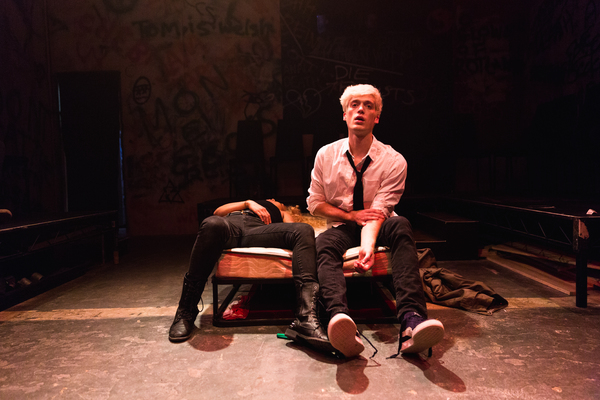 Pia Hagen and Tariq Malik