Photo Flash: Dog Run Rep Presents The Man Who Ate Michael Rockefeller
DOG RUN REP is presenting the world premiere of The Man Who Ate Michael Rockefeller, a new play by Jeff Cohen based on the short story by Christopher Stokes, directed by Alfred Preisser. In 1961, Michael Rockefeller, 23 years old, disappeared among the Asmat People of Papua, New Guinea. He was never heard from again. This is the story of what might have happened, told by the Asmat people. The Man Who Ate Michael Rockefeller will play a four-week limited engagement at the West End Theatre, The Church of St. Paul & St. Andrew, 263 West 86th Street @ West End Avenue. All tickets are $18. Performances begin Friday, September 10 and continue through Sunday, October 3. Opening Night is Sunday, September 12 at 7 pm. Please note the following performance schedule:
9/10 @ 8 pm, 9/11 @ 2 & 8 pm, 9/12 @ 7 pm
9/16 @ 8 pm, 9/18 @ 8 pm, 9/19 @ 7 pm, 9/20 @ 8 pm
9/23 @ 8 pm, 9/24 @ 8 pm, 9/25 @ 8 pm, 9/26 @ 7 pm
9/30 @ 8 pm, 10/1 @ 8 pm, 10/2 @ 8 pm, 10/3 @ 5 pm
Advance tickets are $18 and can be purchased through Smarttix at 212-868-4444 or online at www.smarttix.com. $10 RUSH ticket for students and seniors, day of performance, cash only. For more information go to
www.dogrunrep.com
. The disappearance of Michael Rockefeller remains one of the great unsolved mysteries of the past 50 years. The Man Who Ate Michael Rockefeller takes the audience on a journey to the Asmat region of Papua, New Guinea where cannibalism and head-hunting were still a vital part of centuries-old traditions. At the time of his disappearance, Michael Rockefeller, son of New York Governor Nelson Rockefeller, was already a well-respected cultural anthropologist with a deep passion for exploring the unknown. "It's the desire to do something romantic and adventurous," he said, "at a time when frontiers, in the real sense of the word, are disappearing." Michael Rockefeller also knew that Western contact with the "primitive" world was destroying that world. Even in 1961, in less remote areas of the region, native peoples were wearing pants and losing their way of life. Rockefeller observed: "The West thinks in terms of bringing advance and opportunity to such a place. In actuality we bring a cultural bankruptcy." A cottage industry has grown up around the incident. Fueled, no doubt, by the celebrity of the Rockefeller name, and similarities to the great Conrad story Heart of Darkness, the disappearance has spawned films, books, television episodes and articles, including in Oui Magazine (April, 1977) an article titled: Is This The Man Who Ate Michael Rockefeller?
Christopher Stokes
' story (and Cohen's stage adaptation) turn the tables on this industry, telling the story as the Asmats themselves might have told it, and challenging our Western cultural biases.
Christopher Stokes
teaches fiction writing in Dallas. He is currently working on a novel. His short story was selected in the prestigious anthology Best New American Voices, 2008 and subsequently published in McSweeney's, 23. The New Statesman called it "...a subversive reworking of American history." Publisher's Weekly called it "... a stand-out example (of) a deftly original story that defies easy categorization." And The Independent called it "A fabulous fictional account."
Jeff Cohen
is the Artistic Director and founder of Dog Run Rep and was the founder and Artistic Director of Worth Street Theater Company, The Tribeca Playhouse, and The RAPP Arts Center (now the Connelly Theatre). He has enjoyed an accomplished career in the theatre as playwright, director and producer. His original plays include The Soap Myth and Men Of Clay (Best New Play, 2005 - The Baltimore City Paper). His adaptations of Chekhov include Uncle Jack (published in the anthology Playing With Canons) and The Seagull: The Hamptons (Ten Best Plays - The Boston Globe) - with various casts including Neil Huff,
Marin Hinkle
,
Tammy Grimes
, D.B. Sweeney and
Laura Linney
. Other adaptations include Orestes: I Murdered My Mother, Tartuffe, and the Audelco Award-winning Whoa-Jack! (based on Woyzeck) which featured the professional stage debut of
Michael Ealy
. Other notable productions include The Normal Heart at
The
Public Theater
(Drama Desk nomination - Best Play Revival), Four by
Christopher Shinn
(Drama Desk nomination, Lortel Award),
Tristine Skyler
's The Moonlight Room (Ten Best Plays - The New York Times, 2 Lortel nominations, Outer Critics nomination), The Mystery of Attraction by Marlene Meyer (Obie Award)
Tennessee Williams
' Small Craft Warnings (featuring
David Green
span) and The Tribeca Playhouse Stage Door Canteen (special 2002 Drama Desk Award).
Alfred Preisser
, from 1999 - 2009, was the Founding Artistic Director of The Classical Theatre of Harlem, where he created a wide and distinguished body of work noted for its physicality, originality, and use of music and dance. Award-winning highlights include his 2009 production of ARCHIBISHOP SUPREME TARTUFFE starring André De Shields (four Audelcos);
Melvin Van
Peebles' Ain't Supposed To Die a Natural Death (seven Audelcos); and his 2006 production of King Lear with André De Shields which opened the 75th Anniversary season at The Folger Shakespeare Theatre in Washington D.C. He has created critically acclaimed original adaptations of Medea, The Trojan Women and Electra. He is a visiting artist and professor of theatre and directing at City College of New York, and is working with Professor Eugene Nesmith, Associate Professor, and Chair in the Department of Theater at CCNY, to create CityArts Theatre (CAT), a professional summer theatre company for the school. Projects in development include an annual Christmas dance-concert Black Nativity Now, opening in December 2010 at Theatre at St. Clements; and a multi-city tour of Ain't Supposed To Die a Natural Death by
Melvin Van
Peebles in 2011, marking the 40th Anniversary of that seminal American spoken word musical. After a twice-extended run at La MaMa's
Ellen Stewart
Theatre this Spring,
Caligula Maximus
, an outrageous theatrical extravaganza, combining elements of a circus, a play with music, and a nightclub installation, co-written by
Alfred Preisser
and
Randy Weiner
and directed by Preisser, is slated for a commercial run this Fall. His work has been recognized with the
American Theatre Wing
Award (Outstanding Artistic Achievement), Drama Desk Award (Artistic Achievement),
Lucille Lortel
Award (Outstanding Body of Work), two Obie Awards (Sustained Achievement and Excellence in Theatre) and numerous Audelco Awards.
The cast for Michael Rockefeller includes David Brown, Jr., Shannon Dorsey, Tracy Jack, David King, Sean Lum, Tyshawna Maddox, Daniel Morgan Shelley, Aaron Strand and Rawle "Fitz" Williams. Among his many Off-Broadway credits, David Brown, Jr. played Robert Earl Hayes in the award-winning and acclaimed play The Exonerated and reprised the role in the film as well. Shannon Dorsey has appeared at the Kennedy Center in A Midsummer Night's Dream (Helen Hayes Award) and Carmen (Helen Hayes Nomination), Tracy Jack (who is also the production's choreographer) has recent credits that include Melvin Van Peebles' Sweet Sweetback's Baadasssss Song (Paris, France), André De Shields' Mine Eyes Have Seen The Glory, Diane Paulus and Randy Weiner's Best of Both Worlds (Cambridge MA) and Alfred Preisser's ARCHBISHOP SUPREME TARTUFFE. David King's recent Off-Broadway credits include Black Angels over Tuskegee and Caligula Maximus. Daniel Morgan Shelley's credits include the title role in Othello (Theatre Row), Saturnalia directed by Daniel Fish, Black Russian directed by Marion McClinton, Mercutio in Romeo & Juliet and Brutus Mohammad in Julius X, both directed by Alfred Preisser. He is a graduate of the Julliard School. Aaron Strand last appeared Off-Broadway as Jesus in Alfred Preisser's Caligula Maximus.
The design team for Michael Rockefeller includes Heather Wolensky (sets), Jay Scott (lights), and Kimberley Glennon (costumes). Ms. Wolensky's credits include Equus starring Alec Baldwin at Guild Hall and both she and Mr. Scott were part of the design team for last summer's world premiere of Mr. Cohen's The Soap Myth. As resident costume designer for the Classical Theatre of Harlem, Ms. Glennon's extensive credits include The Blacks: A Clown Show (Obie Award, American Theatre Wing Nomination), Waiting for Godot starring Wendell Pierce. She has also designed for the Cherry Lane Theatre, the American Place Theatre, Julliard and Urban Stages.
DOG RUN REP is pleased to announce the world premiere of The Man Who Ate Michael Rockefeller, a new play by
Jeff Cohen
based on the short story by
Christopher Stokes
, directed by
Alfred Preisser
. The Man Who Ate Michael Rockefeller will play a four-week limited engagement at the West End Theatre, The Church of St. Paul & St. Andrew, 263 West 86th Street @ West End Avenue. All tickets are $18. Performances begin Friday, September 10 and continue through Sunday, October 3. Opening Night is Sunday, September 12 at 7 pm. Please note the following performance schedule:
9/10 @ 8 pm, 9/11 @ 2 & 8 pm, 9/12 @ 7 pm
9/16 @ 8 pm, 9/18 @ 8 pm, 9/19 @ 7 pm, 9/20 @ 8 pm
9/23 @ 8 pm, 9/24 @ 8 pm, 9/25 @ 8 pm, 9/26 @ 7 pm
9/30 @ 8 pm, 10/1 @ 8 pm, 10/2 @ 8 pm, 10/3 @ 5 pm Advance tickets are $18 and can be purchased through Smarttix at 212-868-4444 or online at www.smarttix.com. $10 RUSH ticket for students and seniors, day of performance, cash only. For more information go to www.dogrunrep.com.
Photos by Lia Chang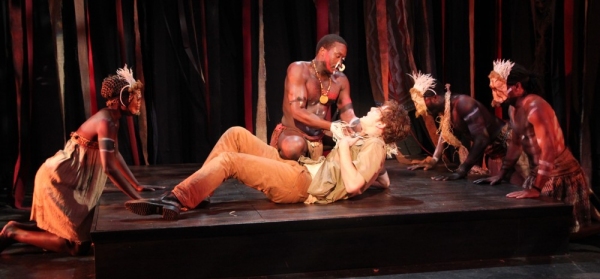 Tyshawna Maddox, Daniel Morgan Shelley, Aaron Strand, David King, and Rawle "Fitz� Williams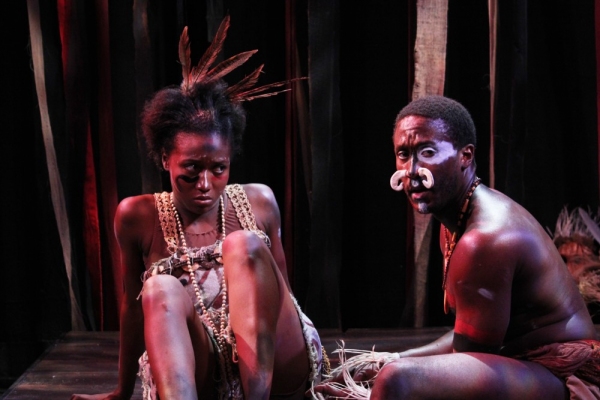 Shannon A. L. Dorsey and Daniel Morgan Shelley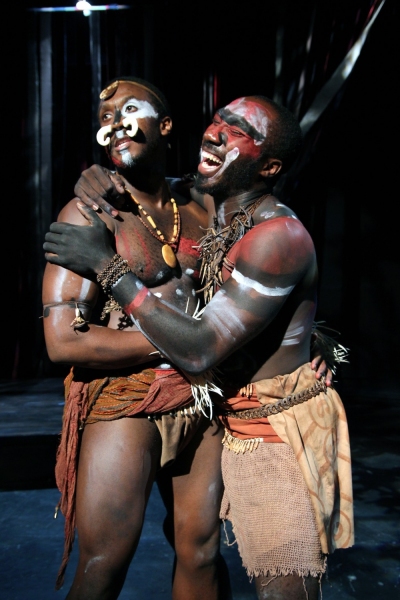 Daniel Morgan Shelley and David King