Photo Flash: AJIJAAK ON TURTLE ISLAND Opens at La MaMa
Heather Henson and IBEX Puppetry are proud to present Ajijaak on Turtle Island, at La MaMa Experimental Theatre Club (66 E 4th St, New York, NY 10003) from February 8-18, 2018. Tickets on sale at www.lamama.org/ajijaack. Created by Ty Defoe, Dawn Avery & Larry Mitchell, Kevin Tarrant, and Heather Henson and co-directed by Defoe and Henson, Ajijaak on Turtle Island in an immersive environmental spectacle for the whole family.
Separated from her family, young whooping crane Ajijaak undertakes her first migration from Canada to coastal Texas alone. Her journey is disrupted by environmental, industrial, and mythical chaos, elements of the monstrous Mishepeshu. Ajijaak must fly onward, learning from members of the Native communities she encounters along the way. Bringing audiences together through puppetry, traditional Native dances and music, animations, winter guard and indoor kites, Ajijaak on Turtle Island explores the symbiotic relationship between cranes and the Indigenous peoples of North America inspiring the next generation of eco-champions.
The ensemble includes Ty Defoe (Oneida and Ojibwe Nations), Tony Enos (Echota Cherokee), Joan Henry (Tsalagi/Nde'/Arawaka Nations), Wen Jeng, Curtiss Lee Mitchell, Adelka Polak, Sheldon Raymore (Cheyenne River Sioux), and Henu Josephine Tarrant (Ho-Chunk, Rappahannock, Hopi & Kuna) with Jake Montanaro, Jennifer Sanchez, Euni Shim, and Dormeshia Ward and live music from Travis Richardson (Haliwa-Saponi Tribe), and Kevin Tarrant (Ho-Chunk & Hopi). Designers include Christopher Swader & Justin Swader (Scenic), Katherine Freer (Projections), Marika Kent (Lighting), Emma Wilk (Sound), Lux Haac (Costumes), Curtiss Lee Mitchell (Aerials), and Jim Henson's Creature Shop (Puppets). Ajijaak on Turtle Island is a Qualified Parity Production.
Special post show events are scheduled including free family craft workshops before Sunday matinees as well as talk backs with the designers from Jim Henson's Creature Shop, Dr. Richard Beilfuss of the International Crane Foundation, and the composers of Ajijaak on Turtle Island. For more information and tickets, visit www.lamama.org/ajijaack.


Ensemble for Ajijaak on Turtle Island. Credit Theo Cotes

Wen Jeng, Credit Theo Cotes

Credit Theo Cotes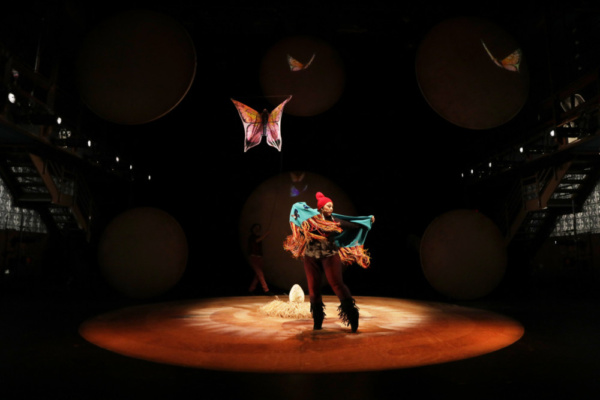 Fancy Shawl Dance by Henu Josephine Tarrant, Credit Theo Cotes

Proud parents await Ajijaak's birth. Adelka Polak, Joan Henry, Sheldon Raymore, Wen Jeng, Credit Theo Cotes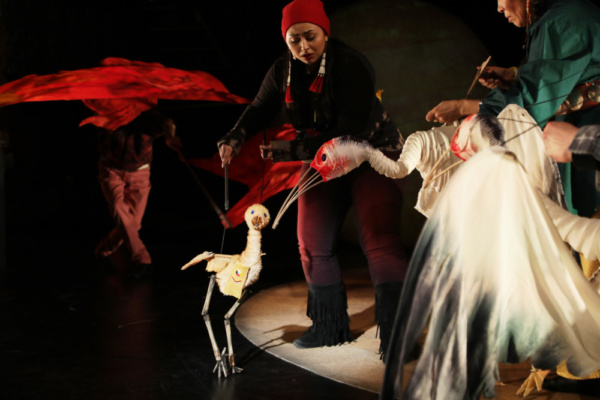 Wild fire in the Tar Sands threatens to separate baby Ajijaak from her family. Credit Theo Cotes

Ajijaak meets a deer. Adelka Polak, Henu Josephine Tarrant, Credit Theo Cotes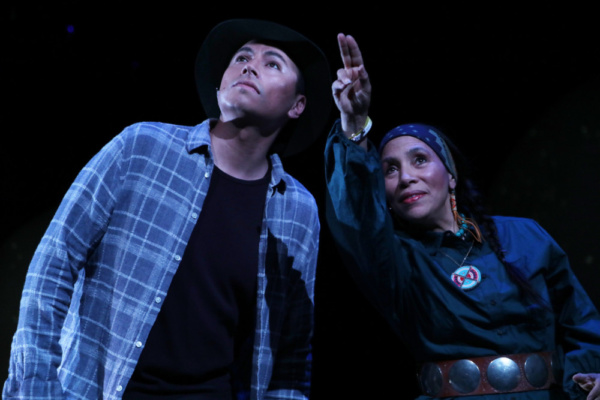 Sheldon Raymore and Joan Henry, Credit Theo Cotes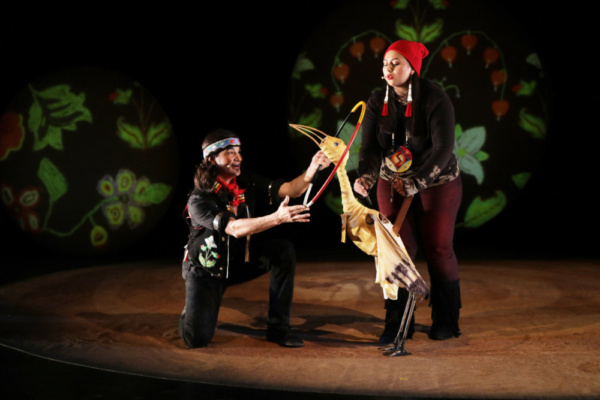 Ajijaak begins to find her voice. Ty Defoe, Henu Josephine Tarrant, Credit Theo Cotes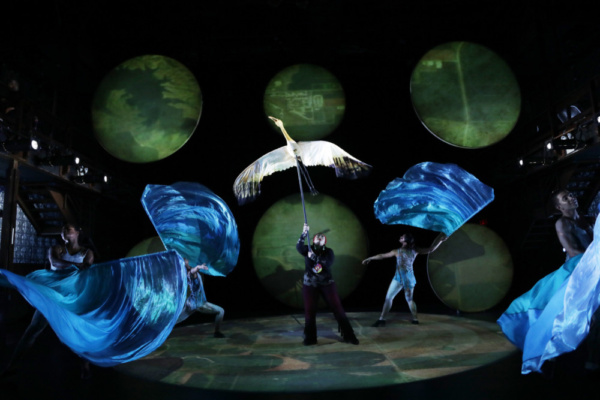 Ajijaak learns to fly. Dormeshia Ward, Euni Shim, Henu Josephine Tarrant, Jennifer Sanchez, Jake Montanaro. Credit Theo Cotes

Herd of buffalo by Jim Henson's Creature Shop. Credit Theo Cotes

Ajijaak flies into the storm. Credit Theo Cotes

Tony Enos and Henu Josephine Tarrant, Credit Theo Cotes

Ajijaak gets advice from a fast talking turtle. Credit Theo Cotes

Ensemble of Ajijaak on Turtle Island. Credit Theo Cotes