Photo Flash: 59E59 Presents ENJOY
ENJOY - a new play by the renowned Japanese playwright Toshiki Okada -- will be given its English-language premiere in a production by the Obie award-winning Off-Broadway theatre company, The Play Company, with previews began March 27 and an official opening night set for April 6, 2010 Off-Broadway at 59E59 Theaters (Elysabeth Kleinhans, Artistic Director; Peter Tear, Executive Producer), located at 59 E. 59 St., between Park and Madison Avenues in Manhattan. Kate Loewald is Founding Producer of The Play Company; Lauren Weigel is Managing Producer. This production is presented in association with Japan Society.
Directed by Dan Rothenberg of the celebrated Pig Iron Theatre Company, ENJOY will be performed in English in a translation by Aya Ogawa.
Described as an offbeat comedy of 21 century manners, ENJOY follows the romantic adventures of 20 and 30-something workers at a Tokyo manga café. The play creates a portrait of Japanese youth culture adrift and the gathering storm of economic uncertainty in their future. (Manga cafes are popular spots in Japan where people pay for space and time to read 'manga' - Japanese comic books of graphic novels - along with access to video games, television, internet, showers and food services.)
Considered one of Japan's leading contemporary playwrights, Toshiki Okada is the founder of his own theatre company, 'chelfitsch,' and has created a body of work there - including ENJOY, which premiered at Tokyo's New National Theatre. He is also a noted novelist, and his cutting edge work has drawn international attention not only from the theatre and dance works, but also from the fine arts and literary communities.
In what is regarded as a coup in many theatre circles, The Play Company production of ENJOY marks the first time that an Okada play has been performed by a company of actors not his own, and with a director other than Okada himself. ENJOY is the inaugural project in The Play Company's Universal Voices Translation Program, which commissions American translations of foreign-language plays.
The cast of The Play Company's production of ENJOY features an accomplished cast of American actors including Kris Kling, Steven Boyer, Joseph Midyett, Alex Torra, Kira Sternbach, Stacey Yen, Mary McCool, Jessica Almasy and Frank Harts.
Scenic design for ENJOY is by Mimi Lien; costume design is by Maiko Matsushima; lighting design is by James Clotfelter; and sound design is by Daniel Kluger.
Toshiki Okada was born in 1973 and formed the theater company chelfitsch in 1997. He is known for his use of hyper-colloquial Japanese and unique choreography. In 2005, Five Days in March won the prestigious 49th Kishida Drama Award. In 2007 his collection of novels The End of the Special Time We Were Allowed debuted and was awarded the Kenzaburo Oe Prize.In 2008, he presented Freetime, a piece co-produced by KUNSTENFESTIVALDESARTS, Wiener Festwochen, and Festival d'Automne. In 2009, his newest piece Hot Pepper, along with Air Conditioner, and The Farewell Speech, was premiered in Berlin, in co-production with HAU.
Director DAN ROTHENBERG, who most recently directed "Chekhov Lizardbrain", is a founding member and co-artistic director of the Pig Iron Theatre Company. Dan has directed almost all of Pig Iron's original performance works, including Poet in New York, Gentlemen Volunteers, Isabella, Pay Up, The Lucia Joyce Cabaret, and the OBIE Award-winning Hell Meets Henry Halfway. In 2001, Dan co-directed Shut Eye with Joseph Chaikin. Other projects include creation of audio works to accompany the paintings of Alexandra Grant at MOCA in Los Angeles, improvisation research with Headlong Dance Theater and Miguel Guttierez, and ongoing collaborations with Stockholm's Teater Slava and the alt-comedy group The Berzerker Residents.
Aya Ogawa has written the plays Serendipity, or a post-modern farce (winner, KC/ACTF; finalist, Humana); Eating Dirt (Soho Rep; T.H.A.W. at HERE; published in Japanese in "Serifu no Jidai"). As writer & director: A Girl of 16 (Latea Theatre); pictures of the drowned (NYTW's 4th St Theater); ARTIFACT (PRELUDE '07; Performance Mix Festival, Joyce Soho); oph3lia (HERE -- NYIT Awards Outstanding Ensemble Nominee). In 2005, she formed the company knife, inc. (www.knifeinc.org). She has translated numerous Japanese plays into English, including those by Toshiki Okada (chelfitsch): Five Days in March, Enjoy, Air Conditioner, Hot Pepper and Free Time. She is a Usual Suspect at NYTW.
The Play Company is dedicated to adventurous new writing by playwrights from the U.S. and around the world, linking NYC artists and audiences to a whole world of plays. Recent productions include the NY premiere of Lloyd Suh's AMERICAN HWANGAP (U.S.), the U.S. premieres of Przemyslaw Wojcieszek's MADE IN POLAND (Poland); Robert Farquhar's BAD JAZZ (England), Vijay Tendulkar's SAKHARAM BINDER (India); Yoji Sakate's THE ATTIC (Japan); and The Presnyakov Brothers' TERRORISM (Russia); as well as world premieres of the American plays SMASHING by Brooke Berman and HIGH DIVE by Leslie Ayvazian. Play Co. received a 2007 Obie Award for its "unique contribution to the theatre community."
Also this spring, The Play Company is presenting - in a co-production with Playwrights Horizons and Culture Project - the world-premiere of Kia Corthron's play A COOL DIP IN THE BARREN SAHARAN CRICK, currently in previews prior to an official opening night on March 28th at the Peter Jay Sharp Theater (416 W. 42 St.)
Scheduled through April 25, tickets to ENJOY are $35 and can be purchased at the 59E59 box office, by phone at 212 279 4200 or online at www.ticketcentral.com. $5 student rush tickets are available at the box office only. ($24.50 for 59E59 Members) For more information visit www.59e59.org.
For more information about The Play Company, visit www.playco.org.
Photo credit: Carol Rosegg


Steven Boyer and Kira Sternbach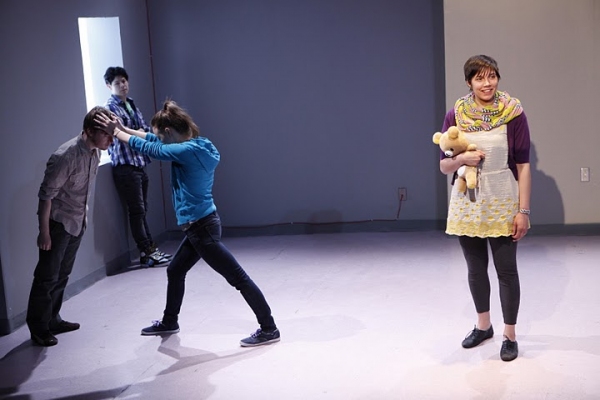 Steven Boyer, Joseph Midyett, Kira Sternbach and Jessica Almasy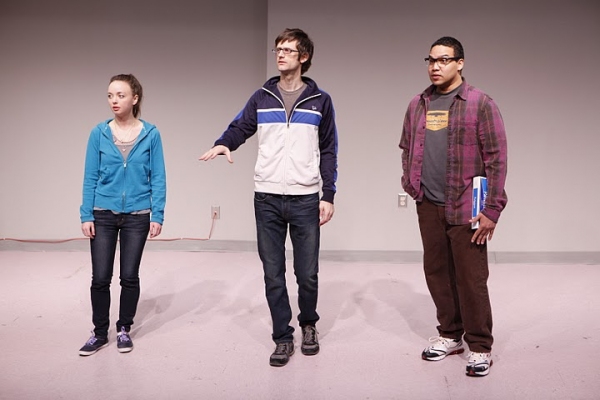 Kira Sternbach, Kris Kling and Frank Harts