Original NYC Cast Of Golden Girls LIVE To Headline Two Sailings Of Golden Girls Cruise In 2019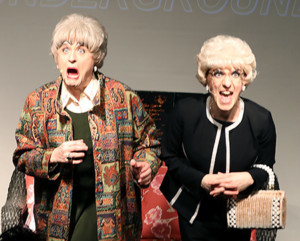 Sixteen years ago (2003) Golden Girls LIVE: On Stage! was created by real-life couple Peter Mac and John Mac as a loving tribute in the style of Brady Bunch LIVE. The Macs created a loving drag parody of everyone's favorite sitcom, which played to sold out audiences at the now-shuttered Rose's Turn in the West Village. The show uses on-target impersonations of the original actresses as source material (they play Estelle Getty and Beatrice Arthur, respectively) and creates original improv-parody situations to bring the girls back for the reunion fans never got.
"We realized after the original run in NYC in 2003, that there was an audience to relive and attend a live taping of this revered sitcom in additional cities across the United States. Andrew Gold gave us permission to include the song he composed and used for the original sitcom's theme song. From the moment the lights go down, you hear every single audience member singing along, and you know the journey in time has begun to reunite the girls live on stage!" ~ John Mac, Producer & Star as Beatrice Arthur
The Macs have toured the country coast to coast (NYC to LA to Boston to Las Vegas, and now back to NYC) delighting audiences in over 1,650 performances. To celebrate the parody show's sixteenth anniversary, they have brought the show home to NYC. The 'Lost' Musical Episode, written by Peter Mac, gives the fans what they have always wanted - the reunion they never got, something that wasn't accomplished in Golden Palace. Come see what reunites these four amazing women, and be prepared to laugh and cry just like it was 1992.
"They play it better than we did!"
Betty White star of the Golden Girls in conversation with Ellen Degeneres
The show and its stars have been selected by Flip Phone Events to headline the first Golden Girls Fan Cruise February 24 to February 29, 2019 on Celebrity Cruise Lines luxury ship the Infinity. In fact, the cruise sold out so quickly Flip Phone Events had more than 7,000 people on its waiting list to secure passage. As such they have just announced a second sailing to embark on February 29 to March 5, 2019. Both sailings depart from - where else? - Miami, Florida! The TV home of those sexy seniors that has regaled generations with laughter.
"We are humbled an honored that Chad Kempe and his team at Flip Phone Events has honored us with headlining this amazing and historic cruise."
Dennis Petragnani, General Manager of The ORIGINAL Golden Girls LIVE: On Stage!
Golden Girls LIVE: On Stage! Opened on Friday, April 13, 2018, at 7:30 PM at the Producers Club at 358 W. 44th Street NY, NY 10036 in the Grand Theater. The show repeats: Wednesdays at 8 PM; Thursdays at 8 PM; Fridays at 8 PM; Saturday at 4PM; and Sundays at 4 PM. Tickets range from $45 to $95 and all ticket levels include a picture with the cast following the show. Tickets are on sale through January 15, 2010, and can be purchased at: GoldenGirlsLive.com.
The show runs in repertory with our sister show Judy Garland LIVE: In Concert! starring Peter Mac. Peter is both critically-acclaimed and award-winning in this live sung (no lip sync) tribute to the woman who was arguably the World's Greatest Entertainer. Judy Garland LIVE: In Concert! plays every Saturday night at the Producers Club at 8 PM. More information is available at TheJudyGarlandShow.com.