National Yiddish Theatre Folksbiene to Bring Magic to Museum of Jewish Heritage with THE SORCERESS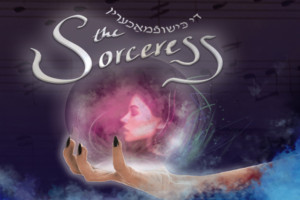 Inspired by last season's revival of the critically-acclaimed Off Broadway production of Joseph Rumshinsky's 1923 operetta The Golden Bride, the National Yiddish Theatre Folksbiene (NYTF) presents a limited engagement of another lost operetta of the Yiddish Theatre canon: The Sorceress (Di Kishefmakherin).
Performed in Yiddish with English and Russian translation supertitles, The Sorceress, a work in development, will play five performances only, running from Monday, December 25, 2017 through Monday, January 1, 2018 at the Museum of Jewish Heritage (36 Battery Place). Casting to be announced soon.
Written in 1879 by Abraham Goldfaden known as "the father of Yiddish theatre," The Sorceress was the first Yiddish Theatre production ever produced in the United States. Its US premiere, presented in 1882, was conceived and directed by a then 14-year-old Boris Thomashefsky, who went on to become one of the preeminent names of the Yiddish theatre. NYTF has taken painstaking measures to restore the operetta, word by word, note by note. This December will be the first time in over 80 years that The Sorceress will be presented in a workshop form with its fully-restored text and music - accompanied with costumes, lights, and projections.
The Sorceress will be NYTF's first musical theatre piece brought to life in an in-development workshop form under NYTF's new Global Yiddish Theatre Restoration Project. Dedicated to creating a living legacy through the arts, connecting generations and bridging communities, NYTF is bringing history to life by reviving the lost and forgotten gems of the Yiddish stage, rebuilding the production from the ground up from readings to concerts, from labs to workshops, and then ultimately full productions for selected pieces. The operetta will be helmed by Drama Desk Award nominee NYTF Associate Artistic Director Motl Didner, with music direction by NYTF Artistic Director Zalmen Mlotek, and musical staging by Chita Award nominee Merete Muenter. 2-time Tony Award nominee NYTF CEO Christopher Massimine will serve as producer with casting by Jamibeth Margolis, C.S.A.
Set to a delightful musical score full of memorable tunes, The Sorceress conjures up a fairy-tale-like world starring an innocent young heroine and her dashing fiancé, and populated with a cast of unforgettable characters including a deviously wicked stepmother, a humorous itinerant peddler, and feared but rather inept spellcaster.
Orchestral arrangements, dating to the late 19th Century were located in the archives of YIVO's Vilna Collection, which was saved from Nazi and Soviet destruction in the Vilna Ghetto by the famed Paper Brigade. These early orchestrations served as the starting point for NYTF's newly revived musical arrangements.
This past September, NYTF presented a concert version of The Sorceress for an invited audience of scholars, artists and supporters as part of the show's restoration development. A month later, after further refinement, NYTF traveled to Bucharest, Romania for an historic co-presentation of The Sorceress with the State Jewish Theater, Goldfaden's artistic home, in celebration of their theatre's 2nd International Yiddish Theatre Festival.
Now after several months of restoration work and development, The Sorceress is returning home to lower Manhattan, in a lightly staged and costumed developmental production at the Museum of Jewish Heritage in Battery Park featuring a company of 17 actors and a 10-piece orchestra.
The Sorceress will play the following performance schedule: Monday, December 25 at 2 PM; Tuesday, December 26 at 7 PM; Wednesday, December 27 at 7 PM; Friday, December 29 at 12 PM; and
Monday, January 1 at 2 PM.
Tickets for The Sorceress are priced at $25, for this project only, to make the restoration process accessible to the general public and to help encourage the development of this new initiative. Tickets are now on sale online at www.nytf.org and via telephone through Ovation Tix, toll-free at 866-811-4111.
In 2015, National Yiddish Theatre Folksbiene broke new ground with a fully restored production of Joseph Rumshinsky's 1923 operetta The Golden Bride. NYTF's deep investment of time and resources paid off with a production that was nominated for multiple awards, including two Drama Desk Awards, and reached over 24,000 audience members.
This success revealed that there is high demand for early works of the Yiddish theatre with contemporary audiences-and it left us with a blueprint for the process of bringing these long-neglected treasures to life. Therefore, NYTF has launched a global restoration project to identify the most irreplaceable operettas, musicals and plays that once played in Yiddish theatres in America and Europe.
The Yiddish Theatre Restoration Project will not only provide NYTF with ?rst-class productions for our audiences, but will also preserve an entire Yiddish theatre repertoire for public performances around the world.
"NYTF's Yiddish Theatre Restoration Initiative is a multi-year project that stays true to our mandate, in both the preservation and promotion of the Yiddish culture," says NYTF CEO Christopher Massimine. "We're not only doing our part to ensure of the historical archiving of the fully-restored works exists, but we're also providing historical continuity in bringing these operettas, musicals and plays back to life on the stage, creating a living legacy that will engage with today's audiences."
The restoration process includes research of existing material in archives and libraries to assess the historic and artistic value of the works and to assemble orchestrations and librettos, often housed at different institutions and to restore material note by note and word by word. Research will lead to development of the works through concerts and workshops to produce a fully developed stage production.
"The Restoration Initiative is at the heart of my life's work," adds NYTF Artistic Director Zalmen Mlotek. "I first came into contact with these original documents during my research in the 1980's while creating The Golden Land. My mother, Chana Mlotek, would send me photocopies of scores that she would come across in the vast Yiddish theatre archives at YIVO Institute for Jewish Research. It felt like an archaeological expedition, sifting through these scores, often tattered, with notations that were difficult to read in Yiddish handwritten script. Finding the songs which had been the beating heart of the vibrant Yiddish theatre scene on 2nd Avenue was like unearthing priceless treasures. Today, we are working towards the restoring of entire shows in order to preserve them in an enduring format to be usable for generations to come. This often requires knitting together orchestrations and librettos, which are now scattered among many libraries and archives decades ago"
Now celebrating its 103rd season, Tony Award nominated and Drama Desk Award winning National Yiddish Theatre Folksbiene (NYTF) is the longest consecutively producing theatre in the US and the world's oldest continuously operation Yiddish theatre company. Dedicated to creating a living legacy through the arts, connecting generations and bridging communities, NYTF brings history to life by reviving the lost and forgotten gems of the Yiddish stage through its global restoration project, commissioning new work, and adapting pre-existing work for the 21st Century. Serving a versatile audience comprised of performing arts patrons, cultural enthusiasts, Yiddish-language aficionados and the general public, the company presents plays, musicals, concerts, lectures, interactive educational workshops and community-building activities in English and Yiddish, with English and Russian supertitles accompanying performances. NYTF provides access to the hundreds of years of cultural expression, aiming to inspire the imaginations of the next generation to contribute their own stories to this valuable work. More information can be found at www.NYTF.org.