Musicals Tonight! Announces Their 100th Revival CALAMITY JANE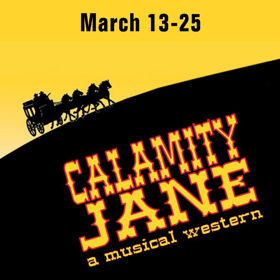 Musicals Tonight! Presents it's 100th revival with the New York Premiere of the musical western Calamity Jane, which will play a limited engagement March 13th through March 25th at the Lion Theatre at Theatre Row (410 West 42 Street). Tickets are $45 and can be purchased through www.telecharge.com or by calling (212) 239-6200 and at the Lion Theatre Box Office.
Calamity Jane is based on the historical figure of the actual frontierswoman. The non-historical, and farcical plot involves the authentic Calamity Jane's professional associate Wild Bill Hickok and their stormy relationship that ultimately proves to be a facade for mutually amorous feelings. Songs will include: the Oscar winning "The Secret Love," and "The Deadwood Stage," "Careless with the Truth," "A Woman's Touch" and "It's Harry I'm Planning To Marry."
Calamity Jane was first produced in 1961 and is based on the 1953 movie of the same name which starred Doris Day. The musical is adapted by Ronald Hanmer and Phil Park from the stage play by Charles K. Freeman. Musicals Tonight!'s production features songs from the movie - by Paul Francis Webster (lyrics) and Sammy Fain (music).
Calamity Jane is directed by Devin Vogel with musical direction by Nevada Lozano. Featured in the cast are Sam Beasley, Jordan Bell, Christian Brown, Rosalie Burke, Caitlin Evans, Peter Gosik, Brandon Grimes, Abby Hart, Alexis Kinney, Brian Klimowski, Emily Larger, Bart Mather, Alison McCartan, Jimmy Nicholas, Dallas Padoven and Kristin Wetherington.
The playing schedule for Calamity Jane is as follows: Tuesdays, Wednesdays, Thursdays and Saturdays at 7:30 PM, with matinees on Wednesdays, Fridays, Saturdays and Sundays at 2PM (March 13th through March 25th).
Mel Miller, founded Musicals Tonight! in 1998 with the mission to keep early musicals alive and affordable. Calamity Jane marks its 100th production. Musicals Tonight! prides itself on the ability to bring back virtually- forgotten musicals for new audiences to discover and old audiences to rediscover. Musicals Tonight! has been unique in New York for its very elaborate and skilled fully staged readings of early musicals in their original forms. These range from the Gershwins' Lady, Be Good!, to Rodgers and Hart's Chee-Chee, to Cole Porter's Gay Divorce.