High School Musical POP PUNK HIGH Will Transfer To (Le) Poisson Rouge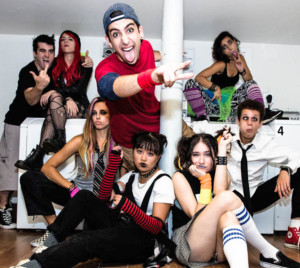 After a showcase production last winter that garnered unanimous critical praise, POP PUNK HIGH returns for a limited Off-Broadway engagement September 20 - November 1 at (le) poisson rouge -- which recently hosted Cruel Intentions: The Musical. This raucous, raunchy musical comedy celebrating all things early 2000's features a book by Anderson Cook and music & lyrics by Ben Lapidus. It is directed by Felicia Lobo.
You've probably heard of Laguardia High School a.k.a. The 'Fame' School. But do you know about POP PUNK HIGH? This is where the students live and breathe pop punk (angsty, rebellious pop as exemplified by the likes of Green Day, Blink-182 and Sum 41), where it is always 2003 and skateboards and eyeliner are the must-have accessories. At POP PUNK HIGH we meet Derek. His life sucks. His lame parents don't understand him, he's the biggest loser in school, and the girl of his dreams doesn't know he's alive. Things take a turn when Derek discovers a can of Axe Body Spray that contains the ghost-slash-genie of pop punk princess Avril Lavigne. Avril agrees to grant him 3 wishes, but only if he will find out who trapped her. But in selecting his wishes, Derek soon finds out that what you think makes you pop punk, often isn't pop punk at all.
Yes Broadway called the show, "An energetic and extremely well-done musical full of catchy tunes and a delightfully stupid story that will have you ROTFLMAO." And Billboard noted, "What's so special is that these songs are really, really good... they hold their own as winking replicas of the rock songs you'd hear crossing over to TRL in the early years of the century."
POP PUNK HIGH stars Amanda Centeno, Brenna Donahue, Sarah Anne Fernandez, Jacob Grover, Kelly Krauter, Ben Lapidus, McLean Peterson, Zac Porter, Timiki Salinas, Patrick Sweeney, Leanne Velednitsky, Mina Walker, and Eric Wiegand. The production team includes Hannah Levesque (set), Andrew Hunt (lighting), Olivia Hern (costumes), Stephanie Wurster (assistant director), and Jaye Hunt (stage manager).
POP PUNK HIGH patrons are also invited to fully immerse themselves in pop punk. Doors will open one hour before each performance and a pop punk band will perform a pre-show opening set. Following the performance, audiences can stay for a pop punk after party featuring a DJ and live-band karaoke.
Anderson Cook's musicals include The Disembodied Hand That Fisted Everyone to Death - the Musical! (The PIT, The Boston Conservatory) and Blatantly Blaine (Theatre is Easy "Best Bet", Top 10 Things to See This Week Time Out NY). Anderson and Amanda D'Archangelis were the winners of the 2017 NMI New Voices Contest, co-sponsored by Walt Disney Imagineering, and his work has been praised on Theatre is Easy ("Best Bet"), Time Out New York ("Best Things to See This Week"), the FADER, Alternative Press, and Billboard. He is the winner of the 2018 Sloan Screenplay Competition from the Alfred P. Sloan Foundation. His plays have been seen at the Lee Strasburg Institute, Dixon Place, the Secret Theatre, and more. He holds a BFA in Dramatic Writing from the Tisch School of the Arts at New York University and an MFA in Dramatic Writing from Carnegie Mellon University.
Ben Lapidus has played music venues across the city, including Webster Hall, Mercury Lounge, and The Knitting Factory. He is the lead singer/songwriter for the the alternative band Ambler, and the skate-punk band Kill Your Friends. His company Lapidus Audio creates original music and sound for film and stage. Ben holds a BFA in Recorded Music from the The Clive Davis Institute at NYU's Tisch School of the Arts. He has also worked as a sound engineer at NYC's premiere recording studio, Jungle City.
POP PUNK HIGH runs September 20 - November 1 on the following schedule: Thurs 9/20 @ 8 PM, Weds 9/26 @ 8 PM, Sat 9/29 @ 6 PM, Thurs 10/11 @ 8 PM, Sat 10/13 @ 6 PM, Sat 10/20 @ 6 PM, Weds 10/24 @ 8PM, Thurs 11/1 @ 8 PM. (le) poisson rouge is located at 158 Bleecker Street between Thompson and Sulliavan Streets in Manhattan's West Village, accessible from the A•B•C•D•E•F•M trains at West 4th Street. Tickets are $35 - $40 for general admission, $60 for premium seating and $25 for students, available at www.poppunkhigh.com