Enda Walsh's BALLYTURK to Play St. Ann's Warehouse This Winter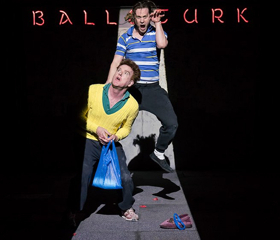 St. Ann's Warehouse welcomes back the singular vision of Irish playwright/director Enda Walsh in the American Premiere of his gut-wrenchingly funny and achingly poignant Ballyturk, co-produced by Landmark Productions and Galway International Arts Festival, producers of Walsh's Misterman and last season's Arlington.
In a room, the lives of two men, simply named One and Two, unravel quickly over the course of 90 minutes. Who are they? What room is this? And what lies beyond these walls? Their bizarrely tender relationship emerges as the two engage in frenzied rituals and tell stories about the people of Ballyturk-the rural Irish town that may or may not exist outside of their elaborate imaginations-until one day, an ominous, imposing Three shows up and shakes their world with a huge demand.
Ballyturk runs January 9-28, 2018, at St. Ann's Warehouse.
Within Enda Walsh's prolific body of work-which often features characters in isolated environments-Ballyturk might be his most ambitious work to date. The idea for the play grew out of a conversation Walsh had with his daughter-the first time he explained the concept of death to her. Ultimately, Ballyturk morphed into more than just a contemplation of mortality.
Speaking with the Irish Times, Walsh explained that it is "a play about friendship. It's about putting a real, loving, deeply caring friendship under extreme pressure and seeing what's going to happen to it." Fundamental to the play are the music and rituals with which One and Two anchor their relationship, and thereby, their existence, within a highly detailed setting and day. Lacking windows or any visible indication of outside life or the real passage of time-save for voices on the other side of the wall, and a cuckoo clock -they conjure a vivid portrait of Ballyturk.
"What Enda is doing is unique-he can really only be compared to himself," says St. Ann's Warehouse Artistic Director Susan Feldman. "He is always bringing rural Ireland into these confined rooms, characters from small towns where myths are alive. You get the sense of people going mad behind closed doors, where the folklore comes from-filled with tales of poverty and survival." Voicing a sundry cast of characters from this world, One and Two create a whole town, replete with gossip and quotidian dramas. Like playwrights themselves, they attempt to vivify an empty space with characters and setting, using their unfettered imagination to nearly render the notion of reality moot. As most detailed mythologies demonstrate, such is the beautiful, peculiar force with which people are able to distract themselves. Up to now, the ruse has been working for many years.
The American Premiere of Ballyturk features two frequent Walsh collaborators: the manically brilliant Tadgh Murphy, as the younger of two men living out their lives in isolation, and Mikel Murfi, who brings his signature balance of physical comic hilarity and underlying sadness to his role as the elder protector. Irish stage legend Olwen Fouéré gives a powerhouse performance as the character who arrives and alters the fabric of their world.
Ballyturk reunites the creative team that collaborated on the hit productions of Walsh's plays Misterman and Arlington, the latter of which was praised in The New York Times for displaying "some of the most sophisticated visual and sound effects on display in New York." Directed by Walsh, Ballyturk features costumes and an at once expansive yet confining set designed by Jamie Vartan, with lighting designed by Adam Silverman, sound designed by Helen Atkinson, and original music composed by Teho Teardo, who was also responsible for the haunting score to Arlington.
Ballyturk made its world premiere at the Galway International Arts Festival-earning both Best Sound Design and Best Production at the Irish Times Irish Theatre Awards-in 2014. Following the play's critically lauded UK premiere at the National Theatre in London, the current production was presented to great acclaim as part of Graham McLaren and Neil Murray's first season as Directors of Dublin's famed Abbey Theatre.
Since their relationship began a decade ago with the American Premiere of The Walworth Farce in 2008, St. Ann's Warehouse has brought numerous Enda Walsh works to New York City and American audiences, including the Druid productions of The New Electric Ballroom (2009) and Penelope (2010), as well as Misterman (2011), written and directed by Walsh, starring Cillian Murphy and produced by Landmark Productions and the Galway International Arts Festival. St. Ann's collaborated once again with Landmark Productions for the American Premiere of Walsh's first opera, The Last Hotel, a co-production with Wide Open Opera as part of the PROTOTYPE: Opera/Theatre/Now festival in 2016. Most recently, in May 2017, St. Ann's Warehouse presented the American Premiere of Walsh's Arlington, which Ben Brantley, in a rave review for The New York Times, described as a "riveting fever dream of a play."
Over the course of these years, Walsh has entered the ranks of New York's-and the world's-most beloved theater-makers, winning a Tony Award for his book to the Broadway musical Once in 2012, among many other accolades.
Performances of Ballyturk will take place January 9-13, 16-20, and 23-27 at 8pm; January 13, 20, and 27 at 3pm; and January 14, 21, and 28 at 5pm. Critics are welcome as of January 12 at 8pm for an official opening on January 14 at 5pm. Tickets start at $35, and can be purchased at www.stannswarehouse.org, 718.254.8779 and 866.811.4111.
Watch a trailer for the show below!
---
Enda Walsh is a multi-award-winning Irish playwright and director. His work has been translated into over 20 languages and has been performed internationally since 1998.
His recent plays include The Same, which was produced by Corcadorca in February 2017 at the Old Cork Prison; Lazarus, with David Bowie, which recently finished a run at the Kings Cross Theatre in London, following a premiere at New York Theatre Workshop; Arlington, produced by Landmark Productions and Galway International Arts Festival (2016-2017); A Girl's Bedroom, shown at the Galway International Arts Festival (2015); The Twits at the Royal Court; the opera The Last Hotel for Landmark Productions and Wide Open Opera (Edinburgh International Festival, Dublin Theatre Festival, Royal Opera House, London, St Ann's Warehouse, Les Théâtres de la Ville, Luxembourg, and St. Ann's Warehouse, 2015-2017), Ballyturk, produced by Landmark Productions and Galway International Arts Festival (Galway, Dublin, Cork and London, 2014); Room 303, shown at the Galway International Arts Festival (2014); Misterman, produced by Landmark Productions and Galway International Arts Festival in Ireland, London and St. Ann's Warehouse in New York (2011-2012); and several plays for Druid Theatre Company, including Penelope, which has been presented in Ireland, America (first at St. Ann's Warehouse) and London, from 2010-2011, The New Electric Ballroom, which played Ireland, Australia, Edinburgh, London, St. Ann's Warehouse and Los Angeles from 2008-2009, and The Walworth Farce, which played Ireland, Edinburgh and London, made its American Premiere at St. Ann's Warehouse, and toured America and Australia 2007-2010.
The musical Once, featuring a book by Walsh, played for three years on Broadway and two years in the West End, and returned to the Olympia Theatre in Dublin in July/August 2017.
Walsh's other plays include Delirium (Theatre O/Barbican), which played Dublin and a British tour in 2008; Chatroom (National Theatre), which played at the NT and on tour in Britain and Asia (2006-2007); and The Small Things (Paines Plough), which played London and Galway Arts Festival (2005). His early plays include Bedbound (Dublin Theatre Festival) and Disco Pigs (Corcadorca).
Walsh's film work includes Disco Pigs (Temple Films/Renaissance) and Hunger (Blast/FILM4). He received an honorary doctorate from NUI Galway in 2014.
Landmark Productions is one of Ireland's leading theatre producers. Led by Anne Clarke, the company produces wide-ranging and ambitious work in Ireland and tours Irish work abroad.
The company's recent work includes several productions by Enda Walsh: The Walworth Farce, starring Brendan Gleeson, Brian Gleeson and Domhnall Gleeson; the world premieres of The Second Violinist and The Last Hotel, two operas by Donnacha Dennehy and Enda Walsh, in co-productions with Wide Open Opera; and the multi award-winning musical Once.
Its award-winning co-productions with Galway International Arts Festival include the world premieres of Walsh's Arlington, Ballyturk and Misterman. Misterman and Ballyturk played at the National Theatre in London, and Misterman toured to St Ann's Warehouse in New York. Landmark received the Judges' Special Award in The Irish Times Theatre Awards for 2011, in recognition of its 'sustained excellence in programming and for developing imaginative partnerships to bring quality theatre to the Irish and international stage. Anne Clarke received The Irish Times Special Tribute Award in 2015, in recognition of her "extraordinary work as a producer of world-class theatre in the independent sector in Ireland."
Learn more at www.landmarkproductions.ie.
Galway International Arts Festival (GIAF) is a major cultural organisation, which produces one of Europe's leading international arts festivals, develops and produces new work that tours nationally and internationally, and presents a major discussion platform, First Thought Talks. The Festival takes place each July in Galway, Ireland, with an annual attendance of 210,000. The 41st Festival takes place from 16-29 July 2018.
GIAF's recent producing work includes two co-productions with Landmark Productions - Woyzeck in Winter, which premiered in Galway in July 2017 and recently played the Barbican, London and Dublin Theatre Festival; and Enda Walsh's Arlington, which played Galway, Dublin's and New York.
GIAF also produced Enda Walsh's theatrical installation series, Rooms, including A Girl's Bedroom, Room 303, and Kitchen, which played Galway (2016) and New York (2017), and Bathroom, which premiered at GIAF 2017.
With TheEmergencyRoom, The Festival co-produced riverrun, by Olwen Fouéré, which played Galway, London, Edinburgh, New York, Adelaide, Sydney and Washington; and Lessness by Samuel Beckett, also starring Olwen Fouéré, which premiered at the Barbican's International Beckett Season, London in 2015.
GIAF and Landmark Productions have co-produced two further Enda Walsh productions - Ballyturk, which won Best Production at the Irish Theatre Awards 2014, played Galway, Dublin and the National Theatre London; and Misterman, starring Cillian Murphy, which played Galway, New York and London. Arlington and Ballyturk enjoyed a hugely successful run at the Abbey, Ireland's National Theatre Spring 2017 Season.
GIAF's Chief Executive is John Crumlish, and its Artistic Director is Paul Fahy.
St. Ann's Warehouse plays a vital role on the global cultural landscape as an American artistic home for international companies of distinction, American avant-garde masters and talented emerging artists ready to work on a grand scale. St. Ann's signature flexible, open space allows artists to stretch, both literally and imaginatively, enabling them to approach work with unfettered creativity, knowing that the theater can be adapted in multiple configurations to suit their needs.
In the heart of Brooklyn Bridge Park, St. Ann's Warehouse has designed a spectacular waterfront theater that opened in October 2015. The new Joseph S. and Diane H. Steinberg Theater offers St. Ann's signature versatility and grandeur on an amplified scale while respecting the walls of an original 1860's Tobacco Warehouse. The building complex includes a second space, a Studio, for St. Ann's Puppet Lab, smaller-scale events and community uses, as well as The Max Family Garden, designed by landscape architects Michael Van Valkenburgh Associates and open to Brooklyn Bridge Park visitors during Park hours.
Susan Feldman founded Arts at St. Ann's (now St. Ann's Warehouse) in 1980 as part of the New York Landmarks Conservancy, to help save the National Historic Landmark Church of St. Ann and the Holy Trinity in Brooklyn Heights. For twenty-one years, St. Ann's presented a decidedly eclectic array of concert and theater performances in the church sanctuary.
From Fall 2001 through the 2014-15 season, the organization activated found spaces in DUMBO with the world's most imaginative theater- and music-makers, helping to make the burgeoning neighborhood a destination for New Yorkers and tourists alike. After twelve years (2001-2012) in a warehouse that was located at 38 Water Street, St. Ann's transformed another raw space at 29 Jay Street into an interim home (2012-2015), while the organization adapted the then-roofless Tobacco Warehouse at 45 Water Street in Brooklyn Bridge Park into the new St. Ann's Warehouse.
Almost four decades of consistently acclaimed landmark productions that found their American home at St. Ann's include Lou Reed's and John Cale's Songs for 'Drella; Marianne Faithfull's Seven Deadly Sins; Artistic Director Susan Feldman's Band in Berlin; Charlie Kaufman and the Coen Brothers' Theater of the New Ear; The Royal Court and TR Warszawa productions of Sarah Kane's 4:48 Psychosis; The Globe Theatre of London's Measure for Measure with Mark Rylance; Druid Company's The Walworth Farce, The New Electric Ballroom and Penelope by Enda Walsh and Walsh's Misterman, featuring Cillian Murphy, and Arlington; Lou Reed's Berlin; the National Theater of Scotland's Black Watch and Let the Right One In; Kneehigh Theatre's Brief Encounter, 946 and Tristan & Yseult; Yael Farber's Mies Julie; Dmitry Krymov Lab's Opus No. 7; The Donmar Warehouse all-female Shakespeare Trilogy: Julius Caesar, Henry IV, The Tempest; Kate Tempest's Brand New Ancients; Tricycle Theatre's Red Velvet, The Young Vic production of A Streetcar Named Desire with Gillian Anderson; Mark Rylance's Nice Fish, the National Theatre's People, Places & Things, and the World Premiere of the complete Taylor Mac's A 24 Decade History of Popular Music, including the one-time only 24-hour marathon in 2016. St. Ann's has championed such artists as The Wooster Group, Mabou Mines, Jeff Buckley, Cynthia Hopkins, Daniel Kitson, Emma Rice and Kneehigh, and presented an historic David Bowie concert in 2002.
The new St. Ann's Warehouse retains the best of its past homes: the sense of sacred space of its original home in St. Ann's Church and the vastness and endless capacity for reconfiguration artists have harnessed in St. Ann's temporary warehouses in DUMBO.
Go to www.stannswarehouse.org for more information.
| | | |
| --- | --- | --- |
| | Donations | Arts Orgs |
Related Articles View More Off-Broadway

Stories

Shows
More Hot Stories For You