Dress Up for Halloween at Off-Broadway's ENDANGERED! Today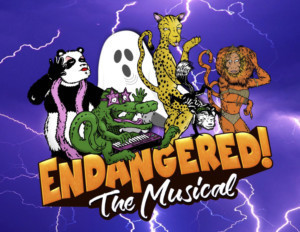 ENDANGERED! is baaaaack, and it's alive!! What's scarier than Halloween? Being locked in the zoo alone during a Super Storm, with endangered animals from around the world! Pandas & Cheetahs & Croc's, oh my!
Today, October 28th, at both the 11am and 3pm performances at the Davenport Theatre (354 West 45th Street), Endangered!, Off-Broadway's hit family musical, will host special and spooky Halloween celebrations with the kids and parents brave enough to attend.
Dress as your favorite creature, and you'll get Endangered! animal stickers and Halloween treats! After the show, take a photo onstage with the jungle crew, so all the zany creatures will remember you! Come to Endangered! if you dare, it'll tingle your toes and curl your hair!
ENDANGERED! is an inspiring, engaging and 'wildly' entertaining musical about a human Whiz Kid online reporter and a group of fabulously famous endangered animals from around the world who must survive an unexpected superstorm! Stranded at the NY International Zoo when Superstorm Beyoncé hits New York City, the Kid and the endangered animals must quickly learn to understand and respect each other, coming together as one in order to save themselves from the flood. With melodies that are renewable, and harmonies that are sustainable, this groundbreaking eco-musical is uplifting and enjoyable for creatures of all ages! Who knew saving the world could be this much fun?
Now twice extended in its hit run at the Davenport Theatre, Endangered! was originally commissioned by the Friends of the National Zoo, created in conjunction with the Boys & Girls Clubs of Greater Washington's TAP Arts Camp. In the summer of 2013, Endangered! had a staged reading at the National Zoo, then premiered live-streamed on the Kennedy Center Millennium Stage.
The creative team includes Keni Fine (Book, Lyrics, Additional Music), Tony Small (Music), Michael Chase Gosselin (Director/ Choreographer), Lena Gabrielle (Music Director, Arrangements and Additional Music), Doug Katsaros (Orchestrations), Ann Beyersdorfer (Set Design), Catherine Clark (Lighting Designer), Collin Ranney (Costume Designer), Patrick A. Lachance (Sound Designer), Ido Levran (Projection Designer), Greg Uliasz, CSA (Casting Director), NJ Agwuna (Associate Director), Gabby Cogan (Associate Choreographer), Oliver Benjoseph (Stage Manager), Visceral Entertainment (General Manager), Peri Shaw and Heidi Hutner (Associate Producers).
The Davenport Theatre is located at 354 West 45th Street. Tickets are $25, $49.75, and $65.75 (premium) and can be purchased by visiting Telecharge.com. Performance Schedule: Saturdays at 11:00am and 3:00pm. Check website for updates: EndangeredTheMusical.com. Endangered! runs 75 minutes no intermission.
ABOUT THE ARTISTS:
Keni Fine (Book and Lyrics, Additional Music) is a Lyricist, Librettist, Composer, Playwright based in NYC, proud member of the Dramatists Guild. Keni's other musicals include TRUTH, IMAGINARY LOVERS, UNFriendly Fire, HE THINKS IT'S HIS SHOW, and "SWAMI PAJAMANANDA & the LIGHT-HEARTED PATH", an immersive, enlightening, multi-media performance project. Keni is a graduate of NYU/Tisch's Experimental Theater Wing, the BMI Lehman Engel Musical Theater Writing Workshop, and the Commercial Theater Institute's (CTI) 14-Week Workshop in Commercial Producing. Keni studied acting with Stella Adler; directing and theater composition with Anne Bogart; musical theater with Elizabeth Swados; musical book writing with Marsha Norman; sketch comedy writing with Upright Citizen's Brigade; Self-esteemed graduate of the NYU School of Law. www.kenifine.com
Tony Small (Music, Original Lyrics*) From being selected as one of the White House Millennium Committee's top Artists to serving as Composer and Librettist for the Smithsonian's first-ever commissioned Opera for the Sultanate of Oman, Tony Small has won national composer, playwright and lyricist awards in Jazz, Classical, Musical Theatre and Gospel genres, including a Stellar, the Grammy's of Gospel music. He has created nationally recognized interdisciplinary arts and STEM programs in four major cities including Chicago, Indianapolis, Washington DC and Baltimore. The TAP -Teen Arts Program- he founded in 2007 was selected as one of the top 2016 Presidential Arts & Humanities Youth Programs. Tony currently serves as Founding Director for SPEARS (Strategic Partnerships in Education, Arts, Research & STEM) and the 1st Regional Artistic Director for the Boys & Girls Clubs of Greater Washington. He is a partner at Artistré Entertainment & Publishing.
Michael Chase Gosselin (Director/Choreographer) recently directed Money Talks Off-Broadway, Kit Goldstein Grant's The Nose: A New Family Musical at the famous Master Theater in Brighton Beach, and the world premiere of Tim Sulka & Debra Barsha's The Most Miserable Christmas Tree. He produced Midnight At The Never Get and Ludo's Broken Bride at NYMF in 2016, and Pope! An Epic Musical in 2015. In 2013, he directed a reading of Moby Dick: A Whale Of A Tale for Cameron Mackintosh. He was the Producing Artistic Director of Act Three Theatricals in Vermont 2006-2012. As a Director/Choreographer, additional recent credits include Disney's Tarzan (VT Premiere), The Wedding Singer and South Pacific (NCT), Rock Nativity (Regional Premiere), a Vermont tour of The Complete History Of America (Abridged), and Legally Blonde for Clark University. He is a proud member of SDC. www.michaelchasegosselin.com
Lena Gabrielle (Music Director, Arrangements, Additional Music) Lena Gabrielle is a NYC based Music Director, Arranger, Orchestrator, and Composer/Lyricist, specializing in new works development. As Music Director: 30 Million (Theatre Row), A Taste of Things To Come (Bucks County Playhouse), New York Animals (Assistant MD, New Ohio Theatre), Next to Normal (Pittsburgh), Jesus Christ Superstar (Pittsburgh). As Composer/Lyricist: Tink! (NYMF 2016), Sleeping Beauty: A New Musical (Pittsburgh). Orchestrations/Arrangements: The Most Miserable Christmas Tree (World Premiere, NYC), A Taste of Things to Come (BCP/ York Theatre Company). Much love to MCG, Keni, and Planet Earth. @lenagabrielle
FINEHEART PRODUCTIONS (Producer). FineHeart Productions is... Musical. Comical. Lyrical. Theatrical. Compassionate. Historical. Topical. Transformational. Visionary. Inspirational. On Broadway: LOMBARDI ON BROADWAY; GODSPELL. Off-Broadway: Endangered! The SuperStormy Musical; MONEY TALKS. Other projects include: TRUTH The Musical; and Swami Pajamananda & The Light-Hearted Path. Productions that Awaken the Spirit, Illuminate the Mind, Revitalize the Heart, Elevate the Senses. Love, Life, Laughter & DeLight... is the Fine Art of FineHeart.
Visceral Entertainment (Producer/General Manager). This theatre, film and television Production Company brings together the talents of its two principals, Michael Chase Gosselin and Tim Sulka. In addition to Endangered!, Visceral Entertainment is producing the original musical, Midnight at The Never Get, and Money Talks, also at the Davenport. Other projects in development include new musicals The Most Miserable Christmas Tree, and Pope! An Epic Musical, an audience immersive musical stage adaptation of the Jonathan Lethem novel, You Don't Love Me Yet and a stage adaptation of the novel The Black Ledger, by D.G. Allen. Film and television projects include Urbn FaeryTales, a musical television series of fairy tales set and filmed in modern day Brooklyn, and Prime Cuts, a film of the darkly comic graphic novel, a teen version of the Sweeney Todd legend.