Daphne Rubin Vega, Grace McLean, and More Will Lead Reading of STAND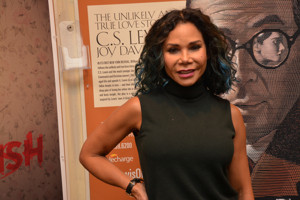 New Dramatists presents alumna reading of OBIE-winner Caridad Svich's new play STAND starring Daphne Rubin Vega (Rent and Miss You Like Hell), Grace McLean (Alice by Heart and Natasha, Pierre & the Great Comet of 1812), Vanessa Aspillaga (Daphne's Dive, and Amy and the Orphans) and Cindy De La Cruz (Stupid F-ing Bird, Arden Theatre) on March 28, 2019 at 3 PM at New Dramatists in New York City under the direction of Adrian Alexander Alea (Dreaming in Cuban, The Drama League).
STAND is a tale of protest, rage, and the ways in which all that are made vulnerable to patriarchal power may rise and move past collective trauma. The piece features the song "no hosanna" by composer O-Lan Jones and lyricist Caridad Svich.
The play is described by dramaturge and arts journalist Martha Steketee on the National New Play Network's New Play Exchange as follows: "Caridad Svich's STAND draws from contemporary culture, classical Greek dramatic structure, and takes on gender and power in the form of a chorus that unpacks individual and group oppression. I heard a terrific reading of this play in late 2018 voiced by three women that evoked the world of women through millennia, and specific events in a murky current time. A story in prose poetry of the 'brutes' and the 'brutalized' that shines with righteous hope."
Caridad Svich's previous play Red Bike is sustained a National New Play Network Rolling World Premiere; her first film Fugitive Dreams, co-written with Jason Neulander, based on her play, and starring April Matthis, Robbie Tann, Scott Shepard, O-Lan Jones, with David Patrick Kelly is currently in production under Jason Neulander's direction.
STAND is read on March 28, 2019 at 3 p.m. at New Dramatists, 424 West 44th Street (between 9th and 10th Avenue). The event is free, but there is limited seating. Reservations must be made to 212-757-6960 or online at https://newdramatists.org/events/2019-03-28/stand-caridad-svich
The play was developed with NoPassport Theatre Alliance and Press in a presentation at The Mary Rodgers Room at The Dramatists Guild in New York City in December 2018, which featured actors Tonya Pinkins, Lisa Ramirez and Nemuna Ceesay, also under Adrian Alexander Alea's direction.
Featured This Week on Stage Door
Shoutouts, Classes, and More from Your Favorite Broadway Stars

More Hot Stories For You