CHRISTMAS IN HELL At The York Theatre Company Opens Tonight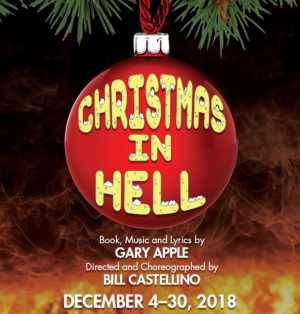 The York Theatre Company (James Morgan, Producing Artistic Director; Evans Haile, Executive Director), dedicated to the development of new musicals and rediscovery of musical gems from the past, presents the world premiere of the new musical comedy Christmas in Hell with book, music, and lyrics by Gary Apple ("The Simpsons"), with direction and choreography by Bill Castellino (Desperate Measures, York/New World Stages) and music direction, music supervision, and arrangements by Logan Medland (National Tours of Cats and Crazy for You). The eight-member cast features Scott Ahearn (Under the Knife: A Farce, Theater for the New City) as Richard, Donna English (Nice Work If You Can Get It, Broadway) as Mrs. Huvey, Lori Hammel (Mamma Mia!, Broadway) as Galiana, Elijah Rayman (Oliver, Goodspeed Opera House) as Davin, Zak Risinger (The Cradle Will Rock, Howl! Arts) as Carl, Brandon Williams (Gettin' the Band Back Together, Broadway) as Lucifer, Dathan B. Williams (Show Boat, Broadway) as Detective Zanderhoff, and Ron Wisniski (Beauty and the Beast, Broadway) as Principal Bolton.
Performances began December 4, 2018 for a limited engagement through Sunday afternoon, December 30, 2018 at The York Theatre Company at Saint Peter's (entrance on East 54th Street, just east of Lexington Avenue). Opening Night is TONIGHT, December 13, 2018 at 6:45 p.m.
Looking for a sweet, wholesome holiday musical? Well, this ain't it! On Christmas Eve, little eight-year-old Davin is mistakenly taken down to Hell. When he returns, not only has he missed Christmas, but he is devilishly changed. To set things right, his father embarks on a hilarious and outrageous odyssey that eventually leads him down to Hell, where he makes a wager with the Devil he can't possibly win. Christmas in Hell, with book, music, and lyrics by Gary Apple, is a wild, irreverent, and surprisingly touching musical comedy about the absurd lengths we'll go to for the ones we love. After award-winning appearances at the NY Fringe Festival and NYMF, Christmas in Hell now arrives at The York for a full production, way more naughty than nice.
The creative team includes James Morgan (Set Design), Tyler M. Holland (Costume Design), Yael Lubetzky (Lighting Design), Julian Evans (Sound Design), Zach Serafin (Props Design), and Kevin Maloof (Production Manager). Production Stage Manager is Arthur Atkinson and the Assistant Stage Manager is Shanna Allison. Carol Hanzel is Casting Director. Christmas in Hell is produced in association with Xmas in Hell LLC, La Vie Productions, Ray's of NY Production Co., and Steve Wampold.
Christmas in Hell plays the following performance schedule: Tuesday and Wednesday at 7:00 p.m., Thursday at 2:30 p.m., Friday at 8:00 p.m., Saturday at 2:30 p.m. and 8:00 p.m. and Sunday at 2:30 p.m. PLEASE NOTE: There will be no performance on Tuesday, December 25.
Tickets for Christmas in Hell are priced at $67.50 - $72.50 and may be purchased by calling (212) 935-5820, online at www.yorktheatre.org, or in person at the box office at the York Theatre at Saint Peter's (Citicorp Building, entrance on East 54th Street, just east of Lexington Avenue), Monday through Friday (12:00 p.m. - 6:00 p.m.). Senior Rush tickets are available in-person beginning one hour prior to performances for $20 cash only. Student rush tickets can be purchased anytime in advance at the box office during regular box office business hours. Limit one ticket per valid student ID and tickets are subject to availability. Student Rush tickets are $20.00 cash or credit. The York Theatre also offers $25 tickets for guests aged 35 years and under. Groups of 10 or more, contact Great White Way at 212-757-9117, or GreatWhiteWay.com. (*York Members receive Priority Seating and Discounted Tickets.) PLEASE NOTE: Christmas in Hell is rated PG13 (for explicit language)
The York Theatre Company offers the York! Membership Program, an exclusive membership package for as low as $75.00-with elite benefits that include up to 35% off tickets to York Theatre Productions, exclusive Member pre-sale opportunities, 50% off on all lobby concessions, 20% off on all lobby merchandise, in addition to special Member-only receptions. The York also offers a York Plus! Membership Program with additional perks, including complimentary tickets to Mainstage productions and invites to several VIP-only presentations throughout the season.
York Memberships can be purchased online at www.yorktheatre.org/membership, or by visiting The York Theatre Company Box Office (Citicorp Building, entrance on East 54th Street, just east of Lexington Avenue), or by calling the Box Office at (212) 935-5820 during regular business hours (Monday through Friday, 12:00 p.m. to 6:00 p.m.).
York Theatre Company Holiday Gift Cards are available for performances of Christmas in Hell, or any production in the new year, by visiting the box office or calling (212) 935-5820, or online at www.yorktheatre.org
For additional information, please visit www.yorktheatre.org
More Hot Stories For You