BWW Review: The New Musical Comedy TWOS A CROWD at 59E59 Theaters is a Charmer
The NYC premiere of a marvelous new musical, Two's a Crowd is now onstage at 59E59 Theaters through August 25. It has a book by Rita Rudner and Martin Bergman, directed by Mr. Bergman, with music and lyrics by Jason Feddy. Not only is the show humorous with laugh out loud moments but it also has plenty of heart. With Rudner starring, her fans and many more will want to see this delightful production.
The premise for the Two's a Crowd is a clever one. Wendy is a very organized and particular woman in her early 60's who embarks on a solo vacation to Las Vegas to reflect on the problems with her unfaithful husband. But when she arrives in her room, Tom, who seems to be Wendy's polar opposite, already occupies it. Tom is an easy-going type and a recent retiree who is in Vegas to play in a poker tournament. With the hotel being totally booked, the two decide they will have to work out rooming together. But what can these two find in common and will this cozy situation result in an unexpected attraction?
The cast for Two's a Crowd shines bright. Rita Rudner as Wendy leads the company with her signature comedic talent. She is joined onstage by Robert Yacko as Tom; Kelly Holden Bashar as the hotel manager, Louise and the housekeeper, Lili; and Brian Lohmann in various roles that include the room service waiter and Wendy's husband, Gus. Scenes that include Wendy's first confrontation with Tom; Wendy and Tom having lunch; Tom returning to the room after losing at Poker; the hotel staff visits to the room; and Wendy's husband's sudden appearance will keep audiences captivated and amused. The cast masters the fast-paced, humorous dialogue with its quippy comments.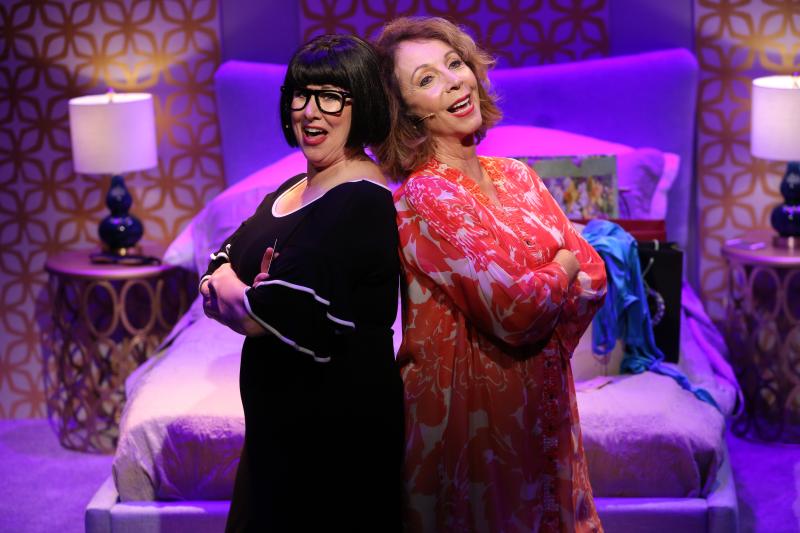 The production showcases the musicality of guitarist, vocalist and writer Jason Feddy along with Eli Zoller on bass guitar/keyboards/mandolin and Julian Bridges on percussion. Audiences will appreciate the score that complements the production. There are both catchy and heartfelt songs that include "Two's a Crowd," "Live a Little," "Getting There," "If Only," "Forgiveness," and the final song of the show "Shit Happens."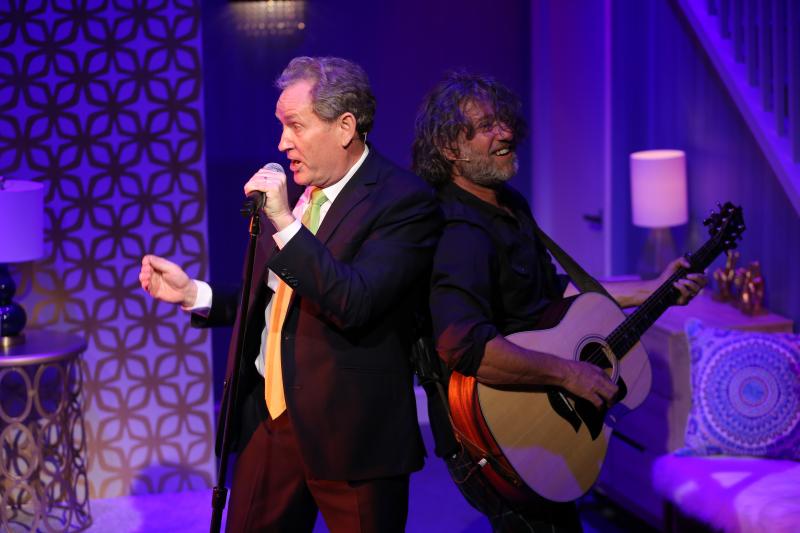 The Production Team has done a great job of bringing Two's Company to the Upper East Side stage. They include scenic and lighting design by Tessa Ann Bookwalter and sound design by Jonathan Burke. The Production Stage Manager is John Concannon and the Assistant Stage Manager is Alex Murphy.
Two's a Crowd is a very charming musical. The story brings new meaning to an old adage, "You can't tell a book by its cover." It's a perfect summer theater treat. Get your tickets and enjoy!
Two's a Crowd is produced by Impro Theatre in association with Ritmar Productions, Inc. It will be performed at 59E59 Theaters ((59 East 59th Street, between Park and Madison) through August 25. The fun time is 1 hour and 50 minutes with one intermission. Single tickets are $25 - $70 ($49 for 59E59 Members). To purchase tickets, call the 59E59 Box Office at 646-892-7999 or visit https://www.59e59.org/.
Photo Credit: Carol Rosegg