Review: The New Musical Comedy TWOS A CROWD at 59E59 Theaters is a Charmer
The NYC premiere of a marvelous new musical, Two's a Crowd is now onstage at 59E59 Theaters through August 25. It has a book by Rita Rudner and Martin Bergman, directed by Mr. Bergman, with music and lyrics by Jason Feddy. Not only is the show humorous with laugh out loud moments but it also has plenty of heart. With Rudner starring, her fans and many more will want to see this delightful production.
The premise for the Two's a Crowd is a clever one. Wendy is a very organized and particular woman in her early 60's who embarks on a solo vacation to Las Vegas to reflect on the problems with her unfaithful husband. But when she arrives in her room, Tom, who seems to be Wendy's polar opposite, already occupies it. Tom is an easy-going type and a recent retiree who is in Vegas to play in a poker tournament. With the hotel being totally booked, the two decide they will have to work out rooming together. But what can these two find in common and will this cozy situation result in an unexpected attraction?
The cast for Two's a Crowd shines bright. Rita Rudner as Wendy leads the company with her signature comedic talent. She is joined onstage by Robert Yacko as Tom; Kelly Holden Bashar as the hotel manager, Louise and the housekeeper, Lili; and Brian Lohmann in various roles that include the room service waiter and Wendy's husband, Gus. Scenes that include Wendy's first confrontation with Tom; Wendy and Tom having lunch; Tom returning to the room after losing at Poker; the hotel staff visits to the room; and Wendy's husband's sudden appearance will keep audiences captivated and amused. The cast masters the fast-paced, humorous dialogue with its quippy comments.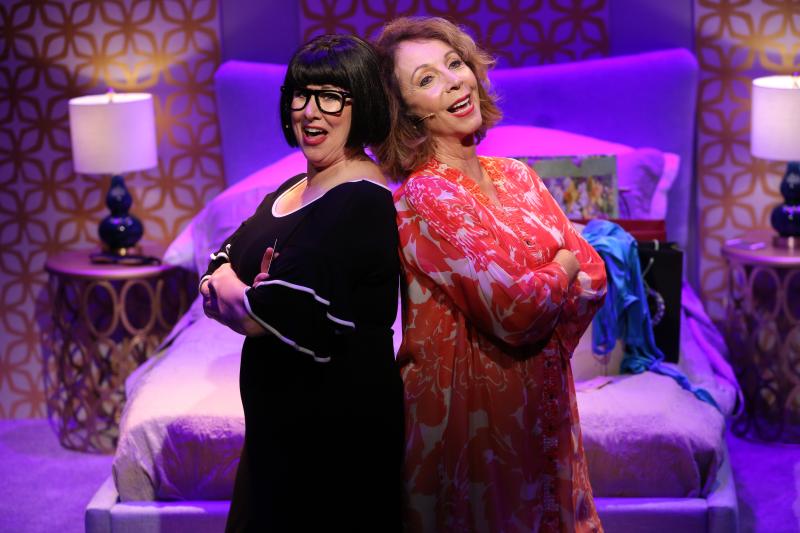 The production showcases the musicality of guitarist, vocalist and writer Jason Feddy along with Eli Zoller on bass guitar/keyboards/mandolin and Julian Bridges on percussion. Audiences will appreciate the score that complements the production. There are both catchy and heartfelt songs that include "Two's a Crowd," "Live a Little," "Getting There," "If Only," "Forgiveness," and the final song of the show "Shit Happens."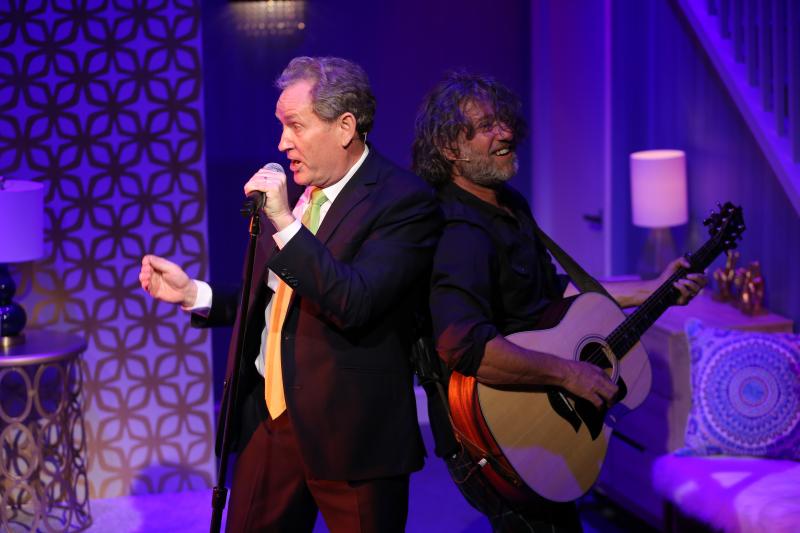 The Production Team has done a great job of bringing Two's Company to the Upper East Side stage. They include scenic and lighting design by Tessa Ann Bookwalter and sound design by Jonathan Burke. The Production Stage Manager is John Concannon and the Assistant Stage Manager is Alex Murphy.
Two's a Crowd is a very charming musical. The story brings new meaning to an old adage, "You can't tell a book by its cover." It's a perfect summer theater treat. Get your tickets and enjoy!
Two's a Crowd is produced by Impro Theatre in association with Ritmar Productions, Inc. It will be performed at 59E59 Theaters ((59 East 59th Street, between Park and Madison) through August 25. The fun time is 1 hour and 50 minutes with one intermission. Single tickets are $25 - $70 ($49 for 59E59 Members). To purchase tickets, call the 59E59 Box Office at 646-892-7999 or visit https://www.59e59.org/.
Photo Credit: Carol Rosegg
Marina P. Kennedy's writing career led her from freelancing opportunities in New Jersey and New York to writing for Broadwayworld.com where she covers entertainment, the culinary scen... (read more about this author)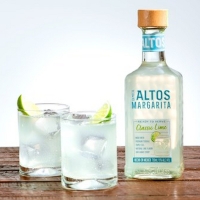 OLMECA ALTOS® Launches Margarita Classic Lime Ready-To-Serve

December 5, 2022

Olmeca Altos®, the award-winning tequila, is mixing up the ready-to-serve cocktail market with the launch of Olmeca Altos® Margarita Classic Lime.
---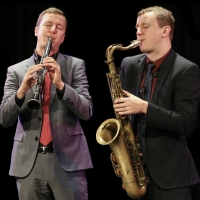 Review: The Anderson Brothers Present THE JOURNEY OF JAZZ at 59E59 Theaters-A Fabulous Musical Journey

December 5, 2022

Some of the best jazz music in NYC is being presented at 59E59 Theaters through December 11. Brothers, Peter and Will Anderson and their ultra-talented ensemble of musicians are performing in "The Journey of Jazz."
---
Samuel Adams Brewing the American Dream Launches LIMITED-EDITION HOLIDAY COOKIE KIT to Support Small Business

December 4, 2022

To kick off the holidays, Samuel Adams Brewing the American Dream, a philanthropic program that provides mentorship and capital to food and beverage businesses nationwide, is excited to announce the launch of the Sam Adams "Baking the American Dream Kit."
---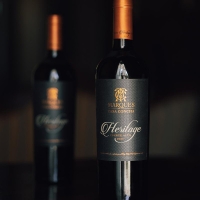 MARQUES DE CASA CONCHA Chilean Wines are Ideal to Sip, Savor and Pair this Holiday Season

December 4, 2022

Renowned Winemaker, Marcelo Papa of Marques de Casa Concha, one of Chile's leading wineries, offers some excellent advice for those looking to select wines for this festive season.
---
CAMELBACK RESORT in Tannersville, Pa. Announces Exciting Season Ahead

December 2, 2022

Camelback Resort, an award winning 560-acre Pocono Mountains resort known for its stellar line up of snow sports, will usher in the 2022-2023 winter season this December with a spate of innovative upgrades and new activities for the entire family.
---