BWW Review: Simon Stephens' Olivier-Winning ON THE SHORE OF THE WIDE WORLD Arrives in New York
British playwright Simon Stephens scored big his first time on Broadway, taking the 2015 Best Play Tony Award for THE CURIOUS INCIDENT OF THE DOG IN THE NIGHT-TIME two years after receiving the same honor at the Olivier Awards.
And while his PUNK ROCK and HEISENBERG have provided worthy returns to Gotham for the imaginative scribe, there's a sad sense of ordinariness to On the Shore of the Wide World, his 2006 Olivier Best Play winner that has finally hit town via Off-Broadway's Atlantic Theater Company.
Taking its title from a line in a John Keats sonnet ("When I Have Fears That I May Cease To Be") Stephens' drama concerns three generations of the working class Holmes family of Stockport, played out on Scott Pask's marvelous unit set that provides plenty of room to glide through multiple locations.
Older son Alex (Ben Rosenfield), is awkwardly showing inexperience in attempting a first sexual encounter with his new girlfriend, the adventurous Sarah (terrific Tedra Millan), while his younger brother Christopher (Wesley Zurick) is hyperactively proclaiming love for her.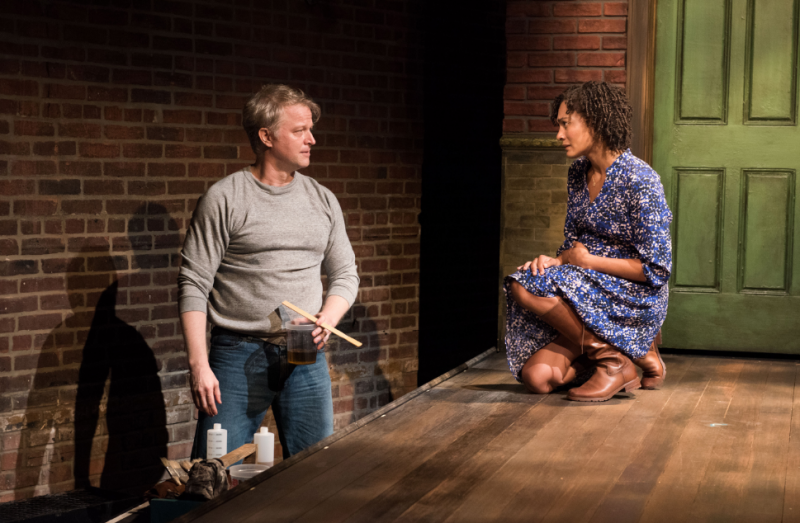 The boys' parents, Pete and Alice (C.J. Wilson and Mary McCann) have settled into a rather passionless marriage. Pete is a laborer who restores houses and the evenings best moments come when Wilson plays scenes with Amelia Workman as a married and pregnant client. Both are quite charming and there's no subtext of potential infidelity when the two characters sweetly and innocently connect.
As for the oldest generation, the charm of family patriarch Charlie (Peter Maloney) hides his alcohol-infused fits of abuse to his wife Ellen (Blair Brown in an underwritten role).
As time goes by, small events affecting relationships occur. Larger ones are hinted at and a major one is simply mentioned as having occurred but isn't really dealt with.
Subtlety done well can be wonderful, but ON THE SHORE OF THE WIDE WORLD meanders about for two long acts before reaching its unsatisfactory conclusion. It's only the fine work by director Neil Pepe's ensemble that stirs interest to see where it's going.