BWW Review: SUMMER SHORTS Series B at 59E59 Theaters and Why We Love Them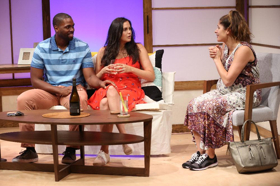 Now onstage at 59E59 Theaters is Summer Shorts 2017 with two different presentations, Series A and Series B, each consisting of three one-act plays. We attended series B and enjoyed each of the short form theatre pieces that featured superb playwriting, expert direction, and outstanding performances. Summer Shorts is a true celebration of new American plays.
The program opened with A Woman, written by Chris Cragin-Day and directed by Kel Haney. This two hander depicts a fascinating conversation between two long-time friends. Cliff (Mark Boyett) has recently assumed the position of a Presbyterian Church pastor. Kim (Jennifer Ikeda), a young mother and college professor, suggests that he break with tradition and appoint a woman to the role of church elder. Kim's steadfast Christian faith and feminist ideals could challenge the church's long accepted norms.
Comedy reigns in Wedding Bash, written by Lindsey Kraft and Andrew Leeds, and directed by J.J. Kandel. If you've ever been to a destination wedding in a remote location that was expensive to attend, you'll recognize the sentiments expressed in this show. Lonny (Donovan Mitchell) and Dana (Rachel Napoleon) are certain that their wedding was a resounding success. But their friends, Alan (Andy Powers) and Edi (Georgia Ximenes Lifsher) tell them differently. The wedding bash gets bashed in this very clever show.
Break Point, written and directed by Neil LaBute, brings together two world-class tennis players the day before their semi-final match in the French Open. When Oliver (John Garrett Greer) offers Stan (KeiLyn Durrel Jones) money to throw the game so that he can advance, the conversation is tense, yet is humorous in many ways. Break Point is a captivating view of one man's zeal for recognition at the cost of good sportsmanship and integrity.
The Production Team for Summer Shorts includes Set Design by Rebecca Lord-Surratt; Lighting Design by Greg MacPherson; Sound Design/Composer, Nick Moore; Costume Design by Amy Sutton; Props Design by Elisabeth Orr; Projection Design by Nicholas Hussong. The Associate Producer/Assistant Director for Acolyte is Krysta Bibbard; Assistant Director for Jack, Terry Kitagawa; Assistant Director for Playing God, Sarah Cronk; Casting, Kate Murray; Production Manager, Richard A. Leigh; Technical Director, Dan Teachout; Press Representative, Karen Greco; Production Stage Manager, Dee Dee Katchen; Stage Manager, Jenna R. Lazar; Production Assistant, Nick Puliafico; Production Intern, David Katchen.
Summer Shorts 2017 is a highlight of the summertime theatre season. The plays are an excellent selection of pieces that will enthrall audiences. Gather your group and make time to see them.
Produced by Throughline Artists, SUMMER SHORTS 2017 will be performed through Saturday, September 2. Program B runs for 90 minutes with no intermission. The general performance schedule is Tuesday - Thursday at 7:15 PM, Friday at 8:15 PM; Saturday at 2:15 PM and 8:15 PM; and Sunday at 3:15 PM & 7:15 PM. Single tickets are $25 ($17.50 for 59E59 Members). A Pair of Shorts (a ticket package to both Series A & B, available through August 16) is $45 ($40 for 59E59 Members). To purchase tickets, call Ticket Central at (212) 279-4200 or visit www.59e59.org.
Photo Credit: Carol Rosegg