BWW Review: New Yiddish Rep's Masterful Revival of Sholem Asch's Look At Eastern European Jewish Culture in GOD OF VENGEANCE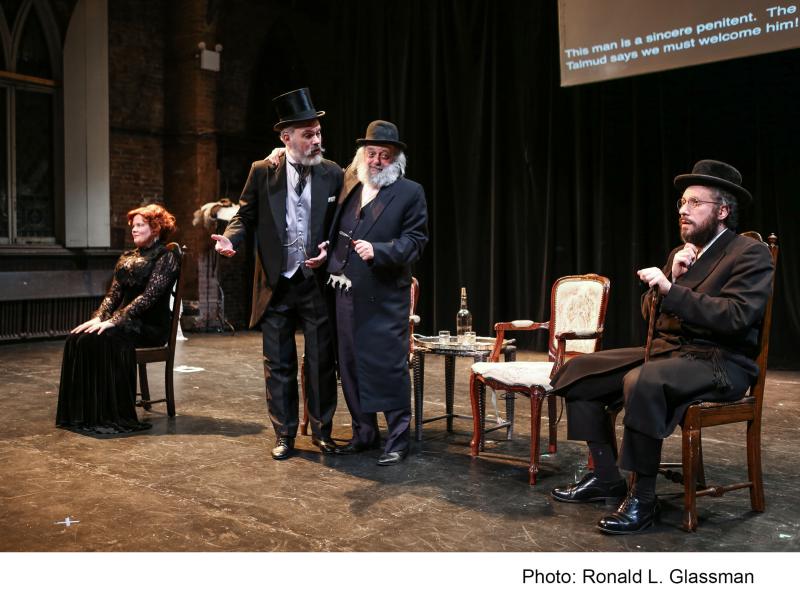 Making his theatrical debut as the scribe in the New Yiddish Rep's GOD OF VENGEANCE, real-life lawyer and ex-Hasid Eli Rosen told American Theater's Simi Horowitz that he believes in "transparency": "The only way to effect change is to shine a light on what goes on behind closed doors." Or in the case of Sholem Asch's controversial 1907 play, in the basement of a brothel owned by Yankl Shapshovitch, deftly played by Shane Baker, a Yiddish stage veteran with a Vaudeville background.
Along with Galway-born Caraid O'Brien, who plays Yankl's wife Soreh, Baker is one of only two non-Jewish cast members. Malky Goldman (Rayzel) uses a stage name out of respect for her family. Most of the cast grew up in ultra-Orthodox homes and left the Hasidic world behind, many at considerable personal cost. This accounts for the visceral authenticity of the play, performed entirely in Yiddish with supra-titles that in no way interfere with the play's appreciation. If anything, because GOD OF VENGEANCE depicts a culture that reveres scholarship and the written word, the need to read and watch the play simultaneously only deepens our engagement.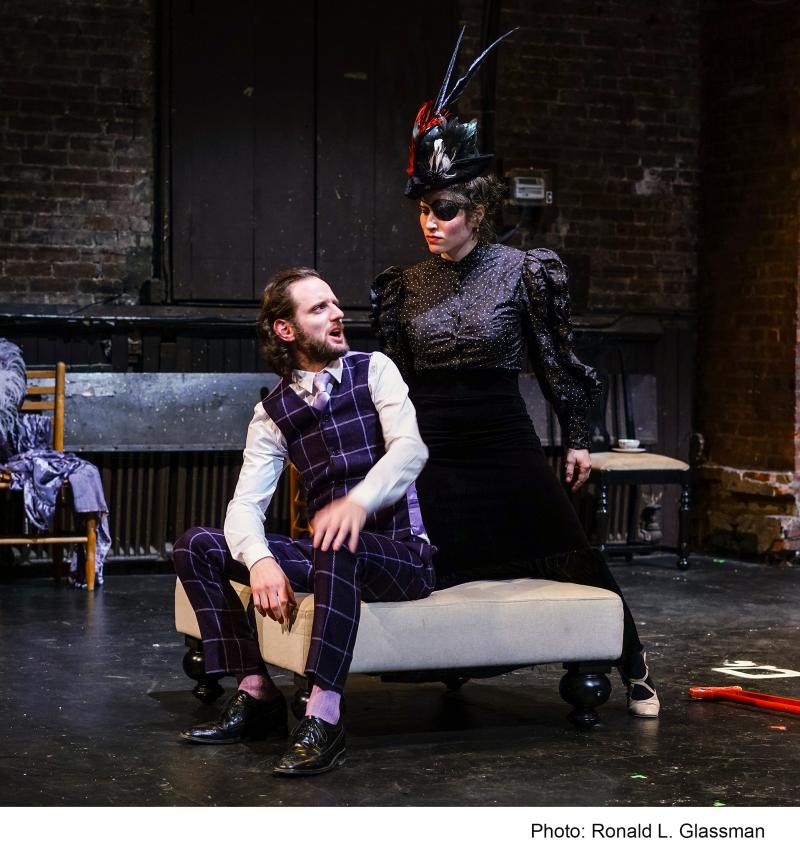 Asch's play deals with topics challenging even for secular audiences: physical abuse, wife-beating, prostitution, and lesbian love. Director Aaron Beall whitewashes nothing. Yankl's belt is ubiquitous and applied liberally both to Soreh, a former prostitute, and Rivkeleh (Shayna Schmidt). Shlomo (Luzer Twerzky) clearly beats Hindl (Lea Kalisch), his razor-tongued, iron-willed girlfriend with whom he manages the brothel. Her limp is more like a spastic jump, yet she arouses more respect than pity, in spite of the fact that the slick, scrappy Shlomo will never marry her. At once sleazy and sexy, Twerzky evokes a young Fisher Stevens. And Kalisch delivers a standout performance, receiving among the loudest applause at the curtain call.
Hoping to gain respectability by marrying his daughter to a scholar from a good, if not well-off family, Yankl purchases a Torah scroll he intends to give his future son-in-law. The opportunistic Reb Eli (understudied beautifully by Eli Rosen) has to do some finagling given Yankl's dubious profession. When tragedy strikes in Act III, his counsel is oddly reassuring, though still very much eyes on the prize: the marriage of Rivkeleh to the scholar he's selected for her.
But as Baker notes, Yankl's Judaism is merely a "superstitious fetish." In his view, though obviously not the view endorsed by the playwright, a woman's purity matters more than her life. The double standard burns: "If a son goes bad, so what? If a daughter, it's like your mother sinning in the grave."
Superstitions are not limited to purity, of course. Inadvertent dropping of a Torah scroll would require a one-month fast for the entire village. The women in the brothel believe in ghosts, signaling that even whores who have left behind a virtuous (but oppressive) life are bound by its traditions. But in the world Asch presents, freedom and virtue cannot coexist. In one of the most play's most daring lines, Hindl claims that whores make the best wives because they appreciate what it means to have a husband at all. She also says says that were she to have children, she would "raise them right." She may reject much of conventional morality but like the "respectable" characters, she believes children are sacred.

One can see why Paula Vogel, whose Indecent debuts on Broadway April 4th, was so dazzled by Asch's play in graduate school at Cornell. That a "young married man" could write a story so sensitive to the plight of women struck Vogel, herself a feminist and lesbian. In a world people take umbrage when those not part of a marginalized group attempt to speak on its behalf, Asch's play reminds us that great art is driven by imagination. We've reached a point (both in the academy and the performing arts), where no one can claim to speak about anyone else's experience. The very authorship of GOD OF VENGEANCE debunks this destructive and polarizing assumption.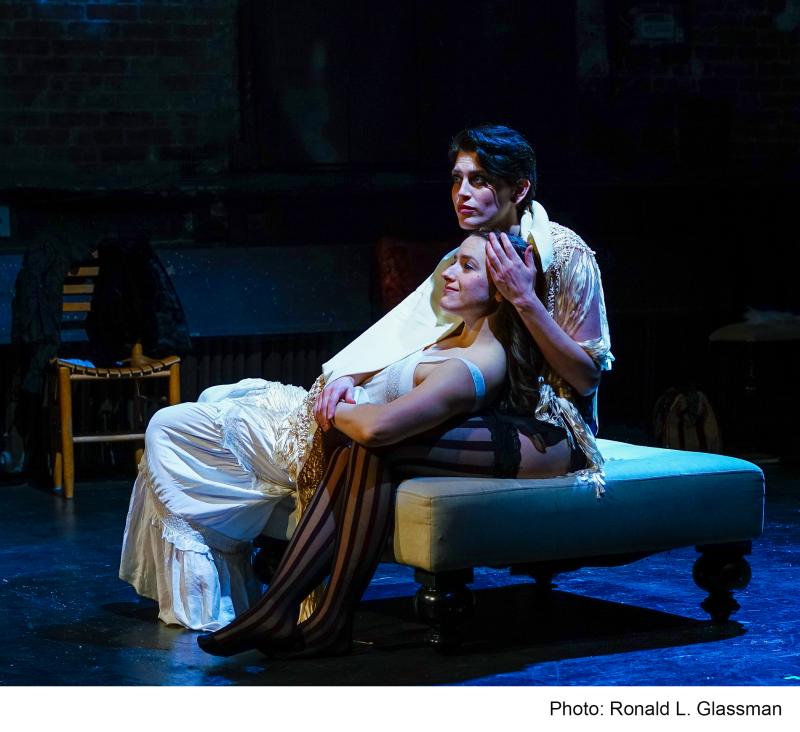 Amidst all the brutality in GOD OF VENGEANCE, the love between Rivkeleh and Mankeh, powerfully rendered by Melissa Weisz, is an oasis. In their tender kisses, Rivkeleh's innocence fuses with Mankeh's world-wise protectiveness to create a new, more humane reality. Indecent's co-creator and director Rebecca Taichmann calls their bond "the only pure love possible in a broken system in which all men are violent." This is not, of course, how their romance--and kiss, the first lesbian kiss on Broadway--seemed in 1923, when the cast and producers were arrested (though that production cast the relationship in more mercenary terms, making it seem as though Mankeh was recruiting Rivkeleh purely for profit).
GOD OF VENGEANCE is a large, sprawling text, full of complex characters whose motives invite debate. In this, Asch's play embodies the best traditions of Judaism, along with the brokenness he sees in Judaism's most extreme forms. Still, Asch did not want the play produced in the wake of the Holocaust, fearing it might fuel anti-semitism. The issue is not lost on modern interpreters of Asch's text, but the New Yiddish Rep approaches the play with all the rigor and sensitivity of a Rabbinic scholar poring over a verse of the Talmud.