BWW Review: BLACK HOLE WEDDING at New York Music Festival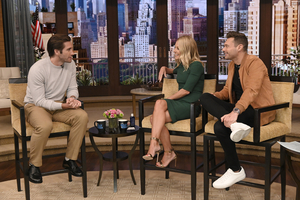 Technically, the silver lining of the black hole trash compactor featured in Black Hole Wedding is that whatever it doesn't suck in, it stretches out: a golf club, clothing, even a pom-pom shaking marketing director. Theatrically, this "spaghettify" strategy also works well for the show itself, a campy eco-political satire with more than enough humorous and heartfelt songs and sight gags to keep its musical magnetic attraction strong for 100 minutes.
Katherine Brann Fredericks (book and lyrics) and Paul Nelson (music) concoct a little science experiment writ large, combining elements of romantic comedies, nerd revenge fantasies, political farce and office humor--all into fun fringe theater. Working within some dense material, the leads and ensemble squeeze every bit of character humor possible out of their quippy exchanges, chase scenes, and energetic dance numbers.
The dashing Mr. Dean (Sean McDermott) is the CEO of Worldwide Universal Holdings. He's no paunchy, jowly patriarch; he's buff bravado in a bicep-hugging golf shirt. Don't be fooled; in another era, he would likely sport a sinister curly wax mustache, black cape/hat, and oversee the capture/tying of a damsel in distress to some train tracks. How bad is this bad guy? Working out of an office featuring a wall-to-wall putting green, he lies, cheats, forges and kidnaps, all while capturing and warehousing renewable energy resources. Behind that menacing mustache lurks a master of complicity whose targets are numerous.
Among them are Eugene (Jay Ellis), the hilariously intense security guard; Calista (Mandy Striph), the effervescent marketing director; and Summer (Mimi Robinson), the freethinking corporate masseur who captures the attention of, well, everyone. In a ruthless environment where new engineers are mandated to sign over their rights to any inventions or patents immediately upon being hired, Summer uses face mist, healing stones, a soothing tone and a deft touch to relax the masses. Although Dean pursues her relentlessly, it's a new engineer, Raymond (Jonathan Miller), who rubs her the right way. Although he initially seems like a dopey savant, Raymond quickly stakes his claim as the ethical antithesis of Dean. He means business, especially when it comes to wooing Summer.
Much of the humor of the show comes from the jargon jousting between Dean (all golf and corporate-ese) and Raymond (fluent in science speak).
MR. DEAN: "At Worldwide Universal Holdings, engineering works the way I tell it to. Olivia, 6:00 a.m. Raymond next week."
RAYMOND: "A week? That's only 168 hours. 165, with time out for food and personal hygiene."
Even when we can't understand exactly what Raymond is saying, we are suckers for his sincerity.
RAYMOND: "Crossing the event horizon, the object you wish to dispose of becomes spagetti-fied--stretched out long and thin. Once across the event horizon, your problem ceases to exist. Of course, this line isn't the actual event horizon. It represents a safety factor outside the cone of attraction."
Although loony lexicons feed the narrative, what ultimately saves this plot-stuffed show from imploding are the 19 songs. While "You Don't Own My Mind," "Ancient and Honorable Game" and "No Means No" are highlights, it's "Black Hole Wedding" that provides some final levity behind so much dark matter.
The show runs through July 20th. Tickets are available here.
Photo credit: Shira Friedman