BWW Review: BERNIE AND MIKEYS TRIP TO THE MOON at 59E59 Brings an Affecting Family Story to Life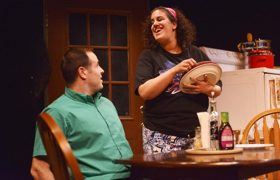 "Do you think it's any better on the moon Bernie?"
by Mikey in Bernie and Mikey's Trip to the Moon
Bernie and Mikey's Trip to the Moon is now onstage at 59E59 Theaters through December 2nd. Written by actor and playwright, Scott Aiello, this is his first full-length play. The production enjoys outstanding direction by Claire Karpen and a top-notch cast that brings Aiello's finely written story to life.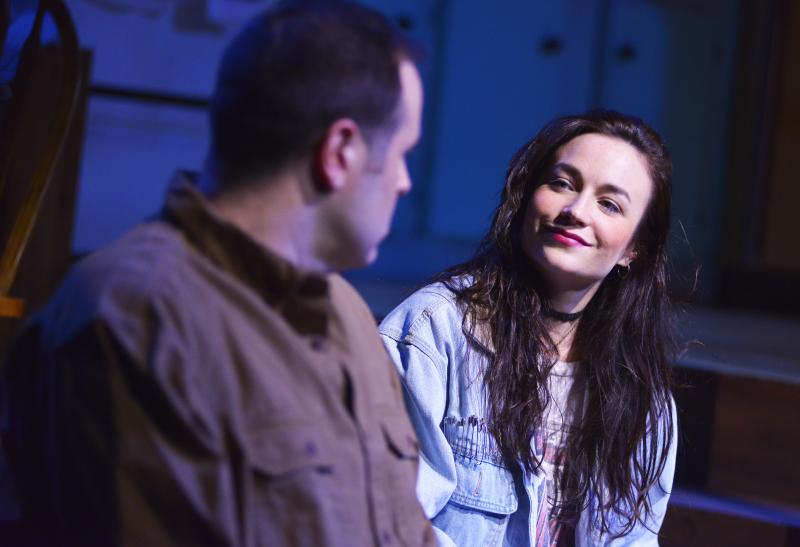 Set in the 1990's, the show portrays a working class Italian family living in the greater Chicago area. Mikey is an attentive brother who cares deeply for his cognitively challenged sister, Bernie. Their parents, Gladys and Mike Sr. have a contentious relationship, one that is also stressed because of concerns for their handicapped daughter and her future. The members of the family have predictable routines. Mike Sr. manages Scorpion Bar and Grill with his Uncle Ski; Gladys keeps the house in order; Mikey works in a local restaurant; and Bernie's attends special programs. Circumstances could change as Mikey becomes interested in his co-worker, Laura and a young man, Jeff Goldblum wants to have a relationship with Bernie. This affecting, coming of age story about love, loyalty, and longing is laced with clever humor that makes it entertaining and relatable.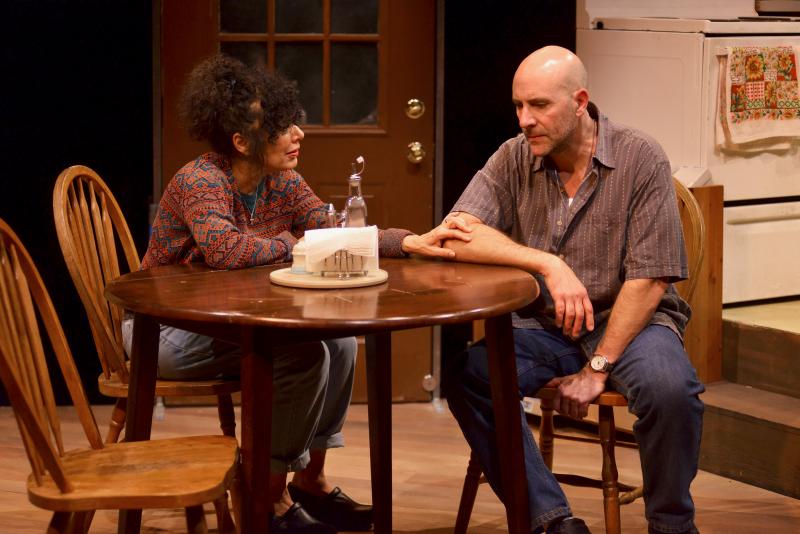 The cast features Stephen D'Ambrose as Charles "Ski" Bodanski; Stephanie Gould as Bernadette "Bernie" Vincolo; Jordan Lage as Michael Vincolo, Sr.; Forrest Malloy as Micheal "Mikey" Vincolo, Jr.; Ismenia Mendes as Laura; Benjamin Rosloff as Jeff Goldblum; and Margo Singaliese as Gladys Vincolo. These talented thespians are so authentic in their roles, you will think you are watching the scenes unfold in real time. There are many memorable and captivating scenes that include Mikey's talks with Laura; Bernie excitedly perusing her book about Elvis Presley; Gladys and Mike Sr. arguing about Bernie's care; Ski reminiscing at the bar with Mikey; and Jeff Goldblum's unexpected visit to the family home.
The Creative Team has done a great job of bringing the Bernie and Mikey's Trip to the Moon to the stage. They include set design by James Ortiz; costume design by Izzy Fields; lighting design by Cecilia Durbin; assistant lighting design by Katherine R. Mitchell; and sound design by Sam Kusneta. Casting is by Paul Davis, Calleri Casting, CSA. The Production Stage Manger is Kristin M. Herrick.
Bernie and Mikey's Trip to the Moon is an inspirational human journey that is ideal for the holiday season. Gather your group, get your tickets now and experience it while it is being performed at 59E59 Theaters. This is a show that should go far!

Produced by Strangemen Theatre Company, Bernie and Mikey's Trip to the Moon will be performed through Sunday, December 2 at 59E59 Theaters located at 59 East 59th Street (between Park and Madison Avenues). The performance schedule is Tuesday - Friday at 7:15 PM; Saturday at 2:15 PM & 7:15 PM; Sunday at 2:15 PM. Please note the following Thanksgiving week schedule adjustment: There is an added performance on Tuesday, November 20 at 2 PM and no performance on Thursday, November 22; the performance on Wednesday, November 21 will be a relaxed performance. Single tickets are $25 - $35 ($24.50 for 59E59 Members). Tickets are available by calling Ticket Central at 212-279-4200 or by visiting https://www.59e59.org/. Patrons can call the 59E59 Theaters Box Office direct: 646-892-7999.
Photo Credit: Michael Kushner