BWW Review: An Ode to the Theater's Tale in Martin Tackel's STAGE LIFE
It's an interesting thing to think about: when we wake up in the morning and proceed to run our errands, socialize with people we know or participate in our favorite activity, are we really doing these things or simply acting our way through them? Personally, I am guilty of going through the motions of life without truly being my best self - the person I know that I can and should be, if only circumstances were different. As an actor, a person is meant to not only understand a character's motives and reasoning, but also their own; it is like acknowledging that you can't love someone else without first loving (and knowing) yourself. It's no wonder that people are drawn to the aspects of acting hardly associated with fame and fortune; a true actor is a person trying to understand the world around and within them; it is one of the most admirable professions out there.
Now playing at the Lion Theatre in Times Square, Stage Life is truly an ode not only to the actor, but anyone who has ever been inspired by the theater to make it their life's work. From actor to playwright, to producer and teacher alike, this is theater in its truest, diverse and most appreciated form - right on Theater Row.
Conceived/adapted by Martin Tackel and directed by Gwen Arment, Stage Life is an eclectic mix of quotes and vignettes inspired by people and short stories of past and present. The production conjures up a sense of nostalgia that, no matter the amount of time that passes, mimics the same enthusiasm for an actor's craft as is still felt today. It is an enthusiasm felt by those who make performing such a crux in their life, and an enthusiasm felt by those in the audience who see this love made palpable. Acting is the rare profession that not only provides a creative conduit and personal joy to the actor, but also gives the audience a chance to experience their passion through a good performance; it is a true symbiotic relationship.
The audience acknowledges that acting on stage is indeed a craft - a responsibility taken on by an individual to bring a character and story to life in a believable, even inspiring way. That is the magic that happens on this stage in such an effortless, almost lighthearted way. It is acting at its finest, and you will certainly not have to "act" as though it delighted you to be a witness to this wonderful show.
As the actors navigate their way through the different stories they tell and become more and more fluid on stage, the play adopts a sort of casualness to it; it is as though the cast is a group of friends that came together and frolicked their way through this show with such camaraderie.
A group of friends coming to celebrate the passion in their lives, the audience is then given insight to how each vignette cleverly intertwines "life" and the actor's tale. What starts out as a class of aspiring actors, then moves into a lightly comical skit about a playwright trying to conjure up an idea for her next play. From there, different vignettes play around with the perspective of not only being an actor, but a person trying to fit and make his or her mark in this world of theater.
The line between "pretend" and that which is real is crossed as this group sits around and discusses the recent passing of a man they all knew, but one for which a good word cannot collectively be said. A man that influenced their careers as well as their lives, this skit further proves that people, as are the characters they play, can be molded to follow a certain "script" per say; the writer acts as a sort of fate, and what we know is manipulated based on the playwright's hand. Stage Life is a classy, humble and entertaining piece of theater that outlines moments in time that portray the theater as something wonderful but daunting, comical yet serious all the while. So saying, it is also a way for people, both actor and audience alike, to reflect on how much of their life is dictated by our own hand, and how much of it is happenstance - chance, reaction, uncontrollable moments that test how we live in a world not always our own.
It is a fascinating thing indeed.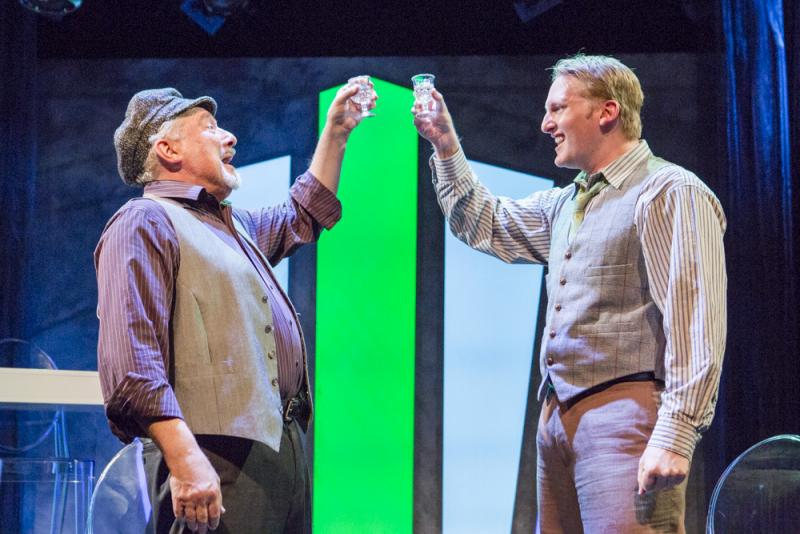 The cast of Stage Life really does a great job with this production, as their talent, versatility and enthusiasm is all clearly palpable. Brittney Lee Hamilton, Peter Husovsky, Judy McLane, Brandon Schraml, MarTina Vidmar and Stuart Zagnit round out a wonderfully coherent cast that looks like it had the utmost fun bringing this play to its feet. Kudos also to Scenic Designer Andrew Diaz, Lighting Designer Zach Pizza, Costume Designer Lui Konno, Music/Sound by Brian Hurley, Graphics/Website by Esther Yumi Ko, Production Manager Kim T. Sharp, Production Stage Manager Jessica Pecharsky and Assistant Stage Manager Rose Viets.
Stage Life opened at the Lion Theatre (located at 410 West 42nd Street) on May 24th, and will continue through June 9th. Tickets are $30 (plus a $2.25 facility fee) and may be purchased either through the box office, or by calling Telecharge at (212) 239-6200. The performance schedule is as follows: Tuesday @ 7:00 pm, Wednesday thru Friday @ 8:00 pm and Saturday @ 2:00 pm and 8:00 pm.
Enjoy the show!
Photo Credit: Creative Arts Lab