BITCHING & BELTING From Michael Goia And Friends Comes To THE GREEN ROOM 42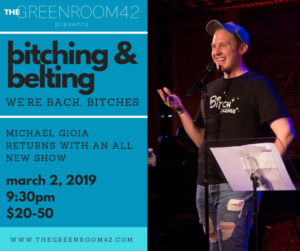 THE GREEN ROOM 42 - Broadway's newest intimate concert venue - has announced the return of Bitching and Belting on Saturday, March 2 at 9:30 PM. Join Michael Gioia and his Broadway faves for a set list of the sassiest songs, most dangerous duets and, of course, some badass bitching. Following five, sold-out editions of the sassiest show in town, Bitching and Belting is back to celebrate our favorite divas - with new arrangements by musical director Drew Wutke - in an unforgettable night where no complaint is too small and no note is too high. The event stars Michael Gioia, and features a cast including Jenna Miller (The Secret Garden), Janet Krupin (If/Then, Bring It On), Melanie Brook (50 Shades), Max Chernin (Bright Star, Sunday in the Park With George), Katie Thompson (R.R.R.E.D.), Seth Wagner, Marissa Rosen (R.R.R.E.D.), Danielle Amendola, Todd Ritch, Jessica Banegas, Jordan Westfall, Alyssa Smith, Karen Agatep, Nick Sanza and more. Michael Gioia serves as the evening's producer.
Bitching and Belting will be performed at The Green Room 42 (570 Tenth Avenue at 42nd Street, on the 4th Floor of Yotel) on Saturday, March 2 at 9:30 PM. The cover changes is $20-$50. There is no food and drink minimum. For tickets, please visit www.TheGreenRoom42.com.
THE GREEN ROOM 42 recently celebrated its second anniversary as the theater district's premiere destination for live music and events. The space lets audiences experience shows up close and personal. During the shows, guests can enjoy Mediterranean-inspired dishes alongside signature cocktails, craft beer and wine with no food/drink minimum. Tickets can be purchased at www.TheGreenRoom42.com. The Green Room 42 is located at 570 Tenth Avenue in New York City; @TheGreenRoom42.