Arje Shaw's MOOLAH Will Make Its New York Premiere at the Roy Arias Stage II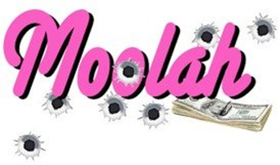 Jones Street Productions presents the New York premiere of Moolah, a new comedy by Arje Shaw (The Gathering, Magic Hands Freddie). Directed by Charles Messina (A Room of My Own), the limited engagement plays 16 performances only, April 5 - 29 at Roy Arias Stage II (777 Eight Avenue, between 47th - 48th Streets). The official opening night is April 12 at 7:30PM. Tickets are currently on sale at Ovationtix.com.
If the mob ever had an odd couple...this one's it. Moolah is a comedy thriller about two bungling mobsters who fall out of favor with "la famiglia." Straight out of the looney bin, Sonny is a hairdresser from Staten Island who moonlights as a mafia hit man. His slogan: "cut by day, clip by night." Sonny's older cousin is Ant'ny, a big-talking shyster with small-time bookie racket and a homophobic chip on his shoulder. With targets on their backs and bounties on their heads, will Sonny and Ant'ny pick up their guns, cut the bangs, or curl up and dye?
Moolah features Louis Gerard Politan as Sonny and Johnny Tammaro as Ant'ny. John Bonanni is Producer; Joli Tribuzio is Assistant Director.
Moolah will play at Roy Arias Stage II (777 Eight Avenue, between 47th - 48th Streets) April 5 - 29. Tickets are $18 and available at OvationTix.com or by calling (866) 811-4111. Visit moolahplay.com for more information.
LOUIS GERARD POLITAN (Sonny) was born in Deal, New Jersey. He attended the University of Miami in Coral Gables, FL, where he studied acting for the stage and screen. He has studied method acting and theatre both in New York City and Los Angeles. His influences include John Garfield, Tyrone Power, Marlon Brando, Burt Lancaster and Paul Newman, to name a few. Currently, he is pursuing his acting career in NYC; his recent credits include Neil Simon's Brighton Beach Memoirs and, George S. Kaufman and Moss Hart's You Can't Take It With You.
Johnny Tammaro
(Ant'ny) was last seen in the critically acclaimed Off-Broadway production of A Room Of My Own written & directed by
Charles Messina
at The Abingdon Theatre in Feb/March, 2016. He originated the role of Peter Morelli. He has been involved with Roomsince its inception back in 2008 and was very honored and proud to be apart of it. Johnny started his professional career back in 1998 when he performed with country music legend
Kenny Rogers
on Broadway in Christmas From The Heart - The Toy Shoppe as Bruno The Teddy Bear at The Beacon Theatre. He then toured with the show for the next five years. Johnny was also in the Off-Broadway production of Tony n' Tina's Weddingfor 11 years where he played every male character (...except the 70-year-old uncle.... LOL). A Room Of My Own was later produced at The Seven Angels Theatre in Waterbury, CT in Sept./Oct. 2016 where Johnny reprised his role as Peter Morelli. Johnny is currently involved with The Wanderer - The Story of Dion which is in its preliminary stages as he types this and is headed to Broadway in the very near future.
Arje Shaw (Playwright) created and produced the Broadway production of The Gathering starring Hal Linden The made his off-Broadway debut in 1992 with his first comedy, A Catered Affair, in collaboration with Broadway producer George W. George. He also authored Magic Hands Freddy receiving positive reviews by the New York Times Mr. Shaw recently published his first novel titled The Fix, a book loosely based on a basketball scandal at City College in 1949. Moolah is his latest venture. Mr. Shaw passed away on March 10, 2018, and it is with gratitude and love that the cast and staff of Moolah commemorate the life of Arje by bringing his latest work to the stage.
Charles Messina (Director) notable stage work includes A Room Of My Own, his critically acclaimed Off-Broadway show starring Ralph Macchio and Mario Cantone, as well as Cirque Jacqueline, Mercury: The Afterlife and Times of a Rock God, Be My Love: The Mario Lanza Story; Art Metrano's Accidental Comedy, and Andrew Goffman's long running comedy The Accidental Pervert. His musical The Wanderer, about the life of Dion DiMucci, is currently being developed for Broadway.
John Bonanni
(Producer) began his theatrical career at the offices of
David Merrick
too many years ago. Stage and production management for seven Broadway shows and at Radio City Music Hall. Executive Producer of the Christmas Spectacular, Executive Director of the Warner Theatre, where the initiated the International Playwrights Festival and produced two new works, Liberty, and The Gefilte Fish Chronicles. At BDT in Colorado, he produced John Peilmeiers's Slow Dance with A Hot Pickup. Produced Under Fire for the New York Music Theatre Festival. Currently, he is enrolled in the MFA in Creative and Professional Writing program at Western Connecticut State University.
Joli Tribuzio
(Assistant Director) most recently worked with
Charles Messina
along with fellow actor
Johnny Tammaro
playing Dotty Morelli in A Room Of My Own both off Broadway and at The Seven Angels Theater in Connecticut.