1950's Sci-Fi Musical Comedy IT CAME FROM BEYOND Opens Tonight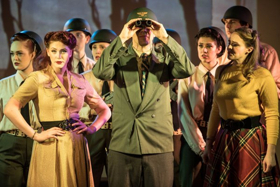 Producers John Lant and Cornell Christianson with ICFB Productions are pleased to announce the Off-Broadway premiere of IT CAME FROM BEYOND, a 1950's sci-fi, musical comedy with book by writer / producer Cornell Christianson, music and lyrics by Stephen M. Schwartz and Norman E. Thalheimer, and directed by Jim Blanchette.
The production will preview on Tuesday, April 10 and April 17 at 7:00 pm, and open on Tuesday, April 24 at 7:00 pm. Performances then run Tuesdays at 7:00 pm through July 24. St. Luke's Theatre is located at 308 West 46th Street (between 8th and 9th Avenues). Tickets cost between $20 and $99 and can be purchased through Telecharge at www.telecharge.com/Off-Broadway or by calling (212) 239-6200. For more information, please visit https://stlukestheatre.com.
IT CAME FROM BEYOND tells the story of Harold, a nerdy high school geek whose only chance to save Becky the popular, beautiful girl that he's in love with is to find the secret hidden information in a new comic book, "It Came From Beyond." In the comic book's parallel storyline, an astronomer seeks the answers to the similarly mysterious clues in order to stop aliens from outer space "blanking" the population of Planet Earth for their evil twisted purposes.
Featured in the cast are Ryan Ball, Kaitlyn Baldwin, Alexandra Dominguez David R. Doumeng, Clint Hromsco, Sean R.Jones, Natalie Michaels, Austin Nuckols, Kayleen Seidl, Danicah Waldo, and Bryan S. Walton.
The choreography is by Mark Blowers, music direction is by Austin Nuckols, lighting designis by Maarten Cornelis, and costume design by Jennifer Anderson. Casting is by Tamra Pica Casting.
Cornell Christianson (book writer/Producer) was a writer-producer at Paramount Pictures and Twentieth Century Fox where he produced the award-winning television series "The Paper Chase" starring John Houseman. His specialty is that he writes musicals with a unique structure of two parallel and interconnecting stories that go back and forth between two worlds. He has written a 1940s film noir musical, a 1950s sci-fi musical, a 1950s Marilyn Monroe musical and is writing a 1960s sword and sandal musical. His 1950s musical It Came From Beyond earned him two Los Angeles Stage Alliance Ovation Award nominations including Best Musical and Best Writing of a Musical. He has written its screenplay and two sequels which are being planned for a TV mini-series. His 1940s musical Wicked City Blues played in Salt Lake City and was named one of the Ten Best Plays of the Year in Utah. Critics called it "a snappy, sassy and thoroughly enjoyable send-up of the "film noir" mystery genre" and a production is being planned for Off Broadway. He has written a murder-mystery musical, Marilyn Exposed, which reveals the truth about Marilyn Monroe's death and is expected to open next year. He is a graduate of William & Mary College and UCLA, a deacon of his church and an Eagle Scout.
Norman E. Thalheimer (Composer/Lyricist) is a Broadway composer-lyricist who co-wrote Marilyn: An American Fable, which opened at the Minskoff Theater in Times Square. He is also the book writer and composer-lyricist for Wicked City Blues, a 1940's radio detective musical, which premiered at the Allred Theater in Utah and which received rave reviews. He has composed music for movies including, "The Prophesy","Jericho Mile","The Return of Captain Invincible", and will be composing the score for the upcoming feature film, "Beyond the Veil". As a pianist he has accompanied amongst others, Robin Williams, Richard Pryor and Sam Kinison, and has played in jazz venues in London, New York, Tampa and Los Angeles.
Stephen M. Schwartz (Composer/Lyricist) is an award-winning composer-lyricist and worldwide performer. Best known throughout the world as part of the renowned children's musical group, Parachute Express, Stephen has 14 award-winning albums generating millions of fans across the globe. Prior to his success as a children's' artist, Stephen was a solo recording artist on RCA Records. As a songwriter Stephen's compositions have been recorded and performed by such diverse artists as Barry Manilow and country music star, Trace Adkins. For the last eight years he has been performing and touring throughout China bringing the joy of his music to families in well over 100 cities so far. Stephen and his music have been featured on The Disney Channel, Nickelodeon, as well as films "Grumpy Old Men"," Revenge Of the Nerds", and was the main writer of the songs included in the popular PBS series, "Jay Jay The Jet Plane". Stephen's home is in Los Angeles with his wife, Althea, and he is "beyond" thrilled to be a part of this wonderful production.
John Lant (Producer / Producing Artistic Director) is a 35-year veteran in the entertainment industry and has been involved in over 600 television, film, music tours, and theatrical productions as a creative director, consultant, and/or above the line entity. An award-winning producer, director, writer, lighting and set designer, John has mounted productions at Cal Arts, Ricardo Montalban, Powerhouse, Glendale Center, Hollywood Playhouse, Long Beach Playhouse, the Jewel Box Theatres and Write Act Repertory. His work and productions garnered DramaLogue, Diamond, ADA, NAACP Awards, LA Weekly and Backstage Picks of the Week, Garland and Valley Theatre (LA) nominations. John worked with Jonathan Sanger at Chanticleer Films, on two shorts that won an Emmy and an Oscar, and mentored under Howard Storm. Scripts he has developed include Children's TV Pilots "Symphology", "Carrot Talk", and cable-themed "Anonymous Confessions", and several adapted musicals. John received the California Service Award from the State Legislature for his Community Outreach and Service to the Arts in 2000, 2001, 2008 and 2009. In NYC, he is currently Production Manager at Carnegie Hall, and on down time redesigns, redevelops and refurbishes theatres including the upstairs Davenport Theatre, Elektra Theatre, Times Square Arts Center Theatres, the Richmond Shepard, and a new exciting project for late Summer 2018, refurbishing an old off-Broadway theatre in the Theatre District to its old glory. As Producing Artistic Director of Write Act Repertory / Director of Development for Twisted Media NYC: off-Broadway productions of FABULOUS! The Queen of Musical Comedies! licensed through Steele Rights, with current projects Lili Marlene and Frankenstein playing off-Broadway at St. Luke's for the last 9 months. Other Lead Producing credits: AEA off-Broadway's 2 by Tennessee Williams, Pillars of NY. Now in pre-production for Spring 2018: It Came from Beyond, Wicked / Frozen, and Pearl-The Musical (with creative team members of Dreamgirls! Original Broadway Cast). Current Los Angeles projects - Their Finest Hour: Churchill and Murrow, Wicked Wicked Mae West, and Prez -The Lester Young Story, in addition to developing the TV & film productions of "Rock Chefs", "Unnatural Real Estate", and the horror film "Near Me" with John Harrison and James Dalton of Twisted Media NYC.
Under the artistic leadership of John Lant since 2003, WRITE ACT REPERTORY has produced over 30 Mainstage and 75 original one-act plays in Los Angeles and New York City. Write Act Repertory is dedicated to the development of original plays, lesser known works by established writers, adaptations of classical-themed materials and musicals. Write Act Repertory also produces rarely seen works and unfinished musicals by composers who passed before their work was completed. www.writeactrep.org