Photo Flash: First Look at Heritage Theatre Festival's THE COCOANUTS
Strap in, folks...things are about to get wild over at Heritage Theatre Festival with the classic Marx Brothers musical The Cocoanuts - coming to the Culbreth Theatre from July 20-29.
Frank Ferrante, an award-winning actor, writer, director, and the world's foremost Groucho Marx interpreter, returns to Heritage to direct and star in this uproarious romp that finds Groucho and his hilariously hapless brothers at their pun-wielding, prat-falling, gut-busting best. The 1925 musical, written by George S. Kaufman with music from Irving Berlin, finds Groucho at the helm of a fourth-rate 1920's Florida hotel where he does his very best to swindle gullible tourists with shady land deals. Along the way, Groucho, with the help of brothers Harpo, Chico, and Zeppo, maneuvers through romantic and comedic misadventures while aiming his legendary sharp wit straight at the heart of high society. The Cocoanuts is a deliciously silly musical that is perfect for the whole family!
The Cocoanuts will be presented in the Culbreth Theatre from Friday, July 20 through Sunday, July 29. A preview performance will be presented on Thursday, July 19. Shows will be at 7:30 each evening with 2PM matinees on Sunday, July 22; Saturday, July 28; and Sunday, July 29. Tickets begin at only $15.00 and are available at the UVA Arts Box Office (located in the lobby of the Drama Building), online at www.heritagetheatrefestival.org or by phone at 434-924-3376.
Photo Credit:

Dreya Weber as Penelope Martin and Frank Ferrante as Groucho Marx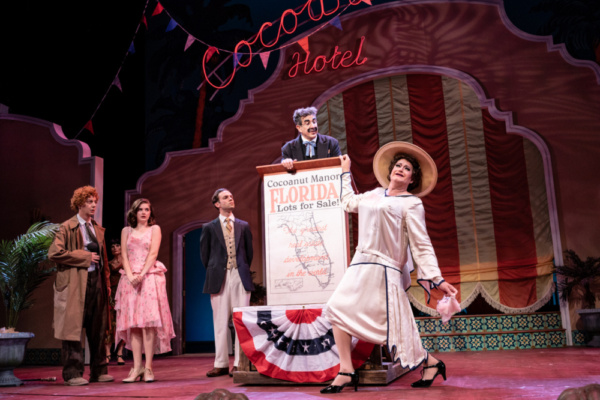 Seth Shelden as Harpo Marx; Ainsley Seiger as Polly Potter, Sam Reeder as Robert Jamison; Frank Ferrante as Groucho Marx; and Kevin Kent as Mrs. Potter