BWW Review: THE WIZARD OF OZ at St James Theatre Gore
Reviewed by Sue Bruce
Photo credit: Geoff Horrell
Gore Musical Theatre's production of 'The Wizard of Oz' is a delight from start to finish. The Opening Night audience were buzzing after the show finished and the well deserved standing ovation is testament to just how good this show is.
The production team have creatively collaborated to both honour and celebrate a much loved story from the perspective of their theatrically clever vision. Director Stephanie Green, Musical Director Terry Gentle and Choreographer Nikoia McKelvie have been thorough in their work and present something very special to the local community. You don't want to miss out.
There is not one detail that wasn't impressive and I have been involved in many shows and have seen almost every production that Gore Musical Theatre and previously Gore Operatic have put on.
The scenery, backdrops, props, costumes, hair and makeup were stunning right throughout the show. Set designer and stage manager Brian Pay has excelled himself flying in sets that were in excess of 195kg. Scene changes were fluid right throughout and there was obviously a lot of work going on backstage and they never missed a beat.
Kayla Wilcox was simply sensational as Dorothy. She certainly channelled Judy Garland and delivered her to the show. 'Somewhere Over the Rainbow' was an absolute show-stopper and there was not a sound coming from the audience, not a breath until the rousing applause at the end.
30 years ago in what was Gore Operatic Society's 'Wizard of Oz', a little munchkin watched the lion in awe and from afar. In this production Brendan Terry takes on that role. He was laugh-out-loud funny bringing his character to another level. Brendan is a super-talent and totally owns this role.
Similarly, the role of Scarecrow has been on the bucket list for accomplished performer Tyler Dowling for some time. He is like elastic on stage and manages to turn himself inside out - literally. He has a stage charisma that draws the audience in so that all he needs to do is blink and he's got everyone looking his way.
Levi Lee is no stranger to the St James stage. He brings high personality to the Tinman and a beautiful crooners voice to this role.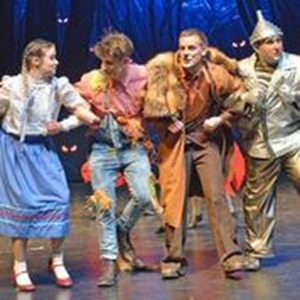 Pivitol to the success of this show is when these four come together on the Yellow Brick Road. Their synergy is electric and they bounce off each other extraordinarily well so much so that the audience is fully drawn in to the fun, frivolity and adventure that they take us on.
Special mention to Wicked Witch Sarah Le Roux who plays the quintessential wickedly self-entitled-with-an-attitude all round bady. Her death scene got a well deserved rousing applause and I hear that's happened every night since.
All those in supporting roles added to the high standard of professionalism.
I can't say enough about the singing and dancing. The tap-dance cameo role took me back a year or two. I loved it.
The ensemble, both children and adults alike gelled together beautifully enhancing every scene they were in.
It is rare for me to participate in a standing ovation and I'll only do so if I am moved.
I was moved.
Go see this show. It's the perfect antidote for the winter blues. You'll be thinking and talking about it for days. I certainly am.
Gore Musical Theatre
The Wizard of Oz
St James Theatre
2nd-10th August
Bookings St James Theatre OR online: https://www.iticket.co.nz/events/2019/aug/the-wizard-of-oz
Related Articles View More New Zealand

Stories

Shows