BWW Review: BAZ LUHRMANNS STRICTLY BALLROOM at Centrestage Theatre - Orewa Reviewed By Pauline Vella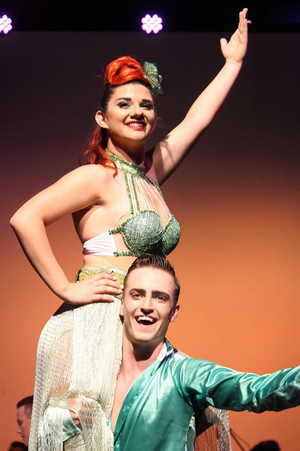 The complexity of mounting a show which requires such specialist dancing skills cannot be understated. With Ballroom Dancing mainly relegated these days to the tele and specialist competitions, a reviewer on the drive up to the theatre, may be forgiven for querying whether a community theatre group could successfully pull this off?
From the first entrance of the multi coloured costumed dancing cast, all doubts were thrown aside. Albeit, there were a couple of nervous mis steps, the commitment and obvious drilling was clear from the start. Brad Coleman, Choreographer, and winner of multiple awards in New Zealand and Australia, has done a brilliant job whipping the dancers into shape.
The costumes are suitably glamourous, cheeky, in every colour imaginable.
Director, Michael Sanders sensibly pared back the set and left the entire stage free for swirling and twirling. Sanders also displayed great directorial casting instincts in the choices for his lead roles and non-dancing roles.
Musical Director Karlo Valdez assembled a very talented band of excellence.
Strictly Ballroom is set in Australia and pays particular homage to Australian humour. As a Kiwi audience, we do enjoy poking fun at our Aussie cousins, and the Strictly Ballroom script certainly encourages and, gives us permission to do so.
As funny as the script is, a number of the songs are a little ordinary, but were performed with honesty and conviction by the cast.
Sadly, the sound was not particularly on pointe on opening night, and we lost quite a lot of the lyrics and some voices. However, the vocals are solid with some really great voices.
Cheeky Leon Reynolds, playing the cheeky, saucy compere, opens the show, costumed suitably in a bright blue glittery jacket, grew in confidence as the audience responded to him.
Debbie Bate was convincing as the very ambitious dance school owner Shirley Hastings, having opportunity to break out some pretty classy footwork herself.
Co-Owner Peter Langford-Read was very funny, delivering some funny one liners. He can " shake a leg" also.
Maryanne Rushton was a beautifully restrained Abuela ( Grandmother) playing the role with great love and sensitivity and with always a little sparkle underneath her funny lines.
Nicola Rundle, Kobe Fuller, Josh Morris, Louise Wilkie, Caleb Muller and Albee Williams in the secondary lead characters played with passion and conviction.
However, the night belonged to Thomas Webster, Lisa Camelbeke, Scott Cutler and Scott Cole.
Thomas Webster as Scott Hastings is a true triple threat, as is Lisa Camelbeke who played Fran. I particularly loved how they timed and managed the "falling in love" which is not especially well developed by the script. Nicely directed in that particular aspect Michael Sanders. I did wonder why Scott Hastings spent weeks wearing the same singlet, thought it was a teeny tiny oversight. However really such a small thing in performances that were excellent.
Scott Cutler played Doug Hastings, a Mr Cellophane character, always there, always supportive, but so ignored and shoddily treated. As his story unfurled, so did his portrayal and in the denouement, I was completely enchanted by his acting restraint.
Scott Cole as Rico has the big Act One 11 o'clock moment and boy he brought act one home on such an exciting note. His power and instinct were all the more admirable when, in reading the programme when I got home, I noted it was his theatre debut as an actor.
Sadly, the lighting let the show down a little. It needed more finesse to show off the style and passion on stage.
I recommend a night in the Ballroom. A cute funny show with some Great Performances which will really take off in the next two weeks.
Ticket Prices: From $32.00 to $25.00