Pauline Vella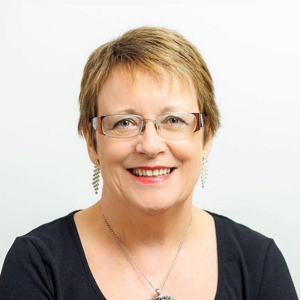 Pauline has been involved in theatre for a scary 62 years with her first performance on stage being a surprise "to her parents" appearance on stage with the Irish Singer Patrick O'Hagen.
School musicals and Community Theatre followed which led to a career in the thriving Cabaret scene  in Auckland, and occasionally through New Zealand,  followed by five years travelling New Zealand and Australia in Godspell and Jesus Christ Superstar.
After taking time out to star in her best two productions to date, raising two sons, she returned to performing,  singing and a new love, Directing and has been extremely busy for the past 19 years.
She has a firm belief in the mental health benefits of singing for everyone and participation in Community Theatre for children and adults, and is passionate about sharing her love of " making stuff up" with her kids theatre group, her Singing pupils, through tutoring at StarJam and mentoring other Director's and Production Managers. 
Pauline has shared her expertise in running a community theatre with both Auckland Music Theatre, where she served as Tresurer, then Chairperson and Playhouse Theatre Inc. where she is the current President.
MOST POPULAR ARTICLES
LAST 30 DAYS
LAST 365 DAYS
BWW Review: INTO THE WOODS At Harlequin Musical Theatre

June 29, 2021

The musical sits upon a premise that has been familiar to us since early childhood when we learnt the fairy tales read to us  by parents or grandparents, allowing  INTO THE WOODS ( Act One)to  fit us like a cuddly old dressing gown. This premise is a stroke of genius. 
---
BWW Review: EVITA at Centrestage Theatre - Orewa

March 22, 2021

Shortly before her death in 1952 at the age of 33, Eva Peron was bestowed with the title "Spiritual Leader of The Nation" by the Argentine Congress. 
---
BWW Review: URINETOWN at Centrestage Theatre Company

February 11, 2021

A joyous celebration of Musical Theatre that packs a powerful message!
---
BWW Review: THE VAGINA MONOLOGUES at The Pumphouse Theatre

December 2, 2020

A Celebratory, Joyful, Funny, Vulnerable, Delicious & Devastatingmust see for all women and their loves!
---
BWW Review: ANNIE at Harlequin Musical Theatre

November 18, 2020

If 2020 could be summed up perfectly in a show, that show would be ANNIE!
---
BWW Review: BAZ LUHRMANNS STRICTLY BALLROOM at Centrestage Theatre - Orewa Reviewed By Pauline Vella

March 9, 2020

The complexity of mounting a show which requires such specialist dancing skills cannot be understated. With Ballroom Dancing mainly relegated these days to the tele and specialist competitions, a reviewer on the drive up to the theatre, may be forgiven for querying whether a community theatre group could successfully pull this off?
---
BWW Review: DR DRAMA MAKES A SHOW at Q Theatre - The Vault
February 20, 2020
---