BWW Review: BARE: A Pop Opera at Gryphon Theatre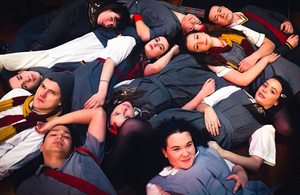 Director: Aaron Blackledge
Musical Director: Jo Hodgson
Theatre Company: Stagecraft
Reviewed by Lindsey Rusling
Teen angst is currently in the spotlight on Broadway, with the bullying and suicidal themes of "Dear Evan Hansen", the catty coterie in "Mean Girls" and the outcasts of "Be More Chill". The American high-school has been used as a familiar setting for any number of musicals over the past 70 years to great success and BARE: A Pop Opera is a dark, rock musical that incorporates the stereotypical characters of the high school genre and their respective struggles with self-discovery, sexuality and acceptance.
Based at St. Cecilia's, a Catholic boarding school in the United States, two star-crossed, gay lovers; Peter (a delightfully introverted and awkward William Murton) and the popular and charismatic BMOC, Jason (played confidently by Alex Rabina and sung with a beautiful vibrato), try to reconcile their secret love for each other with the religious education they have been subjected to, while a number of conventional teens add their own complications to the storyline.
Jason's acerbic and self-conscious sister, Nadia (a believable and empathetic Stacey Dalziel providing a wonderful rendition of "Plain Jane Fat Ass") is envious of slim and pretty Ivy (an experienced Tara Goulding-Weston-Webb) who has caught the eye of Nadia's crush, Matt (Tim Fraser). Ivy, however, is only interested in Jason...
The adults in the play include Tony Hogan as the uptight, Irish Priest and Siobhan Metuarii in an emotional and smoothly-sung role as Peter's mother struggling to accept her son's homosexuality.
Sister Chantelle (Greer Perenara) is a sassy, Drama teaching nun preparing the students for a performance of Romeo and Juliet and it is Perenara's punchy characterisation that brings energy and excitement to every scene she is in. Her two numbers from the show: 911! Emergency!! and God Don't Make No Trash are delivered with Beyonce-esque ferocity and a show-stealing vocal ably backed up by the singing and dancing talents of Allegra and Tara Canton.
The show is reminiscent of Spring Awakening in places, freeze-frames are intricate and the harmonies during Mass and in the "Prologue" are stunning. Intrabartolo's score, however, is based in gospel and pop and lacks the gut-wrenching, haunting quality within the music to elicit any memorable "goosebump" moments. The lyrics are difficult to decipher at times but that could also have been due to the fact that the sound mix was out of balance on opening night with the music sometimes overpowering the singers and speech.
It was a shame that choreography and blocking was difficult within the confined space and looked a little too prescribed at times. The dramatic tension called for the heightened physicality and wild energy of teenagers but the Gryphon is a little too restrictive to capitalise on that type of movement and speed. The Birthday Party scene, however, was wonderful.
Jo Hodgson's strong musical direction and band of professional musicians (shout-out to the young cellist) skilfully underpin the sung-through action while the young and talented cast (some obviously fighting illness) sing their parts with professionalism and gusto.
The set was simple but workable with a colourful, stained glass window up stage centre that indicated the church-like feel. Revolving, triangular flats on either side of the stage changed locations and collapsible boxes which were cleverly altered to portray such things as a pew, a bed and a coffin etc. also provided levels. Lighting was colourful, apt and atmospheric with strong use of shadow.
The themes in 'Bare' are, sadly, still very relevant today and, although its message of support and guardianship of both youth and each other is commendable, this show is not for everyone. The energy of passion and anguish that the characters display as they are wrapped up in one another is never translated to a true connection with the audience which left me feeling strangely uninvolved. The audible sobbing in the auditorium at the end, however, made it apparent that this production had created a deeply emotional experience for some.
Gryphon Theatre, Wellington 28 August - 7 September 2019
Bookings: https://www.iticket.co.nz/events/2019/aug/bare?fbclid=IwAR33GLH0QPR_D9rEl932cOkubcPSFLR_f3OyyU2f-GJyUhGOw_Qtpttt5m4
Related Articles View More New Zealand

Stories

Shows