BWW Review: Tennessee Williams Theatre Company's THE MUTILATED Brings Holiday Cheer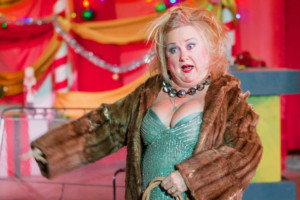 The holidays are here, and with them comes a cavalcade of seasonal entertainment filled with sugar plum fairies; bitter, elderly misers, and Christmas specials to fill your heart with cheer. However, why stick with the traditional fare when you can visit the Zeitgeist Multi-Disciplinary Arts Center for a performance of the Tennessee Williams's rarity, THE MUTILATED?
Don't let the name fool you. Williams' rarely-performed one-act THE MUTILATED is surprisingly a Christmas treat full of heart and comedy. Produced by The Tennessee Williams Theatre Company, the show is billed as "Tennessee Williams Christmas Spectacular-The Mutilated" and the main themes Williams work is known for - desire, vice, and violence - are all present, yet played up for laughs. It's a surreal romp capping in at 90 minutes and is designed to give your holiday a different kind of joy albeit of the demented variety in its hilarity.
Written by Williams in 1966, THE MUTILATED is one of the playwright's woefully neglected pieces. Its original run, tied with "The Gnädiges Fräulein," on a double bill called "Slapstick Tragedy" closed just seven performances after opening. As a checkered mark in the later, grim stage of Williams's career, THE MUTILATED serves as another trademark work that reflects his vulnerability and the inner battle of an uncertain future.
Stylistically, THE MUTILATED has less in common with more of the realistic dramas that made the man famous, but under the direction of Augustin J. Correro, THE MUTILATED proves that this scrappy production can inspire the spirit of the season in us all.
In the world of THE MUTILATED, it is Christmas Eve, and we are in Williams' favorite locale, New Orleans, set in the same kind of downtrodden French Quarter hotel explored in his work "Vieux Carre." We meet Celeste Delacroix Griffin (Tracey Collins), who finds herself amongst the dregs of the street after being released from the pokey for shoplifting. Her brother has disowned her, and she's lost the allure needed to proposition herself. Desperate, she heads off to her last refuge, the seedy Silver Dollar Hotel where her friend, oil heiress Trinket Dugan (Margeaux Fanning) lives.
"Friend" is a loose term to describe the relationship between Celeste and Trinket as the two are currently at odds with each other. Celeste holds over Trinket's head her crushing secret, her mastectomy, which Trinket believes leaves her as a "mutilated woman." When she is refused and turned away, Celeste vows to get back at Trinket by revealing her mastectomy in the form of graffiti on the wall. As a trademark of Williams work, these women of a certain age grapple with their sad, solitary lives by seeking companionship with drunken sailors and decked out barflies. In the end, they realize they can only find comfort and understanding with each another.
Both Collins and Fanning possess fabulous onstage chemistry as the bickering besties. Last seen as Mrs. Wire in VIEUX CARRE, Collins is delightfully bawdy with impeccable comedic timing. Yet Collins' nuanced performance makes it clear that Celeste owns a heart as big as her bosom that's not outshined by her hunger for life in the face of destitution.
As Trinket, Fanning is optimistic and forgiving, though determined to be reborn despite "her mutilation." While mastectomies aren't stigmatized now, THE MUTILATED shines a light on how they were viewed in the past and the pain that can come with it for women who have them. Trinket feels unwomanly and so seeks comfort in the arms of someone who can make her feel whole again. However, underneath their battle of wills, these two women learn they are balms for each other. The sentimentality of their friendship pulls at our heartstrings even as our sides are splitting.
The ensemble is filled with familiar and new faces from previous TWTC productions including Kyle Daigrepont, April Louise, LaKesha Glover, Beau Bratcher, Adler Hyatt, Joshua Bernard, Fabigail Tchoupitoulas, Jay Canova, Brittany Luberda and Meredith Owens. They serve as a Greek chorus of revelers singing original Williams's carols set to an original score by Michael Gillette. However, while the carols are fleshed out, their melancholic nature dampens the mood of the otherwise upbeat production.
If you're looking for a new Christmas flavor, with a distinct Dickens meets New Orleans vibe, look no further than THE MUTILATED. It is a Christmas miracle that only Tennessee Williams could dream up.
THE MUTILATED runs Dec 20-22 at the Zeitgeist Multi-Disciplinary Arts Center (1618 Oretha Castle Haley Blvd.) for its closing weekend. Tickets are $28 for General Admission and $20 for students and seniors.