BWW Review: Le Petit Theatre Presents THE LAST FIVE YEARS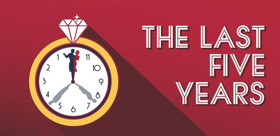 Ok, so here's the deal... THE LAST FIVE YEARS is one of my favorite shows of all time, and I kid you not this production at Le Petit is way more than I ever expected it to be! Truly. It's very difficult to love an original cast recording with all your heart, and then to go see a regional production of that same show without being disappointed. However, under the brilliant direction of Michael E. McKelvey, Meredith Owens (Cathy) and Adair Watkins (Jamie) completely won me over!
THE LAST FIVE YEARS is about a young couple that meets, falls in love, and then falls out of love. Seems pretty typical, right? Only in this show, Jason Robert Brown has created this incredible score of music that tells the entire story in sort of two parts. Jamie, a writer, tells the story from his perspective from the beginning of the relationship to the end. Cathy, an actress, tells the story from her perspective from the end of the relationship to the beginning. The only time the two interact on stage (although they are both pretty much on the stage the whole time) is when they both get to the middle of the story - their engagement and wedding. It is so beautifully written, the music is absolutely gorgeous, and you really do feel all of the emotional ups and downs of a relationship... very relatable.
I love that Le Petit chose this show because it's an intimate little show with only two cast members that I think could easily get swallowed in a larger theatre. Being that the physical space of Le Petit is so limited, it made for a truly close and vulnerable experience for both the actors and the audience members. The show is simple, and it reminds me of why we go to the theatre in the first place... to share a stories.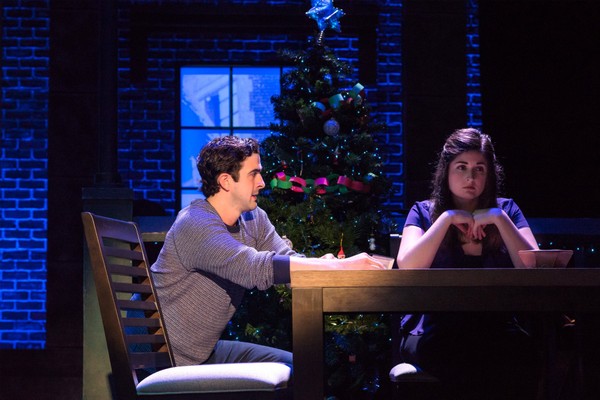 The set of THE LAST FIVE YEARS, created by David Utley, is absolutely gorgeous. It's very modern and minimalistic, yet detailed and innovative at the same time. Projections by Porscha Danielle and lighting by Andrew F. Griffin are utilized to show the city outside the windows, which tells us when we are at Jamie's office, when we are at the couple's home, when we are at an audition with Cathy, or somewhere else. Although the actual set pieces don't change bar the bookshelf converting into a bed at one point, it's very clear where we are and what we should be focusing on at any given moment.
I want to make note, again, that the direction of this show was really amazing. Because Cathy and Jamie are both telling their own side of the story backwards and forwards simultaneously, and because they are both on the stage at the same time but not actually interacting with one another, and because the entire story is told through music, it can be quite difficult to figure out what's happening at any given moment. But, because of Mr. McKelvey's direction and gorgeous lighting, it is so easy to follow along without getting confused. Bravo!
I must also give praises to our leading man and lady. Meredith and Adair had such incredible chemistry on stage that can be difficult to accomplish with the way this story is told. They absolutely nailed it. And, can we talk about the crazy voices these two have? Oh my gosh! They sang the hell out of this rather difficult score, and seriously brought so many smiles to my face. Every single note was completely barreled through flawlessly. I can't even imagine anyone else taking on these two characters in such a fierce yet gentle way. Again... bravo!
THE LAST FIVE YEARS at Le Petit Theatre du Vieux Carre is going into its last weekend of performances, so make sure you IMMEDIATELY go online and order your tickets. It's so incredibly worth it! Visit http://www.lepetittheatre.com for tickets and more information. Next up for Le Petit is Tennessee Williams' classic A STREETCAR NAMED DESIRE