BWW Previews: NEWSIES at Saint Paul's School
Based on the true story of the newsboys strike of 1899 and the Disney film of the same name, NEWSIES tells the story of the bloodline of New York, the newsies. Jack Kelly is the boldly charismatic leader of the group, but he is left with his dreams of traveling out of the big city. Joseph Pulitzer owns The World, in an attempt to increase circulation, he raises the price of newspapers at the expense of the newsies. Jack, with the help of newcomer Davey and his little brother Les, rallies the boys to form their own union and strike against the most powerful man in the city, Joseph Pulitzer himself. With the help from a beautiful young journalist Kathrine Plumber and the boisterous personality of New York, Miss Medda Larkin, the newsboys shut down the city and shutdown The World. Jack learns where he truly belongs and the rest of New York learns the power of the "little guys".
---
"This has been a really challenging show because I was forced to overcome my own limitations that I thought were holding me back", said Abby Hayes who portrays Kathrine Plumber, "But that is also what has made this show so rewarding as well as walking to rehearsal and see every person in the cast with smiling faces as we prepare to put this show together. This show is so important because there is a message for everybody, you can see a piece of your life in the story."
Gabe Simpson, who portrays Jack Kelly, talked about bonding with the rest of the cast throughout the rehearsal process. "We've grown closer as a family, not just onstage and in scenes, we are all here for the same purpose of telling a message and there is something really powerful and special about that. This is a show that everyone could and should see and enjoy. Some of the dialogue and lyrics of this show are really hard hitting and powerful, but its all told through really great music and dance that are the recipe for an entertaining show and a wonderful experience."
---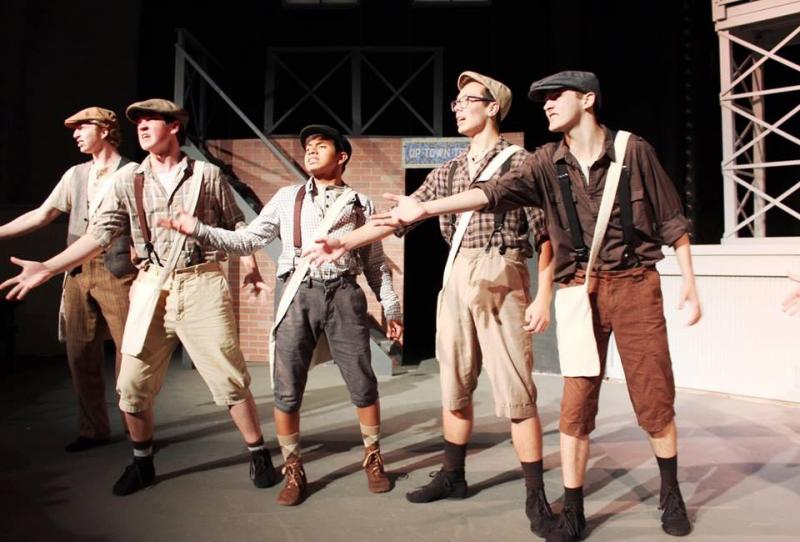 The talented cast is assembled with Zachary Van Zandt (Crutchie), Trey Harkins (Davey), Bennett Hayes (Les), Abbey Aldridge (Miss Medda Larkin), and Cameron Holmes (Pulitzer).
The Newsies are portrayed by Jacob Eilers, Justin McClesky, Brady Meibaum, Eli Simpson, Brendan McNeil, Dylan Martin, Trevor Achee and Quinn Cooney.
Finishing of the cast is Ethan King, Christian Kramer, Emily Songy, Samantha Harkins, Elise Falkenstein, Katie Allison, Caleb Frost, Briggs Cooper, Ryan Daly, Clayton Cockfeild, Colin Cottrell, Jesse Dufour and Noah Soule.
Gordon Carmadelle is the director and genius behind the production, along with assistant direction by Barrett Baumgartner, eye-catching choreography by Emily Carmadelle and assistant choreography by Lauren Madden, and vocal direction by Jonathan Sturcken.
---
Tickets can be purchased online here!
SHOW DATES:
Thursday: March 14th @ 7
Friday: March 15th @ 7
Saturday: March 16th @ 2 & 7
Tuesday: March 19th @ 7
Wednesday: March 20th @ 7
Friday: March 22nd @ 7
Saturday: March 23rd @ 2 & 7
Saint Paul's School Alumni Memorial Theater
917 S Jahncke Ave, Covington, LA 70433
*photo credits: Gordon Carmadelle