BWW Review/Interview: GRAHAM ALEXANDER and THE VAULT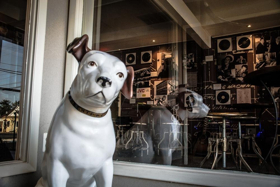 The Vault has become the hottest, most fun entertainment venue since "Jersey Girl" was filmed at the Berlin Diner.
www.broadwayworld.com decided to check out this spot and the young man responsible for all the fun; Graham Alexander. This was my 3rd time around to see Graham perform the music of the Fab 4. This time it was the Beatles #1 Hits Album front to back to a packed house with no breaks! From "Love Me Do" to "The Long and Winding Road" this rowdy crowd was singing along and lovin' ever minuet.
Walking through the doors of this intimate venue is like musically stepping back in time. Anyone who's crossed the Ben Franklin Bridge from Philly into NJ and remembers the RCA building with Nipper the dog inquisitively is listening to a phonograph to "His Master's Voice", a famous painting and the iconic image of the Victor Talking Machine Company.
The Vault at Victor Records is a unique entertainment and educational experience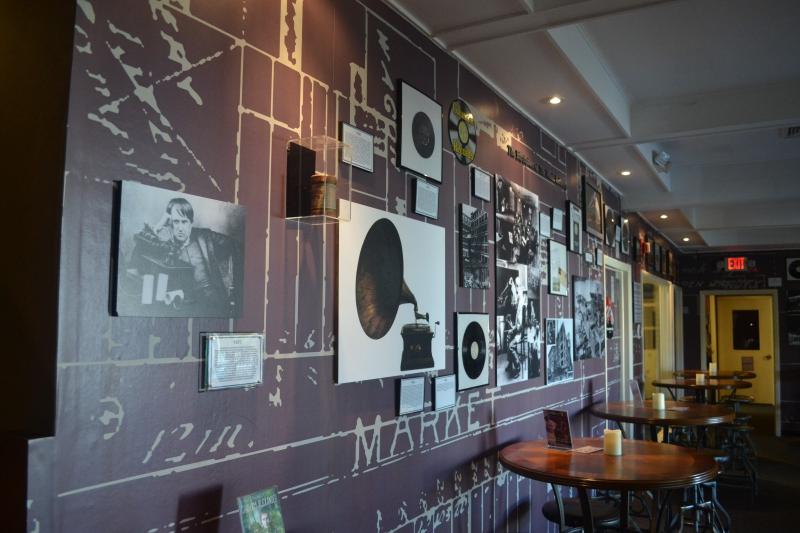 venue located in Berlin, NJ. Part intimate, world-class entertainment venue and part official archive for the master recordings, and artifacts of the legendary Victor Talking Machine Co./Victor Music Group and associated record labels- The Vault at Victor Records was formed in 2015 as a means of establishing an education and research facility catered to the study and appreciation of the art techniques and development of sound recording, the history of the recording industry, & music performance.
Graham took us on a musical journey briefly chatting between songs about Lennon/McCartney, playing in RAIN on Broadway and prompting the crowd to 'HELP" with the singing. The 5 piece band is exceptional, jumping from one instrument to another include a 2 piece horn section that shines with "Penny Lane".
Having seen Graham perform "Lennon Live" and "The Music of McCartney" I knew the #1 Hits Album would have to be equally great. We were not disappointed! I caught up with Graham, a very high spirited, musical marvel and gracious guy for an interview.
For quite some time a very talented young man named Graham Alexander has been writing, singing and playing music. Graham was in middle school when he formed his band; The Roadrunners, had a NYC and Philly following and was writing and recording music for an independent label at age 14! In 2008, Graham (19) began his own company which consisted of his studio, production, rehearsal and office facilities in Camden County, NJ. He also went on the road playing alongside artists such as Badfinger, Blood Sweat and Tears, Grace Potter and The Nocturnals, America, James Taylor, and Norah Jones. In 2010 and 2011, Graham debuted on Broadway as the lead in Rain in New York City. In December of 2011, Graham Alexander's self-titled, full-length album was finally released to worldwide acclaim.
Since it's opening in 2015, The Vault has been home to many unique and wonderful artists and bands.
Pati Buehler: Tell us what's been happening at the Vault and in your career since we last talked a few years ago.
Hi Pati!!! Well, we've been changing the music industry! Or at least building one (I like to think). The Victor Company (Victor Talking Machine Co.) is now in full swing - we just opened our first new large scale manufacturing facility for record pressing, Victrola building, and marketing. The factory also contains Victor Studio B - a recording studio big enough for a 100 piece orchestra! Building this concept to where it is now is one of the great honors I've ever had - and I hope it continues this path. The idea is this; Victor invented the music industry - the disc record - and the concept of utilizing artists and music to promote the sales of home audio products - thus making more money available to artists and projects that otherwise would never be funded in this day and age. Its a classic model that I believe the music industry needs to return to in order to be viable and progressive for the ART of recorded music. I'm very proud of this motion -
PB: Please, take us back to your history with Beatles music including your debut with RAIN?
GA: I think the Beatles are in our collective DNA - I'm not sure there was ever a time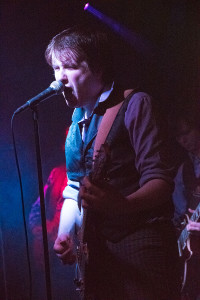 when they weren't around - in the same way i don't think any of the VICTOR music has been absent from my musical DNA...or for that matter...The Beatles' DNA. I never ever wanted to "be a Beatle" - I just auditioned for a show - and enjoyed the music immensely. What I truly loved was how the music was written - where it came from - and how I could utilize that information to apply to my own experience. I find that the derivation of music from something you LOVE - will often yield a watered down version - as opposed to hearing towards the music from which the music loved was derived. When I released my first album it was 10 songs I'd written - and every night I'd play a show at the Neil Simon Theatre on Broadway, head to sleep, and right back to promoting and touring that album. That time period was exceedingly hectic because of the lack of being able to mix those worlds. These days, we've been doing original shows, and also ...almost like "challenge" shows - ala; The entire 'RAM' album - or the entire 'White Album'. I almost feel that performing these albums in an accurate live setting is akin to a great orator doing a public reading of Mark Twain's novels - or any novel of classic status.
PB: In our previous interview you mentioned enjoying all forms of creative music. "Anyone that has ever made music I have tremendous respect for - even if I'm not a listener of their music. Hearing someone's story coupled with their music - it's hard not to love so much when you've heard so much." What a great quote! Anything new or outstanding both with your writing and music and others?
GA: Thanks! Ya know, I've taken a bit of an ear break the last year - but I've been hearing great things from so many artists...I'm really enjoying newer artists like Jade Bird - and artists with new releases like PARAMORE's 'After Laughter' . I tend to pick SONGS over full releases - it's exceedingly difficult not to be picky towards full bodies of songs....but that's just me. I'm working on a new album now - which will come out in 2019 - just in time for The Roaring 20s! I'm extremely excited for it - it is hands down the best I've written/recorded - and who knows...it could be my last!
Contained in The Vault are over 10,000 masters, tests, acetates, and shellacs of the earliest recordings ever made from artists such as Duke Ellington, Frank Sinatra, Lead Belly, Enrico Caruso, Louis Armstrong, Bing Crosby, Jimmie Rodgers, The Carter Family, as well as historic recordings made of century-old Presidential speeches, the first sounds of war ever recorded, and the earliest comedy recordings. "At The Vault, we believe the key to our musical future lay in our past and our romantic and intimate performing arts center features a finely tuned state-of-the-art sound system with a soundstage specifically modified and carefully sound designed to provide to you the best listening experience of any venue in the region."
The Vault always has an amazing variety of events. Upcoming this Fal/Winter: From "The Muse and Music of The Doors", several great Beatles events; "Front to Back- Help! And Rubber Soul" followed by "50th Anniversary of Abbey Road" and "The White Album", then A Jesus Christ Super Star event. This intimate space is a BYOB bistro-style setting that puts you up front and personal with some incredible talent; a rocking jewel of a venue in the heart of a little town in South Jersey.
For tickets and more information about The Vault visit www.victorrecords.com. For more about Graham Alexander visit www.grahamalexandermusic.com
Photos: Courtesy Victor Records, The Vault, Christina Sees and Graham Alexander
Related Articles View More New Jersey

Stories

Shows
Pati has been involved with various aspects of the theater from hosting large groups to Broadway shows in the early 90's to supporting various Broadway (read more...)