Feature: REPETITIES VAN START DE WOLF EN DE 7 GEITENWOLLEN SOKJES!
In Amsterdam zijn maandagochtend 30 januari 2023 de repetities gestart voor de nieuwe Nederlandse humoristisch familievoorstelling De Wolf en de 7 Geitenwollen Sokjes. De eerste dag begon traditioneel met het aansnijden van een taart door de hele cast, die naast Stanley Burleson bestaat uit Marcel Visscher, Julia Berendse en Ger Otte, die samen verantwoordelijk zijn voor de muziek en liedteksten, en in aanwezigheid van Jon van Eerd en Arie Cupé, die als regie-adviseur en dialect coach betrokken zijn bij deze voorstelling. In De Wolf en de 7 Geitenwollen Sokjes, naar een idee van Stanley Burleson en Joris van Veldhoven, wordt het verhaal verteld met prachtige, handgemaakte poppen. De voorstelling voor iedereen van 8 tot 88 jaar is van 1 maart tot en met 9 juni 2023 te zien in theaters door heel Nederland.
De Wolf en de 7 Geitenwollen Sokjes vertelt het verhaal van een gelukkig, typisch Jordanees geitengezin, bestaande uit Vader, Moeder en zeven kinderen: de geitenwollen sokjes. Vader is opgegroeid in een weeshuis en leidt aan lykantropie, de weerwolfziekte die door een vader wordt doorgegeven aan het zevende kind, als dat kind van het mannelijk geslacht is. Hij heeft dit geheim nooit met iemand gedeeld, zelfs niet met zijn vrouw. Als het volle maan is verandert Vader in een weerwolf. Hij is bang dat hij zijn eigen gezin iets aan zal doen en daarom verdwijnt hij als het volle maan wordt. Moeder laat de kinderen de afwezigheid van hun vader vergeten door ze het sprookje van De Wolf en de Zeven Geitjes te vertellen, niet wetende dat er een echte wolf op de loer ligt...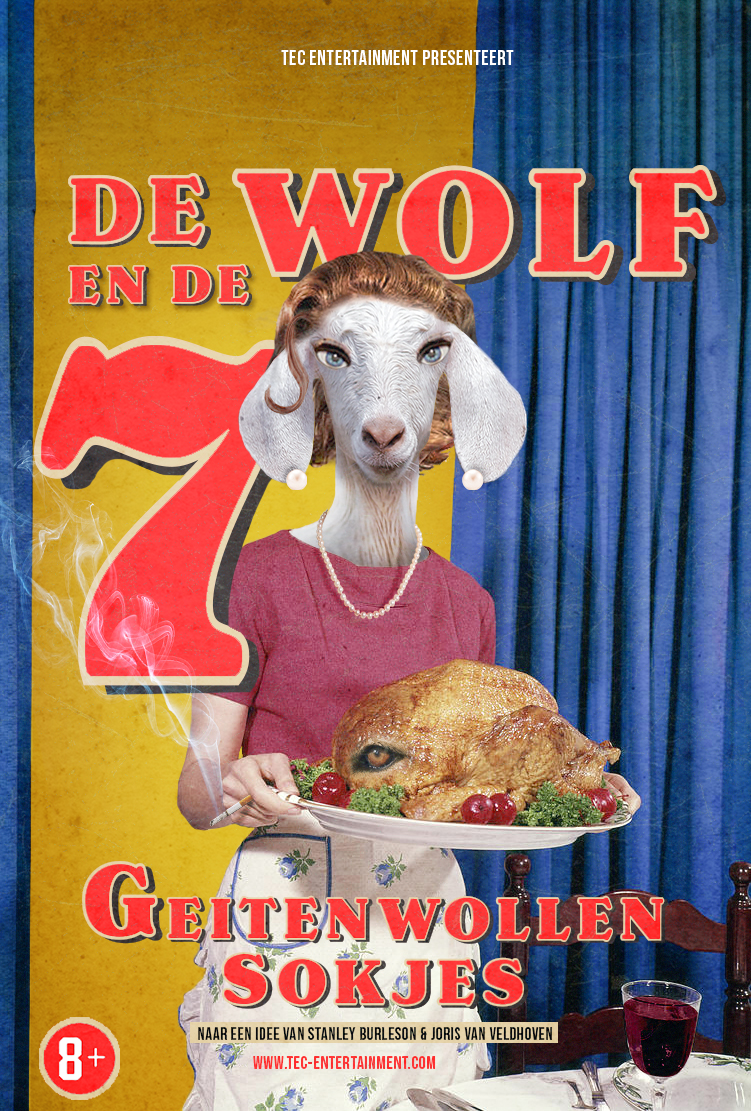 Theaterproducent TEC Entertainment creëert vernieuwende theaterproducties, waaronder de met een Musical Award bekroonde The Addams Family, de Queen musical We Will Rock You, en Jesus Christ Superstar. Daarnaast produceert TEC Entertainment klassieke concerten van Carl Orff's Carmina Burana, The Harry Potter Symphony en The Star Wars Suite.
Kaarten voor De Wolf en de 7 Geitenwollen Sokjes zijn te koop via www.tec-entertainment.com