Photos: GROOVALOO National Tour
Based on the troupe's true-to-life experiences as told by the dancers who lived them, GROOVALOO combines jaw-dropping displays of physicality with heart-pounding music and powerful stories that chronicle the struggles, hopes and triumphs of the 14-member cast. GROOVALOO celebrates the passion and purpose of life while revealing the heart, soul and artistry of freestyle dance.
"We created GROOVALOO as a new form of entertainment that truly blurs the lines between theater and dance," said creator Bradley Rapier. "The story is told through movement, though we also feature spoken word poetry as well as compelling stories which add to the
show's theatricality. In some cases, dance literally saved people's lives -- each performer has a story to share, and that's where the real connection is made with the audience."
The New York Post cheers, "Take equal parts Fame and A Chorus Line...result? GROOVALOO, an eye-popping display!" and the Newark Star Ledger applauds, "infectiously entertaining!" The Los Angeles Daily News says "GROOVALOO has the power to leave an audience slack-jawed and utterly blown away...I'm still not sure I believe what I saw or that human beings can move with that kind of precision and abandon." Grammy® Award-winner Pink raves, "the show is absolutely AMAZING!"
The Los Angeles Times proclaims, "GROOVALOO explodes laws of physics. Performers ripple like ocean waves, shake like earthquake zones and spin like corkscrews. Some are capable of standing flips, handstand jumping jacks or locked, sideways handstands in which their bodies are frozen, modern-sculpture-like in impossible twisted shapes. The performers, from a wide variety of cultures and communities, have come together to create something positive. There's real human drama on stage."
Founded in 1999 by Bradley "Shooz" Rapier, The Groovaloos have since taken the dance world by storm from winning first place at The American Street Dance Championships to countless industrials and live events nationwide. Members of The Groovaloos have been featured prominently in a multitude of popular culture entertainment arenas. Madonna, Justin Timberlake, Miley Cyrus, Will Smith, Pink and Gwen Stefani have been inspired by the unique talent of these performers and featured their talents in recent concerts and projects. Additionally, GROOVALOO dancers have had substantial exposure in feature films (Step Up, Charlie's Angels, Idlewild), in national advertising campaigns (iPod, GAP, Skechers, McDonald's), and on television on NBC's "Superstars of the Dance" and FOX's "So You Think You Can Dance."
After sold-out performances at The Joyce Theater in Manhattan this September, GROOVALOO, makes a triumphant return to New York by popular demand and plays off-Broadway at the Union Square Theater, December 1, 2009 - January 3, 2010, prior to launching its first national tour.
GROOVALOO is created by Bradley Rapier and Danny Cistone, and directed by Cistone. This production features Scenic Design by Laura Fine Hawkes and Costume Design by Mora Stephens. The Lighting Design is by Charlie Morrison and Sound Design is by Lucas Corrubia and Michael H.P. Viveros. Music supervisors are Steven Stanton and Bradley Rapier. The executive producer is Daniel Sher.
Photo Credit Leonard Xu, Levi Walker

Ivan Valez

Galen Hooks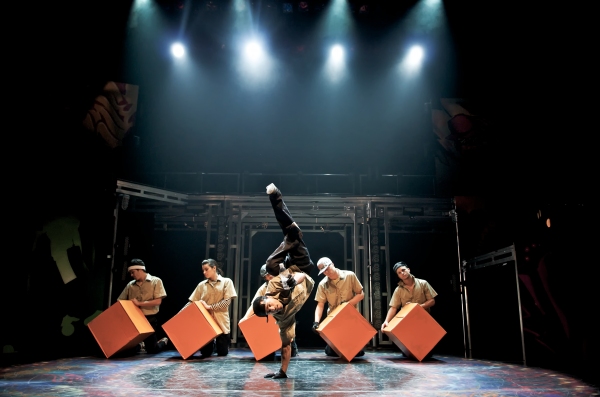 Ivan Valez with Luigi Rosado, Jessica Rabone, John Nelson & Jaime Burgos

Ivan Valez (in the air) with Caity Lotz, Galen Hooks, Jaime Burgos, Richard Vazquez, John Nelson, Braldey Rapier, Luigi Rosado, Jessica Rabone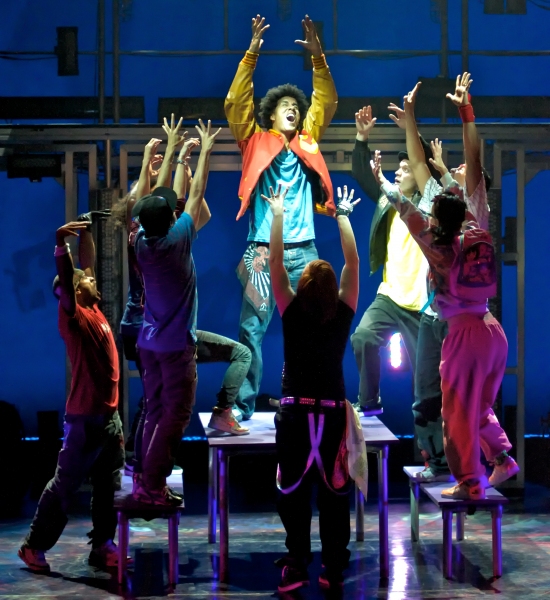 Bradley Rapier and the Cast of Groovaloo

Jon Cruz and the Cast of Groovaloo