BWW Review: Dreams Can Come True At THE BROADWAY PRINCESS PARTY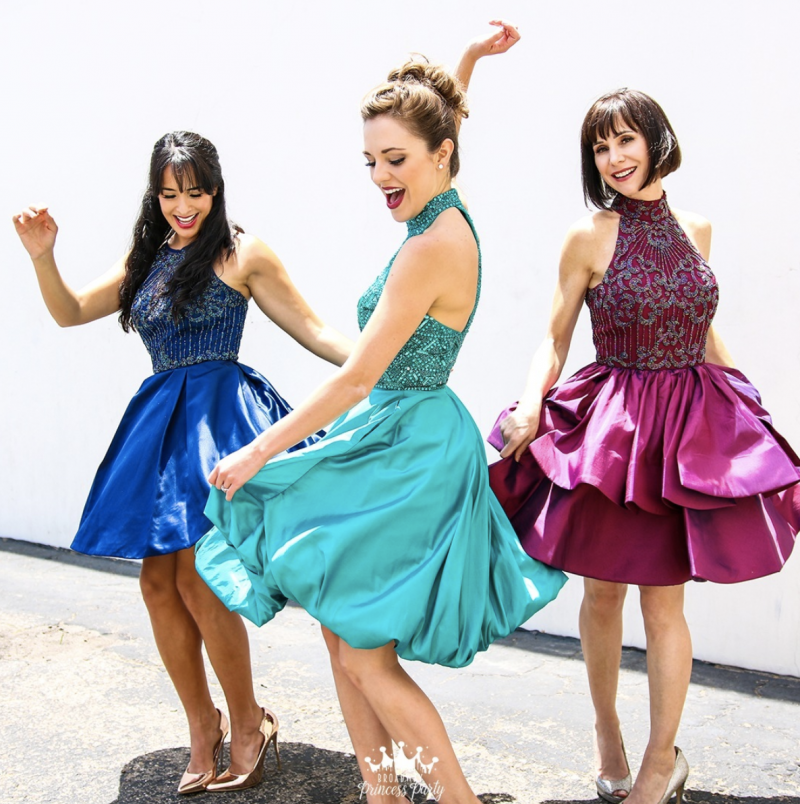 As part of the grand design of life, princesses don't always rank at the top of the list. After all, unless they are referred to as "crown princess," no matter the kingdom over which they may hold domain, they are unlikely to be elevated to "queen" and so they are often emulated for their sense of style and beauty, and less so for their good works or their efforts to make life better for their royal subjects.
But in the rarefied world of make-believe and magic aka musical theater, in which comedy and tragedy are equally celebrated and where a memorable song can lift one's spirits soaring toward the heavens, a princess means so much more: The princess of musical theater legend and lore is able to transform from a poor orphan who has found herself tempest tossed throughout her difficult life into a woman of great stature and regal deportment, she can express herself with such artistry and majesty that all those around her may feel the impact of her actions, their dreary lives brightened by her very existence.
Fanciful and compelling though that may be, and armed with this knowledge and contemporary cynicism toward such things, we set off on Friday night, to find what lay ahead for us - a man no longer in his 20s, 30s, 40s or even his 50s - when we joined several hundred little girls (from three years old to, well, older - discussing a lady's age is, at best, recherche and, at worst, insulting - and we realize how sexist this remark sounds as we read back over it) dressed as a virtual rainbow of Jasmines, Belles, Ariels, Cinderellas and Snow Whites for The Broadway Princess Party, a combination theatrical concert and convivial celebration of all things princess, which includes an audience with three of Broadway's most famous and most admired princesses. Joined by a witty and fey "fairy godfairy" who arranges their music and proves a capable sidekick to the headlining royal trio, a Prince Charming who defines the phrase "tall, dark and handsome" and with Nashville's very own Broadway princess (in the guise of 2018 First Night Award winner for outstanding leading actress in a musical, Rachel Potter), the princesses were hosting a gala, not to find a royal consort, but instead to challenge their audiences to do more with their lives, to be better human beings and to pursue their dreams, no matter how fanciful and fleeting they may seem, armed with the determination to succeed.
For a night so wonderfully magical - the kind you never want to end even if you are aware the royal entourage must head down Interstate 65 to visit the realm of Huntsville, Alabama, the following evening - one can only give credit to these quintessential Broadway Princesses whose talent is remarkable, whose oftentimes self-effacing charm is endearing and engaging, and whose stage presence is palpably compelling. If you weren't in the James K. Polk Theatre at Nashville's Tennessee Performing Arts Center last night, you may find it difficult to fathom how a man of my experience and years could be so completely enraptured by the assembled starpower onstage. Yet, if you were in my company last night, you'd be nodding in agreement: Laura Osnes, Susan Egan and Courtney Reed each represent everything the term "Broadway Princess" suggests. Together? They are, quite frankly, everything - with all which that word encompasses. And then some.
For two hours, Osnes (Broadway's Cinderella from Rodgers and Hammerstein's Cinderella), Egan (the original Belle from Disney's Beauty and the Beast) and Reed (Broadway's first Jasmine in Disney's Aladdin) captivated their audience of all ages with their joie de vivre from the very first moment they stepped onto the stage to hold the people in the darkened theater in their thrall well past the prescribed closing time (which, truth be told, may have come perilously close to transforming each of us into some sort of fairy tale-inspired vermin).
In the world of the Broadway Princess, the three women - each one an accomplished actor, singer and performer in her own right, as well as savvy entrepreneurs - delight their audiences with the mere mention of the roles for which they are best known, eliciting excited chatter and heightened expectations as people of all ages hang on to their every word. In the world of musical theater, in which emotions are, more often than not, best expressed through a power ballad or tender love song, sometimes with a dance break to portray even deeper thoughts and desires, Osnes, Egan and Reed represent a blend of all that is revered by their legions of fans.
In other words, if you missed the latest iteration of The Broadway Princess Party at TPAC on Friday, November 16, you best be on the lookout for their next event so that you, too, may exult in each glorious moment in which the three leave you with the feeling they are performing JUST. FOR. YOU. And, no matter your age, your gender, your ethnicity, your socio-economic background, your political leanings, your creed, your color - none of that matters one iota to the princesses and neither should it matter to you - you are welcomed warmly into their fold.
If the Broadway Princess Party exemplifies "girl power" and the stars advocate for the empowerment of every person within the sound of their angelic voices, then one should embrace it and settle back for one entertaining ride that is so much fun you'll be dancing in your seat, if not in the aisles.
You see, those aforementioned aisles of the Polk Theatre were filled to overflowing with enthusiastic little girls, dancing and singing along with their idols - the very personification of their hopes and dreams - with such unrestrained joy and unmitigated glee that you can't keep yourself from being transported to an idyllic world in which every individual is celebrated, their efforts venerated and their very lives enriched by every single moment of the well-conceived and artfully realized concert.
Each of the Princesses is given her moment in the spotlight in which she pays tribute to the role for which she is best known and, collectively and singularly, they perform other songs associated with a complete retinue of fictional princesses. Each woman is awesomely gifted in the way all Broadway leading players are and they put all their tremendous talents on display in a way that is rather ideal: They know they have been living a dream ever since they first booked the role that destined them for stardom on the Great White Way, roles which have led them to become role models for the girls, boys, women and men in the audience. They are never conceited nor do they appear even for a second to be self-absorbed, although they demonstrate a good measure of self-awareness and the acceptance that the roles they play are so much more than what is written in the pages of a voluminous script.
No matter how good the writer may be, he or she simply cannot write the words and phrases that Laura Osnes, Susan Egan or Courtney Reed personify. Sure they may create a theatrical archetype, but it's the three women, each resolute and forthright in her own way, who ably interpret the mission set forth for them in such a way that every single member of the audience is enraptured.
Osnes performs a medley of songs associated with Cinderella - from a multitude of musical treatments of the time-honored heroine - arranged by Rauhala, the charming major domo of the musical evening, aptly titled "The CinderEPIC Medley." As she moves effortlessly about the stage throughout the evening, her every mannerism and word gilded with all a princess allows, Osnes' gorgeous soprano fills the furthest recesses of Polk Theatre with the sound of her melodious voice, singing the Rodgers and Hammerstein songs (which limned my own childhood) with a crystalline clarity that dazzles.
Reed speaks movingly and evocatively of growing up with a scarcity of non-white, non-conforming to a prevailing and preconceived idea of what a princess should be or do, recalling her delight each time she discovered a new heroine who looked like her (and millions of other little girls and boys like her) which allowed her spirits to soar, her ambitions to flourish unfettered by the constraints of a world moving ever so slightly to a more equitable reality. Joined by the evening's designated Prince Charming, Reed and Levy performed a rendition of "A Whole New World" from Aladdin that seemed somehow startling, as if you were hearing it for the first time.
Egan, who became the first Belle to play on Broadway (after some two and a half years, a broken arm, a broken foot, and 700-plus performances she eventually left the role), may have evinced the most visceral response from your wizened local theater critic, however. As Rauhala begins to play the first notes of the overture to Beauty and the Beast, subsequently segueing into the first notes of "Belle," I suddenly felt overcome by a wave of nostalgia and sentimentality, the much-beloved song reverberating through my heart in a manner heretofore unexpected. When Egan finally launched into the song, backed up by the sublime vocals of both Reed and Osnes, I felt a flood of emotions amid the realization that this song, which I have long loved, was once again being sung by the voice I remember from some 24 years earlier, a voice I'd always admired and appreciated, but which I had never fully realized until this one special moment its impact on my psyche, its imprint on my heart. I was gobsmacked and henceforth will be eternally grateful for the experience.
I suspect virtually every audience member in Polk Theatre can this morning recall similar moments of sheer delight and pure magic as they think back to the performances of the Broadway Princess Party. Another number which stands out is the lovely duet by Egan and Potter to "For Good" from Wicked, which always packs an emotional wallop and on Friday was performed with equal dexterity by the two. Earlier in her career, Potter (who now makes her home in Nashville to pursue a burgeoning career in country music, occasionally performing in local productions much to the delight of Nashville audiences) played Galinda/Glinda in the first national tour of the Stephen Schwartz musical, which lent itself nicely to a sense of tradition in the grandest theatrical sense.
Yet, if there was a moment that more beautifully encapsulated everything one might hope for when in the presence of Broadway royalty, it was probably the encore performance of "Let It Go" from Broadway's Frozen. Known throughout the land and sung countless times by aspiring princesses the world over, Osnes, Egan and Reed gave the song their own unique treatment - Rauhala once again proves himself a master arranger and pianist - of the song, once more suggesting it may have been the first time you've heard it even if you listen to it on a constant loop in the pick-up/drop-off lane at your child's elementary school. To call it "exquisite" comes close to describing it accurately, but we may have to invent to new word to capture the intensity of the performance.
Like all things good and wonderful, of course, The Broadway Princess Party in Nashville had to come to a conclusion - all those children in the audience had bedtimes in the offing (surely, with visions of sugarplums and fairy stories abounding in their dreams) and all those old guys writing about theater had to get home to walk their dogs and to begin ruminations resulting in a couple of thousand words to express what a grand time he had in the company of Broadway royalty.
And that, gentle readers, is why we love musical theater. Dreams really can come true, even if it's only for two extraordinary hours.
The Broadway Princess Party. Starring Laura Osnes, Susan Egan, Courtney Reed, Benjamin Rauhala, Adam Levy and Rachel Potter. Presented at The James K. Polk Theatre, Tennessee Performing Arts Center, Nashville. Friday, November 16. For further information and details about upcoming performances, go to www.broadwayprincessparty.com.
Related Articles View More NationalTours

Stories

Shows