BWW Review: CURIOUS INCIDENT... at TPAC Could Change Your Life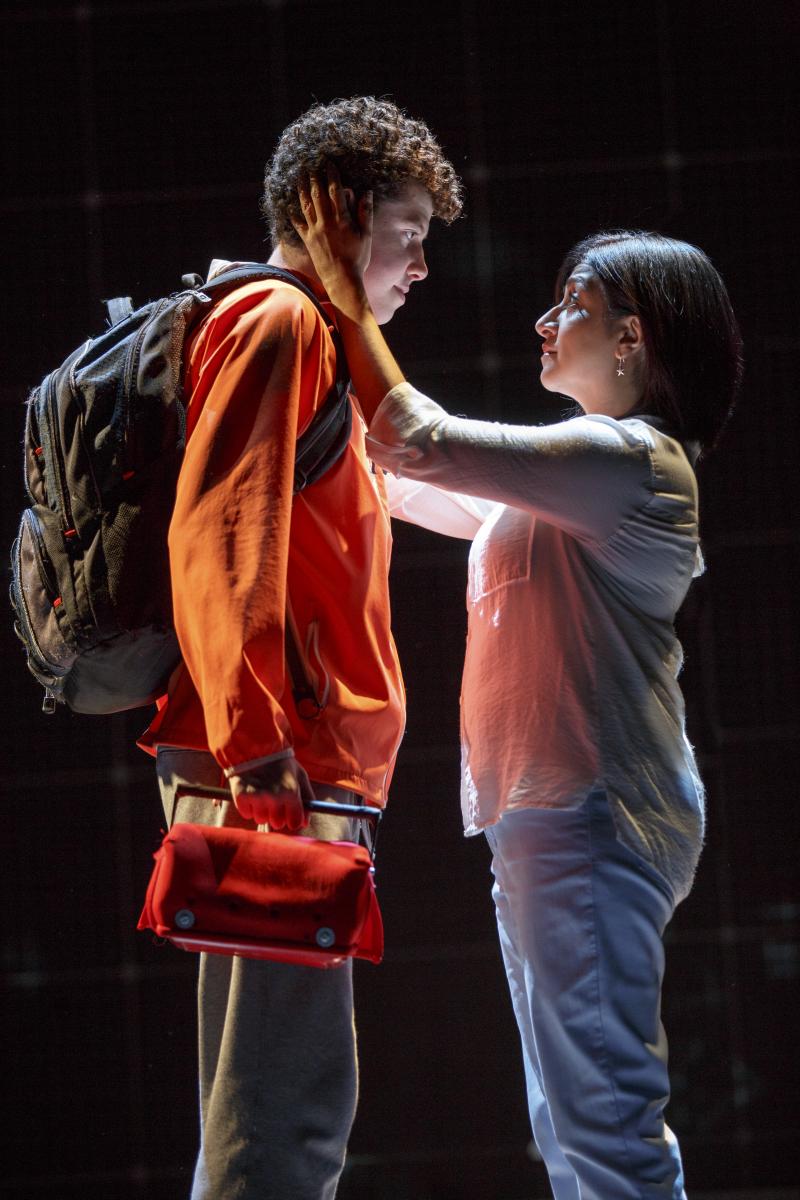 The power of theater to transport and to transform is felt most acutely - experienced most vividly - in Simon Stephens' play Curious Incident of the Dog in the Night-Time, based upon the novel of the same name by Mark Haddon, now onstage at Tennessee Performing Arts Center's Andrew Jackson Hall through Sunday. The winner of multiple Tony Awards from its Broadway run and numerous Olivier Awards for its London production, it is one of the most involving, most intricately crafted and thoroughly immersive theater experiences one could hope to have - and it is quite unlike anything you've ever seen before.
Directed by Marianne Elliott, whose concept for the play - about a 15-year-old boy with an autism spectrum condition who sets off on a fanciful investigation into the inexplicable death of a neighbor's pet dog - is startling, inventive and imaginative (think of an adjective to use in describing Elliott's work and it's likely to be applicable to her stunning work), drawing audiences deep within the mind of the play's protagonist, Christopher Boone (played with astounding levels of understated drama and an undeniable sense of who his character is by Adam Langdon), who is as intriguing a fictional character as one could ever conjure.
From the very first moments one enters Jackson Hall, the uniqueness of Curious Incident of the Dog in the Night-Time is apparent: The stage set is constructed as a box, its soaring walls, ceiling and floor depicting geometrical graphing elements enveloping the play's action and its myriad characters, a door opening here or closing there to reveal the hidden repositories of Christopher's mind and imagination, territory perhaps heretofore unknown - certainly it can't be expected (unless you've read Haddon's acclaimed novel) - that ushers each audience member into the deeper recesses of Christopher's brilliant mind that is ill-equipped to deal with the day-to-day realities of life that is perceived to be normal by most of society's habitues.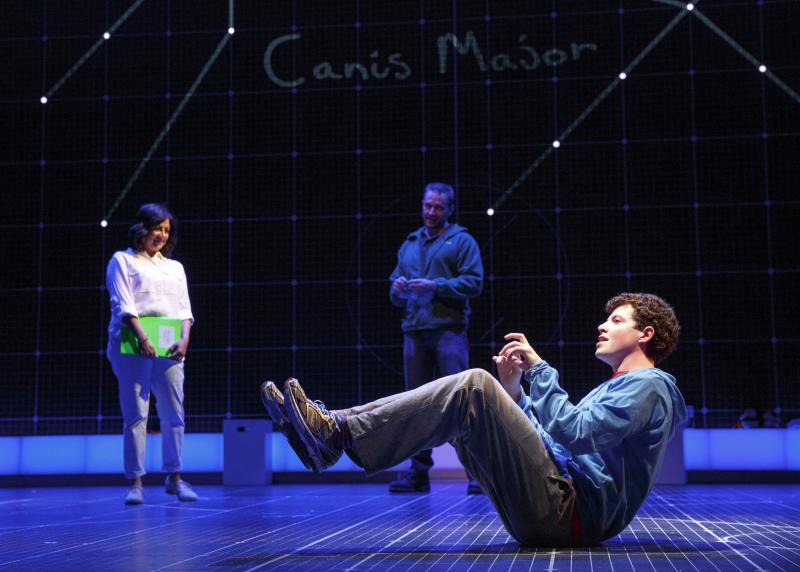 Bunny Christie's awe-inspiring scenic design provides the appropriate backdrop as we delve into Christopher's psyche to learn what makes him think as he does and to revel at the brilliance that is perhaps undetectable when faced with his lack of social skills and his inability to physically touch another human being without screaming. Paule Constable's exquisite lighting design helps to elevate the onstage action beyond what is expected, while Finn Ross' stirring video design allows us to see inside Christopher's brain and to experience, like some psychological interloper fearing sudden detection, the intricacies of the young man's mind.
And while it might be easy to deride the production's special effects as mere stage magic or theatrical frippery, that would do a disservice to the emotional intensity of Stephens' script and the impact of Haddon's original story. Rather, the technical wizardry of the production is essential to its clever and unique form of storytelling - just as vital to the show's success as Elliott's elegantly choreographed movement for her ensemble of awe-inspiring actors that gives the production a sense of fluidity set against a new concept of time -thus expanding the parameters of modern theater and storytelling.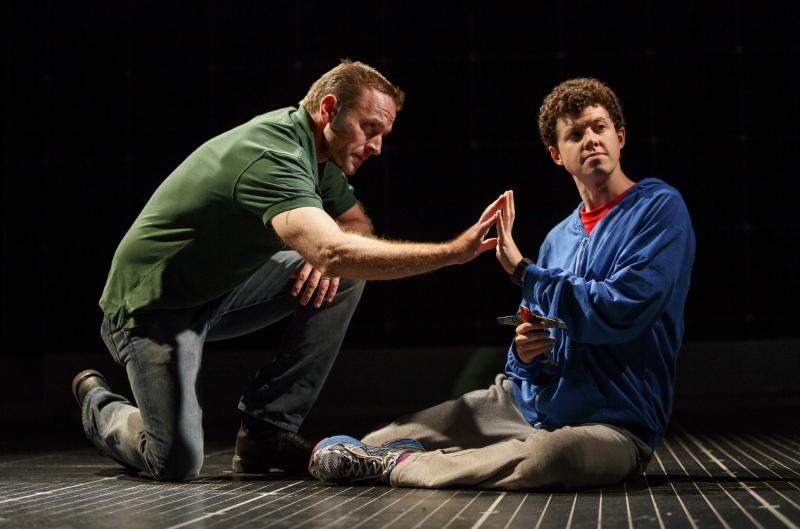 In this day and age, Christopher clearly could be considered an archetypal anti-hero - a protagonist with whom we identify with despite the quirks of his nature that are initially off-putting and can be willfully disregarded in our modern conceit of refusing to make eye contact with someone with whom we might experience a level of discomfort - he nonetheless achieves heroic proportions by the end of the play. As Christopher delves deeper into the mystery of who killed Wellington, the dog (likening himself to Sherlock Holmes, while professing his fascination with criminal investigation processes) he goes far beyond himself, pushing him further afield from his comfort zone than he could ever have imagined and achieving tremendous personal success: he finds out who killed Wellington, the truth about his mother's "death," he goes to London, finds what he is looking for and takes his Level A math tests. It may not sound like the stuff of great theatrical drama - a dog's random killing, a boy who lives with a condition few people can barely fathom and an insurmountably daunting mathematical challenge - yet that is exactly what Curious Incident of the Dog in the Night-Time delivers.
If, by journey's end, after you've become deeply aware of the challenges of Christopher's daily life and you find yourself identifying in countless ways with our young and surprising hero, yet somehow you are unable to feel a sense of emotional gratification and fierce pride, then you can't really call yourself a believer in the magic of live theater: the ability to transport you from a darkened auditorium to a world you scarcely could have conceived of otherwise. It's breathtaking and I want to go inside Christopher's world again. And again. In retrospect, as I continue to ponder the show's impact (not only on me, but on every person riveted to their seats in Jackson Hall on opening night), I feel my heart pounding as my mind races to and fro...
Langdon's performance is astonishingly free of stagey artifice; somehow, he manages to create a character who is completely believable and authentic. Langdon, along with every member of the ensemble, is so thoroughly committed to the task at hand that he engages his audience immediately upon his first entrance. Without doubt, Langdon's performance is enormously taxing and one can only guess the level of exhaustion one would feel after playing such a role - which explains why a second actor (Benjamin Wheelwright plays Christopher on Thursday and Sunday evenings and at Saturday matinees) assays the role at certain performances.
Gene Gillette, as Christopher's tortured and troubled - yet completely devoted - father Ed gives a richly nuanced performance that closely mirrors the experiences of someone actually living the life he leads. Maria Elena Ramirez, as Siobhan (Christopher's school mentor) provides a good deal of heart to the proceedings, creating a welcome sense of "home" for the troubled youth she works so tirelessly to help release from the confines of his own mind.
The remaining members of Elliott's ensemble - Charlotte Maier, Brian Robert Burns, John Hemphill, Geoffrey Wade, Francesa Choy-Kee, Amelia White, FeliciTy Jones Latta, Robyn Kerr and Paul Nicholas - are integral parts of the telling of Christopher's story, each one as focused as the next and each just as important to the overall impact of the play.
If you don't already have tickets to Curious Incident of the Dog in the Night-Time, you should make every effort to secure them and see the show. If theater indeed has the power to change lives, this may be a prime example, and if a play can make me feel empathy for a white rat (and this one most assuredly did for one named "Toby"), then perhaps it can do the same for you. And heed this advice, gentle readers: Stick around after the curtain call.
Curious Incident of the Dog in the Night-Time. By Simon Stephens. Based Upon the Novel by Mark Haddon. Directed by Marianne Elliott. The National Theatre Production, now on tour across the United States. Presented by HCA/Tri-Star Broadway at TPAC. Through Sunday, April 30. Go to www.TPAC.org for tickets and information. Running time: 2 hours, 20 minutes (with one 15-minute intermission).
Jeffrey Ellis is a Nashville-based writer, editor and critic, who's been covering the performing arts in Tennessee for more than 35 years. In 1989, Ellis (read more...)