NUNSET BOULEVARD Next Up at Dickson's Gaslight Dinner Theatre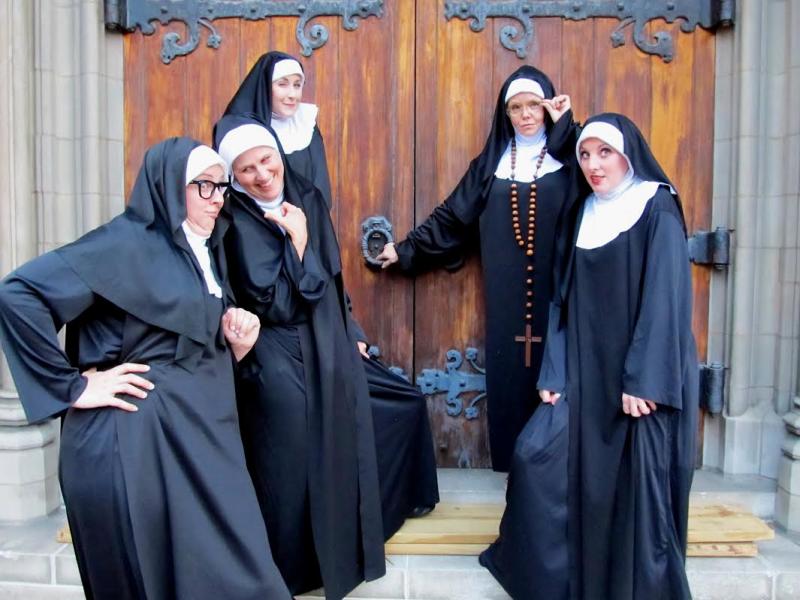 Dickson's Gaslight Dinner Theatre's 16th anniversary season continues with the latest musical from Dan Goggins: Nunset Boulevard - The Hollywood Bowl Show. Everyone's favorite Little Sisters of Hoboken take the stage once again in the musical comedy. This time, they have been invited to Tinseltown to sing at the Hollywood Bowl.
The sisters - who were first introduced in Nunsense - are thrilled at the prospect until they arrive and realize that they are booked into the Hollywood Bowl-A-Rama - a bowling alley with a cabaret lounge - and not the famed "Bowl" they were planning on.
The Gaslight Dinner Theatre is a professional non-profit venue whose mission is to enrich, entertain and educate our community through exceptional theatrical productions- giving guests great entertainment at a great value, says artistic director Grey Frey.
Under the direction of Stephanie Benton, who choreographs and stars in the production, Nunset Boulevard - The Hollywood Bowl Show October 6-15.
Nunset Boulevard is structured in the tried and true variety format, but as always, things go awry. The Sisters have to contend with announcements from the bowling alley public address system as well as the activity on the lanes. Midway through the first act someone gets wind of the fact that the famed movie producer, James Todd, is across the street auditioning for roles in his new movie musical, Nunset Boulevard: A Song from the Hart, about the life of Dolores Hart, the famous movie star who became a nun. All the sisters, thinking they are naturals for parts, race off to audition during their show's intermission.
The cast features the talents of Gaslight favorites Jenny Norris Light (Two Guys and a Christmas Tree; I Do! I Do!; The Andrew's Brothers; Mr. Jingles Christmas Clause; Baskerville: A Sherlock Holmes Mystery ) as Sister Mary Amnesia; Jama Bowen (Ripe Conditions; The Spitfire Grill; Great American Trailer Park Musical) as Reverend Mother; and Marilyn Fair (9 to 5 The Musical; Married Alive!; Church Basement Ladies) as Sister Robert Anne; along with Nashville favorites Darci Wantiez as Sister Mary Hubert and Stephanie Benton as Sister Mary Leo.
Musical highlights include "The Hollywood Blondes" (which is performed by the whole cast dressed as famous blond actresses) "There Was a Time," "Bowling Ball Blues." "That Kid's Gonna Make It," and "Where Is The Rainbow?"
The production is designed and produced by Greg Frey, choreographed and directed by Benton, with musical direction by Randy Craft, and lighting design by Katy Gant. Technical/set design by Greg Frey.
The buffet lunch or dinner begins one hour before show time. Price includes buffet, desserts, beverage and show. Gratuity not included. Advance reservations are required by calling the box office at (615) 740-5600, on online at www.gaslightdinnertheatre.org.
Related Articles View More Nashville

Stories

Shows
Jeffrey Ellis is a Nashville-based writer, editor and critic, who's been covering the performing arts in Tennessee for more than 35 years. In 1989, Ellis (read more...)