McGEE MADDOX On His Starring Role in AN AMERICAN IN PARIS
For McGee Maddox - the dancer-actor who plays Jerry Mulligan in the national tour of An American in Paris, which opens at Tennessee Performing Arts Center's Andrew Jackson Hall on Tuesday, October 31 - it's knowing that every Tuesday means a new venue, a new city and a new backstage crew that keeps him focused and the role fresh even after 128 performances.
"I think just knowing that every Tuesday you're going to be dealing with a new crew, an unfamiliar theater, and new obstacles that you have to get over keeps you focused," he muses. "The logistics of touring keep it fresh: you have to put on a good show night after night - that's just what you have to do - and the nature of being in a new environment every week keeps it fresh."
And for Maddox, the charming and articulate man heretofore known throughout the world of dance as one of the National Ballet of Canada's best-known principal dancers, the opportunity to tour with An American in Paris affords him the chance to challenge himself to become the personification of a theatrical triple threat: an individual who dances, sings and acts with equal agility and thorough commitment.
"It's very satisfying to perform in front of 2,000 people every night," he admits during a telephone conversation while on the road with the show prior to its arrival in Music City for the weeklong run at TPAC. "I've convinced myself that I can do this every night...and I look forward to giving my best during each performance."
The Texas native's commitment to excellence comes as no surprise to anyone who's followed Maddox's laudable ballet career, something he always knew he wanted to do. "I've been dancing since I was three," he explains. "My parents recognized early on that I had the need to express myself through dance and have always encouraged me to pursue that."
"The theater and the city may be new - and it may be after a long travel day - and there is nothing about this that I've ever experienced as a ballet dancer, so it may seem daunting, but that's why I signed on to tour with An American in Paris. The travel and touring and getting to see my country from a new perspective becomes a part of your life and you wake up every morning thinking how lucky you are to be doing this!"
Performing the starring role in a spectacular Broadway musical that's set to a glorious Gershwin score and is based on an iconic film may not have been among the roles he's coveted since childhood -Maddox debuted as Leontes in The Winter's Tale, Albrecht in Giselle, and L'Aviateur in the world premiere of Le Petit Prince, and has danced principal roles in numerous ballets including Swan Lake, Romeo and Juliet, Onegin, Cinderella, The Nutcracker, Don Quixote, Alice's Adventures in Wonderland and Hamlet among many others - but when the time came for him to audition for the role of Jerry Mulligan, he did so with the resolve and fortitude that typifies the very best of dancers.
"I was asked to audition and I kept getting called back," he says, ultimately winning the role in the national touring company of the Tony Award-winning musical after a protracted nine-month process. "To have an introduction to Broadway in a show with music that represents the golden age of musical theater - it's not a rock musical or neo-rock opera - this is a stage show that was inspired by an iconic movie, but which has much deeper narrative than audiences might expect."
An American in Paris, the stage musical, Maddox contends, is more about the city in which it is set - at a time when the French were coming out of the dark days of Nazi occupation during World War II - and its reemergence as a world artistic capital despite the vagaries of war.
"The 1951 film is pure escapism," he suggests. "There's no reference to the times in which the city suffered under its oppressors. The musical actually touches on that oppression."
Thus, the acclaimed musical theater adaptation shows Paris, its people and its environs rising from the dreary post-war times in a way that only the French can do.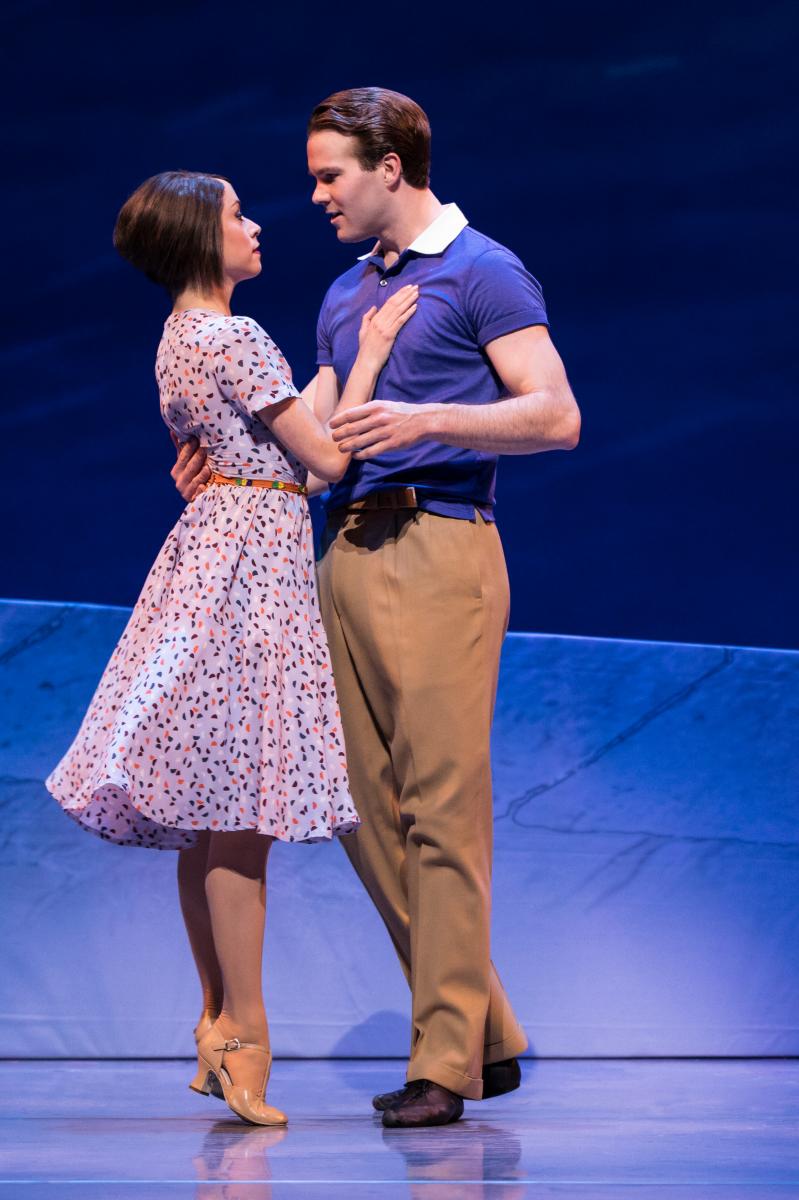 About McGee Maddox (Jerry Mulligan) trained at Houston Ballet's Ben Stevenson Academy, joining Houston Ballet as an Apprentice in 2005. He joined The National Ballet of Canada in 2009 and was promoted to Principal Dancer in 2014. Maddox debuted as Leontes in The Winter's Tale, Albrecht in Giselle, and L'Aviateur in the world premiere of Le Petit Prince. He has danced principal roles in numerous ballets including Swan Lake, Romeo and Juliet, Onegin, Cinderella, The Nutcracker, Don Quixote, Alice's Adventures in Wonderland and Hamlet among many others. He has performed contemporary works by John Neumeier, Alexei Ratmansky, James Kudelka, Wayne McGregor and Jorma Elo.
About the show An American in Paris, the most-awarded new musical of 2015 and winner of four Tony Awards, brings its first national tour to Nashville with a one-week engagement at the Tennessee Performing Arts Center's Andrew Jackson Hall October 31-November 5.
Inspired by the Academy Award-winning film, An American in Paris, is the romantic story about an American soldier, a mysterious French girl and an indomitable European city, each yearning for a new beginning in the aftermath of war. Directed and choreographed by 2015 Tony Award winner Christopher Wheeldon, the show features the music and lyrics of George Gershwin and Ira Gershwin, and a book by Craig Lucas.
The production opened to widespread critical acclaim at the Palace Theatre on Broadway in April 2015 after its world premiere at the Théâtre du Châtelet in Paris. The New York production closed in October 2016 after playing more than 600 performances. A West End production of An American in Paris opened in March 2017 at the Dominion Theatre.
The score of An American in Paris includes the songs "I Got Rhythm," "Liza," ''S Wonderful," "But Not For Me," "I'll Build a Stairway to Paradise," and orchestral music including "Concerto in F," "Second Prelude," "Second Rhapsody/Cuban Overture" and "An American In Paris."
"A Gershwin classic with beautiful choreography and gorgeous dancing, An American in Paris is a love letter to musical theatre," says Kathleen O'Brien, TPAC president and chief executive officer. "This stunning and award-winning production transports the audience to Paris, where the romance and magic of Paris combines with the music of George and Ira Gershwin for an unforgettable experience."
An American in Paris won four 2015 Tony Awards, four Drama Desk Awards, four Outer Critics Circle Awards, the Drama League Award for Best Musical, three Fred and Adele Astaire Awards, and two Theatre World Awards. The musical was included on the Year's Best lists of The New York Times, The Wall Street Journal, Entertainment Weekly, The New Yorker, the Associated Press, The Hollywood Reporter and The Pittsburgh Post-Gazette. The Masterworks Broadway Original Broadway Cast recording of An American in Paris was nominated for the Best Musical Theater Album Grammy Award.
The creative team also is comprised of Tony Award winners Bob Crowley (set and costume designer) and Natasha Katz (lighting designer); Jon Weston (sound designer); 59 Productions (projection designer); Rob Fisher (musical score adaption, arrangement and supervision); Todd Ellison (musical supervisor); David Andrews Rogers (musical director/conductor); Christopher Austin and Bill Elliott (orchestrations); Sam Davis (dance arrangements); Telsey + Company/Rachel Hoffman, C.S.A. (casting); Rick Steiger (production supervisor); Dontee Kiehn (associate director and associate choreographer); and Sean Kelly (associate choreographer and resident director).
For tickets, go to www.TPAC.org or call (615 782-4040.