'Every Show is Someone's Opening Night' - SCHOOL OF ROCK's Lexie Dorsett Sharp
Actress Lexie Dorsett Sharp remembers very clearly when the father of a former castmate came backstage after an opening night during a national tour in which the two women were performing to wish them well and to express how much he enjoyed the show.
"He was very excited to be there to celebrate our performance and to congratulate his daughter," she recalls. "Then, as he was leaving he congratulated us on our opening night and, kind of over his shoulder as he was walking out, he said, 'but I guess every night is opening night for someone, isn't it?'"
The moment - and the proud father's words - have stuck with Lexie Dorsett Sharp ever since: "It suddenly occurred to me how right he was: Every night is someone's opening night, either someone in the cast or someone in the audience - maybe it's an actor's first performance in the show or an audience member's first time to see the show you're performing, or maybe it's even someone's first time at the theater."
The man's statement has remained in Sharp's mind and in her heart since, serving as a reminder of the magic of live theater and how every performance should always be fresh and new - because you may never realize the impact that one singular performance may have on someone.
For Sharp, a native of Birmingham, Alabama, who is now playing Rosalie in Andrew Lloyd Webber's School of Rock (which settles in to Tennessee Performing Arts Center's Andrew Jackson Hall next Tuesday night for an eight-performance run in Nashville), the words of her former castmate's father continue to reverberate as she and her current coterie of crewmates makes their way across the country bringing the high-spirited show to life for audiences in a different city every week.
"The tour is going great," she happily reports. "After 11 months, the uniqueness of the show helps to keep it fresh and audiences continue to be delighted at each performance."
Add to the audience's palpable response the very nature of Lloyd Webber's play - a rotating cast of 16 younger actors play the 12 kids who help bring the show to life in each performance - and every iteration of School of Rock seems like a new show, whether you're a member of the audience for the first time or even if you're a cast member making your 300th appearance onstage.
"One of the most amazing things about School of Rock," Dorsett Sharp contends, "is that its reach goes beyond all the Andrew Lloyd Webber fans."
Based on the 2003 hit film of the same name, School of Rock - The follows Dewey Finn, a failed, wannabe rock star who decides to earn a few extra bucks by posing as a substitute teacher at a prestigious prep school. There he turns a class of straight-A students into a guitar-shredding, bass-slapping, mind-blowing rock band. While teaching these pintsized prodigies what it means to truly rock, Dewey falls for the school's beautiful, but uptight headmistress, helping her rediscover the wild child within.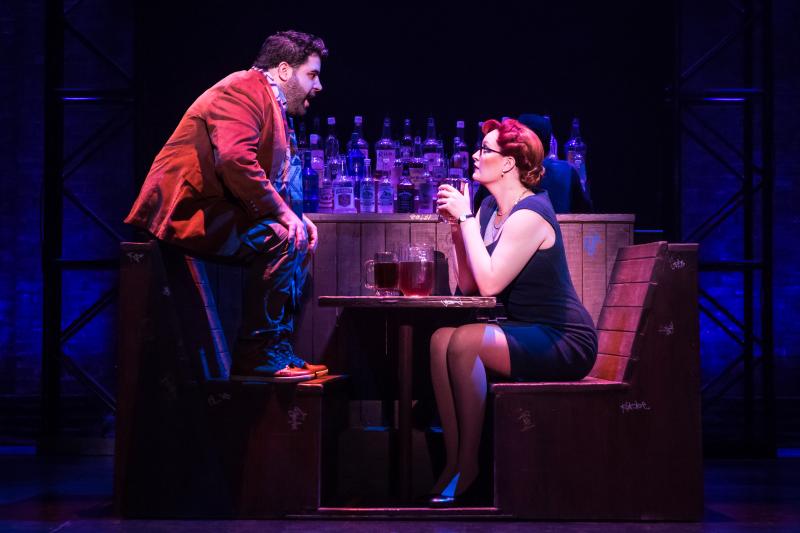 Playing "the school's beautiful, but uptight headmistress" is the aforementioned Dorsett Sharp, who got her start in musical theater while growing up in Birmingham (her mom is a retired music teacher and Lexie credits her time at Red Mountain Theatre with giving her a firm theatrical foundation upon which she has based her career), which ultimately led her to the Cincinnati College Conservatory of Music, where she honed her craft even further. Now based in New York City, where she lives with her husband Jesse, and her precious chiweenie (that's a chihuahua/ dachshund mix, in case you're unfamiliar with the term) puppy, Chip.
In addition to her own performance schedule in School of Rock while its on-tour, Dorsett Sharp also maintains an active solo performance career going, performing in various cabaret venues (New York's 54 Below is one of her particular favorite places to sing) and in industry readings. Most recently, Lexie performed in the industry reading of Tituss Burgess' The Preacher's Wife and 13 Alabama Ghosts.
What makes School of Rock even more of a joy for her, however, is Dorsett Sharp's real-life role as co-owner and operator with her husband of Sharp Studios, an audition-prep based studio with clients from all over the country.
"I am a teacher - and I love it - but I often feel like the kids are the real teachers on this tour. They come into the show with such an open heart and such enthusiasm. They teach me something new every day," she maintains. "For the kids in the show, this is often their first entry into musical theater - a lot of them are musicians first (they play all the instruments in the show onstage) and so School of Rock introduces many of them to what musical theater is all about."
All those fresh faces and new perspectives mean that morale among the cast is "very high," and the energy level ensures everyone - regardless of age or experience - is on their toes for every performance.
In fact, the presence of the ensemble's 16 younger actors ensures that no performance is quite like the one that comes before or after it, Dorsett Sharp suggests, but she also gives credit to her two leading men - Rob Colletti has top billing and plays Dewey in five performances each week, while Merritt David James takes on the role for matinees - each of whom are given the wherewithal to add his own personal reading of the role, thus promising that no two performances are just alike.
"Playing opposite two different Deweys also helps to keep the show fresh," she admits. "It's a wonderful script that gives them a lot of freedom in their interpretations."
With every show different, then perhaps, Dorsett Sharp surmises, seeing two performances might be a good idea for audience members looking for the full-blown School of Rock experience.
About Lexie Dorsett Sharp
Lexie Dorsett Sharp is named after a character from the movie Ice Castles (yes, seriously). She was raised in Birmingham, Alabama and received her BFA in Musical Theatre from The Cincinnati College Conservatory of Music.
Lexie has appeared all over the United States and Asia with tours such as Young Frankenstein the Musical (Elizabeth), The Addams Family (Morticia (cover)/ U/S Alice, U/S Grandma), Elf the Musical (Emily). Other favorite regional credits include: Narrator in Joseph and the Amazinig Techniclor Dreamcoat, Eva Peron in Evita, Miss Sandra in All Shook Up, Velma in Chicago, Jolene in Dirty Rotten Scoundrels, Elsa in The Sound of Music, to name a few.
Her voice can be found on several new works recordings, and she has had the pleasure of performing with both the Birmingham Symphony Orchestra and the Cincinnati Pops Orchestra.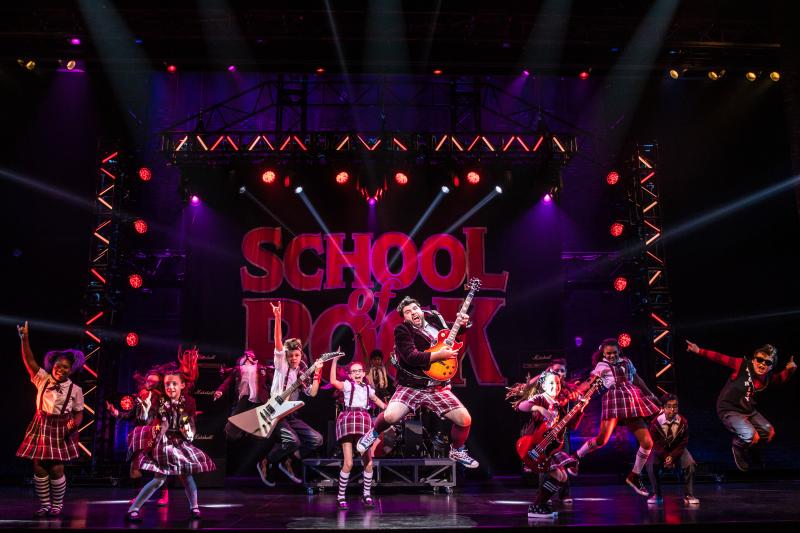 About School of Rock
Class is now in session! Broadway legend Andrew Lloyd Webber's high-octane Broadway and West End hit School of Rock - The Musical comes to Nashville for a one-week engagement Sept. 11-16 at Tennessee Performing Arts Center's Jackson Hall.
Tickets are available at www.TPAC.org, by phone at (615) 782-4040 and at the TPAC Box Office, 505 Deaderick Street, in downtown Nashville. For groups of 10 or more, call (615) 782-4060.
School of Rock - The Musical features music from the movie as well as an original score by Andrew Lloyd Webber, lyrics by Glenn Slater, book by Julian Fellowes, choreography by JoAnn M. Hunter (who also choreographed The Nutty Professor, the Marvin Hamlisch-Rupert Holmes musical that debuted at TPAC in 2012) and direction by Laurence Connor. It was nominated for four 2016 Tony Awards, including Best Musical, Best Score (Lloyd Webber and Slater), Best Book (Fellowes) and Best Leading Actor in a Musical (Alex Brightman). It also won the 2017 Olivier Award for Outstanding Achievement in Music.
School of Rock - The Musical opened on Broadway to rave reviews on Sunday, Dec. 6, 2015. This Ben Brantley New York Times Critics' Pick "is an inspiring jolt of energy and mad skillz," raves Jesse Oxfeld of Entertainment Weekly. And in his four-star Critics' Pick review, Time Out's David Cote proclaimed, "School's IN - forever!"
School of Rock - The Musical features scenic and costume design by Anna Louizos, lighting design by Natasha Katz, sound design by Mick Potter and music supervision by John Rigby. It is produced on Broadway by Andrew Lloyd Webber for The Really Useful Group, Warner Music Group & Access Industries, The Shubert Organization and The Nederlander Organization. Nina Lannan and Madeleine Lloyd Webber serve as Executive Producers.
production photos by Matthew Murphy