Click Here for More Articles on STUDENT CENTER - COLLEGE EDITION

Collegiate Theatrics: Belmont University's KYLE CARESS
It's only October, but the 2016-17 school year is already off to a frenzied start for Belmont University's Kyle Caress, who this week gets a respite from the halls of academia to spend fall break in New York City with some of his musical theater classmates/comrades/friends, taking in some of the hottest shows on Broadway before returning to Nashville to put the finishing touches on the department's fall musical offering.
A native of Carmel, Indiana, he'll be playing Britt Craig in Belmont University Musical Theatre's upcoming November production of Parade, the musical by Alfred Uhry and Jason Robert Brown that tells the story of Leo Frank and Mary Phagan, set against the backdrop of Atlanta, Georgia, still reeling from the aftermath of the Civil War and Reconstruction.
In late summer, he was given the unique opportunity of being an ensemble member of Studio Tenn's acclaimed production of Evita (starring Broadway diva Eden Espinosa, rialto leading man Ben Crawford and Tony Award winner Anthony Crivello) at the Tennessee Performing Arts Center - in 2015, he performed in the company's spectacular staging of The Wizard of Oz at the Schermerhorn Symphony Center and earlier this year, he performed in Studio Tenn's West Side Story at the same venue.
Obviously, Kyle Caress never sleeps - we're uncertain he ever slows down, in fact - yet somehow we convinced him to take the time out to answer our questions for this week's edition of Collegiate Theatrics. So, here's your chance to get to know the peripatetic young actor better: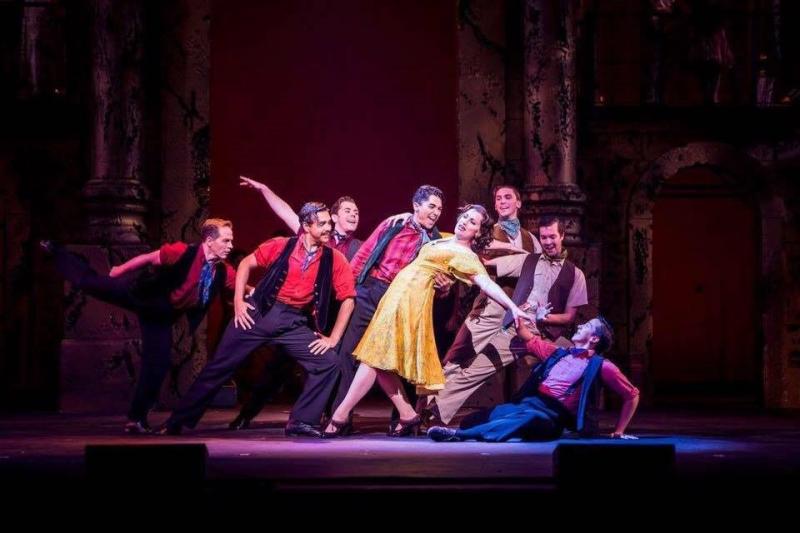 How's your college career played out thus far? So far, my college theater career has been so fun, I have had so many cool opportunities over these past couple of years! My experience thus far has absolutely surpassed the hype.
What's been your favorite thing about studying at Belmont? My favorite part about studying at Belmont has definitely been the supportive community around me. It feels like I have a second family at this school and I absolutely love how everyone celebrates success together.
Have your plans for the future changed any as a result of your experiences at Belmont? To be honest, I had almost no future plans when I came to college because graduation seemed so far away. However, now that I am half way done, I have been thinking a lot more about my future. My ultimate goal is to be able to make a living off of performing after I graduate. I would love to make my way to New York eventually, but I would also be just as happy to go with the flow wherever it takes me.
What theatrical moment during college stands out in your memory? The college theatrical moment that stands out to me the most is from the end of my sophomore year. I got to sing a trio with two of my good friends, Julian Malone and Neal Buckley for a musical theatre seminar. Collaborating with such talented artists was an amazing experience and it taught me so many lessons that I can apply to future projects.
What advice would you share with a younger person considering taking the same route that you have in college? The biggest advice I can give to high school students considering musical theatre would be to WORK HARD. Take advantage of every acting class, dancing class, voice lesson, master class, etc. that you can while you are still able to be a full time student! It is no secret that this is a difficult profession to pursue, so it pays to be as well prepared as possible.