BWW Review: Stellar Performances Highlight Street Theatre Company's THE BURNT PART BOYS
Stellar performances from a superb ensemble cast have come to exemplify productions from Nashville's Street Theatre Company and, make no mistake about it, the company's latest musical - The Burnt Part Boys, with book by Mariana Elder, music by Chris Miller and lyrics by Nathan Tysen - delivers that and more through a haunting story of loss and redemption.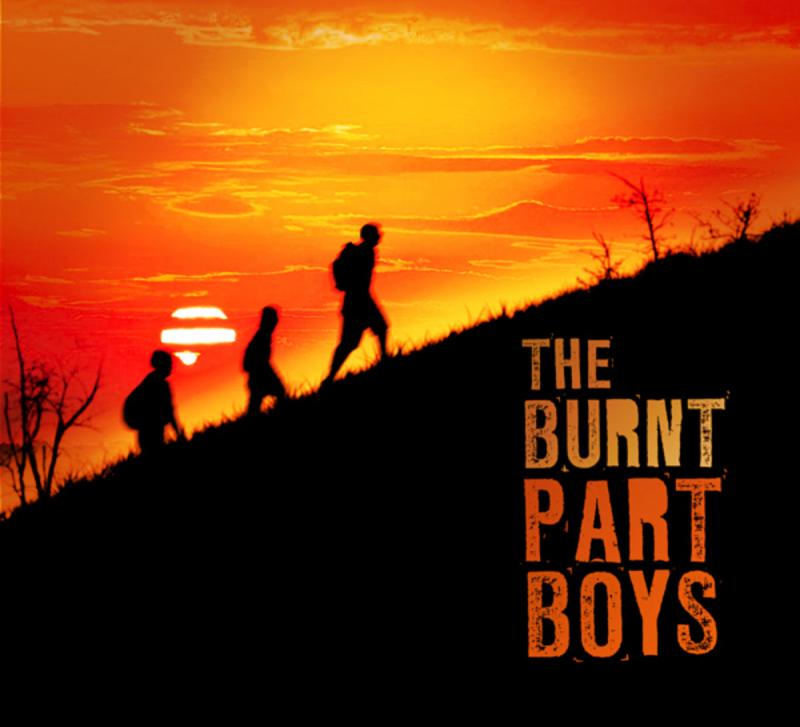 Directed by company founder Cathy Street, who returns to Music City from her home in Wilmington, North Carolina, to helm the production, The Burnt Part Boys focuses on the adventurous exploits of five young people in Pickaway, West Virginia, on a journey up a mountain to honor the memories of the dozen men who perished in a coal mining disaster some 10 years before. With a score inspired by bluegrass, country and traditional Appalachian melodies, The Burnt Part Boys is a heartrending experience that sparkles with ample humor even as it depicts a tale that could well be filled with darkness, despair and an all-encompassing sense of loss.
Street's cast of ten actors bring a sense of vital urgency and accessibility to the story, set in 1962, in which brothers Pete and Jake are joined by their friends for a perilous and dangerous hike up the mountain in the wake of news of the mine's reopening is announced on a local radio broadcast. A decade earlier, 12 miners - including Pete and Jake's father, along with the dads of pals Chet and Frances, died in a blaze in the abandoned mine, their bodies never recovered. When owners decide to re-open the mine, long considered a memorial to the lost workers, young Pete - played with compelling grace by Seth Bennett in a role ideally suited to his capabilities - decides to shut it down permanently by dynamiting the burnt part, that section of the mine so named because of the disastrous fire that claimed the lives of the 12 men.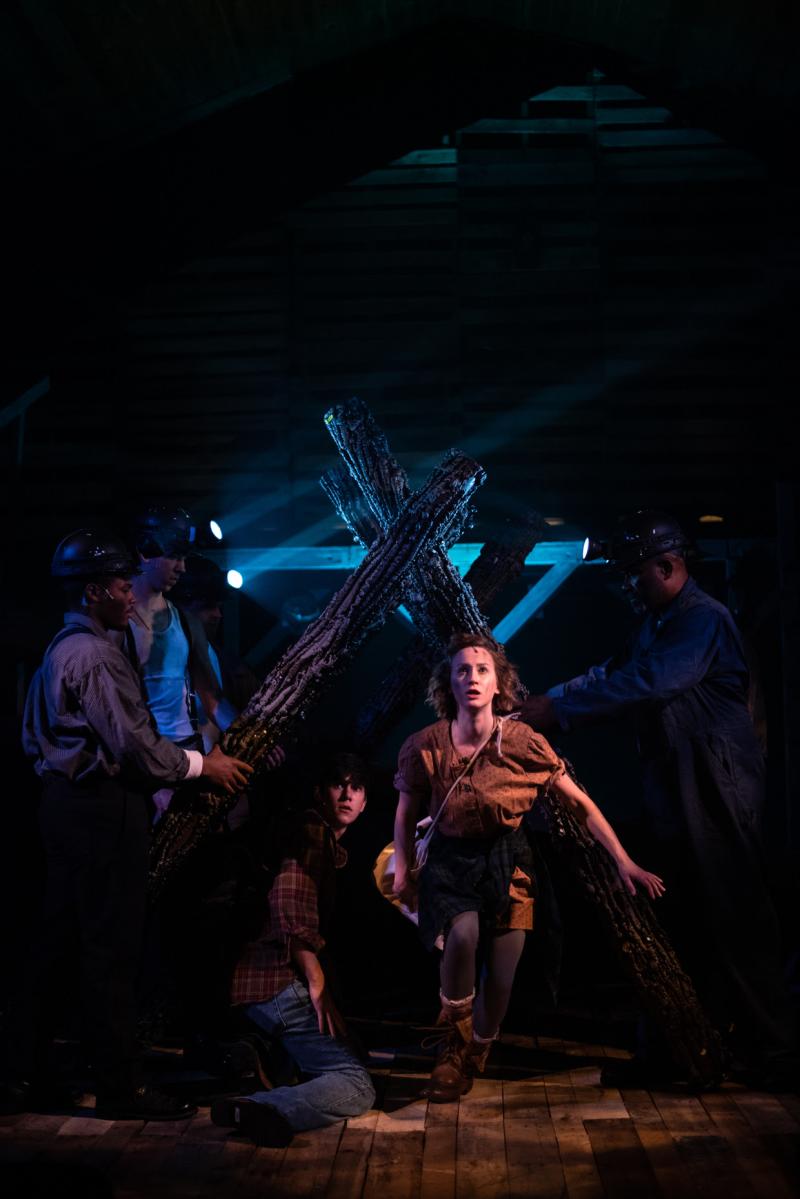 Enlisting his best friend, Dusty Rhodes (Chamberlin Little plays him with winning charm and self-assurance) to assist, Pete takes off up the mountain to honor his father's memory and to hopefully guarantee that no more miners' lives will be lost in the years to come. When his brother Jake discovers Pete is gone, he quickly discerns his intentions and he sets off with his own best friend Chet in search of Pete and Dusty. Nick Fair is impressive as Jake, giving a sharply focused performance as the conflicted older brother, while Shane Kopischke delivers a multi-faceted portrayal of the callow Chet that allows him to play against type. Together, Fair and Kospischke, longtime friends who have shared the stage in various productions since childhood, create an onstage friendship that is intensely authenic.
Along their way, Pete and Dusty run into Frances Boggs, a "crazy hillbilly" girl who has been missing for three years. Kayla Petrille's forceful portrayal of the wily Frances is full of energy and it's her performance that audiences will be talking about long after the final curtain of The Burnt Part Boys. Petrille so effectively embodies Frances that it's difficult to tell where Kayla begins and Frances leaves off - it's a soul-stirring performance that commands your attention.
Bennett's palpable stage presence ensures that his scenes with Petrille are particularly impactful and his interactions with Fair fairly bristles with sibling rivalry, while his onstage relationship with Little is indicative of the two characters' closeness.
The five leading players, if they are to be identified as such, are given ghostly, other-worldly support from the five actors playing the deceased miners - and Elder's book, which can sometimes seem static (a lot of time is spent hiking through the woods on Will Butler's beautifully designed and executed rough-hewn set), effectively steers audiences through the time-shifting tale with theatrical ease. Mike Baum shows off his versatility in a role that demands he play three characters from the 1960 film The Alamo (directed by and starring John Wayne) - Sam Houston, Davy Crockett and Jim Bowie - as well as the father of Jake and Pete. Baum invests his character with paternal earnestness and pride and the ease with which he moves from one character to the next is notable.
Joining Baum as the other ill-fated miners are Brooks Bennett (quietly effective as Chet's doting father; there is a scene in which he embraces his son that is quietly devastating and emotional), Elliott Robinson, Imari Thompson and Tyler Evick (as Frances' dad).
The men provide strong support throughout the play's non-linear action, adding their distinctive voices to the gorgeous blend of harmonies that elevate The Burnt Part Boys to musical theater of a far different sort than that which audiences might expect. Although some of the songs seem far too similar to one another, they nonetheless are perfectly representative of the time and place portrayed in Elder's book. In fact, audiences might compare the musical efforts of Miller and Tysen to their musical theater contemporaries Adam Guettel (particularly in his iconic score for Floyd Collins, another show we'd love to see STC take on) and Jason Robert Brown (Tysen's lyrics are vaguely reminiscent of, and can be favorably compared to, Brown's work).
Butler's set transforms the STC performance space at West Nashville's Holy Trinity Community Church in a manner we've not seen before and his aesthetic is well-suited for the material presented. Likewise, Katie Gant's exquisite lighting design is dramatically evocative and the final tableau - heart-stirring and dynamic in its staging by Street - is made all the more powerful by her breathtaking illumination. Ashley Wolfe's costumes are well-suited to the time and place in which the characters live, and Jacob Allen's sound design ensures every word uttered is heard and understood and that the balance of sound between the actors and music director (and Street Theatre Company artistic director) Randy Craft's crackerjack five-piece band is sublime, thus adding to the overall impact of the tale.
The Burnt Part Boys. Book by Mariana Elder. Music by Chris Miller. Lyrics by Nathan Tysen. Directed by Cathy Street. Musical direction by Randy Craft. Presented by Street Theatre Company at Holy Trinity Community Church, Nashville. Through September 1. For details, go to www.StreetTheatreCompany.org or call (615) 554-7414. Running time: 2 hours (including one 15-minute intermission).
Related Articles View More Nashville

Stories

Shows